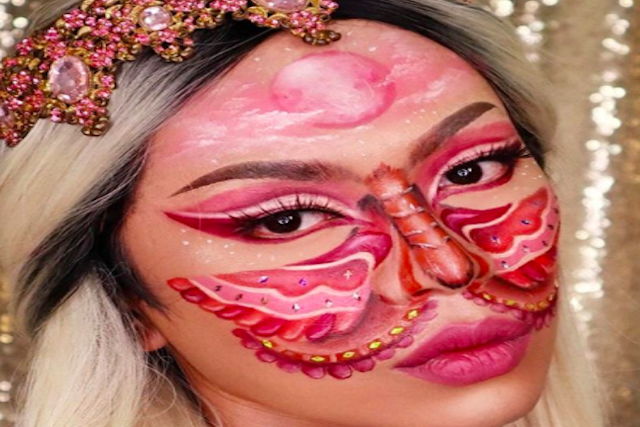 These days, almost everybody wants to learn how to do their own makeup. Not only is makeup a way to feel more confident, makeup artists and enthusiasts are also now using it to transform their faces like how paint changes a canvas. Thank god we've accepted that loving the drama of a blended face and proudly going bare-faced outside are equally empowering. 
If you've been wanting to learn the latest make-up trends, try looking up some of the works of young Filipino makeup artists. We've rounded up a list of some MUAs whose jaw-dropping looks will definitely inspire you to shape up your blending skills. 
Glamour Zombie
Zjhay Taupan is a Benefit Cosmetics boy and he's also part of the Colourette Cosmetics clique. Getting noticed by these brands is a sure sign that he's someone to watch out for. From animal print makeup to elaborate Halloween looks (thus the name Glamour Zombie), he's your guy if you want to add that out-of-this-world finish.
This creative lunar moth makeup incorporates and highlights parts of the face. Created with shades of pink and red matte liquid lipstick, the wings look like they are about to flutter on Zjhay's eyes and cheeks. We love how this look is fierce but still delicate.
Tagyasss
https://www.instagram.com/p/CAhWTFSD1xn/
To celebrate the release of "Rain on Me," Tagyasss did this look inspired by the song. Cloud makeup is still in vogue.  Adding feathery sweeps with eyeliner or eye shadow (or even face paint in this case) is sure to add a romantic effect. Going by the black and silver shades, it also seems to be Black Swan-inspired. The gradient lips gave it that soft finish that made it extra tantalizing.
While Tagyasss also recreates paintings and illustrations by artists like Vincent Van Gogh and  Elena Rossato on his face, his colorful smokey and glossy eye makeups are having a moment on his feed.
Luis Cortez
If you haven't heard of the banana makeup trend yet, let Luis Cortez show you how it's done. Faux beauty marks have been a thing since the 18th century, but a lot of people got into fake freckles again at the end of this decade. Pair that with the popularity of neon eyeshadows like yellow and voila, you now look like a cute banana.
Cortez also shares looks that pay tribute to his favorite musicians like Ariana Grande and Billie Eilish. He also had makeup illusion in blue, violet and pink that made him look like he's on the cover of Lorde's "Melodrama." 
Makeup by Ria
Looking for eye makeup tutorials? Makeup by Maria has uploaded a couple that are easy to follow. She launched her account dedicated to the latest eyeshadow trends back in February so you don't have to worry about whether her looks are in or not. She definitely has her finger on what's hot.
Maria loves a good cut crease with colored or glitter liner. Sometimes, she bedazzles it with faux pearls or rhinestones. She also does colored brows and cloud makeup.
Dandred Mateo
https://www.instagram.com/p/CAXJmQDDt9Y/
Dandred Mateo is another artist on the list who is fond of spooky makeup. His demon is scary but oh so fine. The sharp teeth, bloodshot contacts and pointed ears were delightful additions.
He likes breathing life to creatures of the dark but that doesn't mean that's all he can offer. He also does glam neon eye makeup. His "Stupid Love" and holographic looks also caught our attention. 
We're rooting for these young MUAs on Instagram. Will you be joining the club too?
Photo courtesy of The Glamour Zombie's Instagram account
Follow Preen on Facebook, Instagram, Twitter, YouTube, and Viber
Related Stories:
Learn makeup tricks from MUAs Anthea Bueno and Mark Qua workshops
"Looking ugly" and makeup-shaming should never be a selling strategy
'Clean color': The bold yet minimalist makeup trend you should try
Punk and grunge makeup rocked NYFW in the best way