The internet right now is a politically-charged landscape echoing real-life horrors refusing to be denied or ignored. It is now saturated with stories from the margins now being put to light. Technology has the power to amplify and accelerate in the interest of the community at large. However, that hasn't always been the case. The algorithm must work for us instead of against us. 
Developh is one of the organizations looking to reshape the tech industry. But what is tech for "good?"  Supporting human connection isn't just about providing more options for communication. We had a chat with Developh's CEO and founder Chia Amisola about the politics in tech and the need to redshift the tech pipeline.
Hi, Chia! Thanks for making time for us. Are you in Connecticut right now? Before anything else, I want to ask how you're doing during this pandemic and in the midst of political unrest.
I'm not in Connecticut, but I'm still on the East Coast moving out of my dorm at Yale. Most days, I'm working remotely on my internship and doing work with Developh while helping out on other causes.
Not doing well, and I think most people (those who're concerned, at least) aren't either. The past few months have been a lifetime: When the situation crept up in the United States, I lost a comfortable tech internship offer, nearly got kicked out without warning from my housing, and mostly have been in constant fear for the safety of my family and everyone I love—who I'm pretty far away from. The unrest we're seeing is a result of the dated, oppressive systems in our society finally collapsing. I'm exhausted, but also energized and awakened in this key moment in history.
I'm restlessly figuring out how to better educate myself, be a key ally in America's BLM movement, and be vigorously present in the threat to freedom in our country today. The state violence and brutality I'm seeing first-hand here is so intrinsically tied to the one I was privileged to largely be shielded from growing up in the Philippines: This unrest is just a tipping point from hundreds of years of injustice, and I am doing my best to be present in all the ways I can.
The link in the bio of Developh leads to a page where your organization is matching donations and providing a platform for commissions for causes in the United States and the Philippines. As the CEO and founder of Developh, can you introduce the organization to our readers and why these initiatives are connected to the work you do?
Developh is a student-led organization that aims to bridge the innovation gap in Southeast Asia. We believe that in this time where creation has never been so accessible, every student has the potential to be a founder. Since 2016, we've been working on education programs, building tech-enabled initiatives for good and growing a community of students from high schools and colleges around the region.
Last weekend, we announced our fund to strengthen our commitment to supporting movements and organizations looking to end injustice. These range from the Save Our Schools Network of Lumad Schools, networks of local bail funds in the US, to human rights organizations in the Philippines. As Filipinos, our liberation and struggle is intertwined with those of other minorities; and the work we produce is always a statement of our politics. We're fundraising for human rights defenders. Coming to the US for college, the liberties I get to experience here are only made possible by black activists and organizers across decades of struggle, their struggle that we need to now center on. 
Politics is in programming. Software works in binaries, the world doesn't. We are obligated to be intentional as possible in the systems we create. From the lens of technology, so many of the software we build contribute to the repression and violence against citizens. We saw Facebook be weaponized as it refuses to better moderate truth while continuing to expose their outsourced content moderators to grueling, dehumanizing conditions is technology at its worst. I have always dreamed of being in tech, my team dreams for a better future in technology. But we can't deny how it has enabled abusive divisiveness that has split many countries like ours, and now America in full force.
We're seeing how racial tensions and big tech's empty commitments (if any) are exposing a huge need for reform. We hope this support for youth organizations, education and human rights helps us move to a world that is perhaps less centered on technology overall—so that it may be less destructive.
You launched the organization in your junior year of high school. What inspired this decision?
I founded Developh when I was sixteen and dissatisfied with my tech education, in search for community. It started out as a club where my friends and I could come together to teach other things about technology: game development tools, software engineering, design and things like that. While exploring a pretty bustling tech industry, we got further involved in the student startup ecosystem (or lack thereof) and scaled to more high schools around Metro Manila.
We started building out ideas for ventures that we needed, pitching our ideas, and seeing that with the right resources and community, students can use tech to power so much of what we need today. 
Now, a lot of Developh's work is driven to exploring how technology can enable creation (not just how can we launch a startup, but how can we recognize broken systems around us that we can contribute to meaningfully with tech?), making that a reality for more. We're building the organization and community we wish we had when we were first exploring the field.
How did you meet your teammates Bianca Aguilar and Kirsten Sison? Can you tell us a bit about your dynamic as three female tech student leaders?
Bianca became a member of Developh way back when it was still a casual student club in a Catholic high school! She's very much an artist and designer, and is one of the most creative, driven and cause-centered people I know with a huge fascination for learning.
I met Kirsten in a VR Philippines event. We were both ambassadors for VRPH, two of the only women in the batch and the only ones in high school. Kirsten has been involved in so many tech communities, especially Women Who Code Manila as well.
Despite holding C-level titles, we prefer to see each other as equals. Because of this, the way we work with each other is very open and spontaneous; many of our projects have sparked from random ideas in group chats. Despite this, we've also been prioritizing documentation. As a remote organization, we feel that no one should feel left behind just because they weren't available at the time; everyone should be able to work at their own pace.
We don't just talk about tech. I think other tech orgs succumb to this: we're not based in an institution, we're distributed across timezones, but this gives us so much to talk about: the things we love, politics, media…not just code and what's most optimal for us to do next.
The diversity in leadership in the organization reflects back to our membership, which is so important in tech spaces! We aim for this level of collaboration in our org. 
Developh's big idea is to "reshift the tech pipeline." Can you elaborate on this?
Technology has long been siloed to this grand image of Silicon Valley. That's how I saw it in television, and all the role models I had seemed to fit this idealistic picture of being a Harvard dropout founding the next Google from your dorm room.
The Philippines isn't really framed to fit this mold. Long hours and commute times in school don't give students the most valuable asset of time; we're underfunded and don't have the infrastructure that rich institutions have to innovation. America has funds where students can be trusted with $20,000 checks to build delivery apps and fail. The Philippines isn't afforded that same luxury.
What we're trying to do is build an ecosystem that works for students. Understanding data, building community across schools, offering our own resource network atop the learnings of our community and supporters, and elevating the way we educate, share, and build. We're making space for students to learn together, build, and make an impact mindfully through education and opportunity. This looks like us fostering interest in high schoolers, showing that tech can be good and is not all about Mark Zuckerberg and co., to running community events and talks, to propelling students who are ready in our accelerator program. We hope for every student to be given the opportunity to explore technology as a career path, succeed in it, and then lead so that the ventures we see are far more reflective of the world we come from.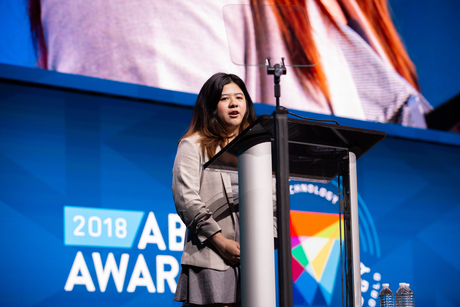 Amisola accepting her Abie Award at the 2018 Grace Hopper Celebration
What types of activities does your non-profit engage in?
We run an online community that students are welcome to join, running talks, mentorship sessions, career development talks, and other distributed events centered around innovation and social good. Education and innovation are our next biggest anchors. Education to us comes in the form of our workshops, awareness campaigns, career development work and anything else that lets us dive into the technical with our community members.
Our other work is in creating initiatives for good like Intern.ph, a database of over 200 companies and how they pay interns, Iboto.ph which informed over millions of Filipinos about progressive candidates in last year's elections. Outside of in-house work, we have our accelerator where we support student initiatives from concept to release.
Other times, we host online hackathons (we held Mental Health Hacks in 2017 with over a hundred participants), community game nights, and other events to challenge ourselves or decompress at times.
We've been hosting a student tech talk series featuring young people in high school and college from diverse backgrounds. They share their journey in these casual AMA-like conversations. We had one of the only high school women competing in the National Olympiad in Informatics to international students talking about developing for national COVID relief programs share their work in these spaces that are more like casual chatrooms than formal webinars.
You're taking Computing and the Arts at Yale. How is coding connected to the humanities?
Code is nothing without being informed by the humanities. Technology is just a tool. If software engineers don't have the conscious knowledge of the systems they're building for and where they're going to take place, we risk creating malicious and harmful products. I think many of the tools that became "big" that we see today are byproducts of tech without this conscience. If we want to entrust tech to take large roles in privacy, networking, automation… we'll need to integrate this knowledge in theory, as they are undeniably intertwined in practice.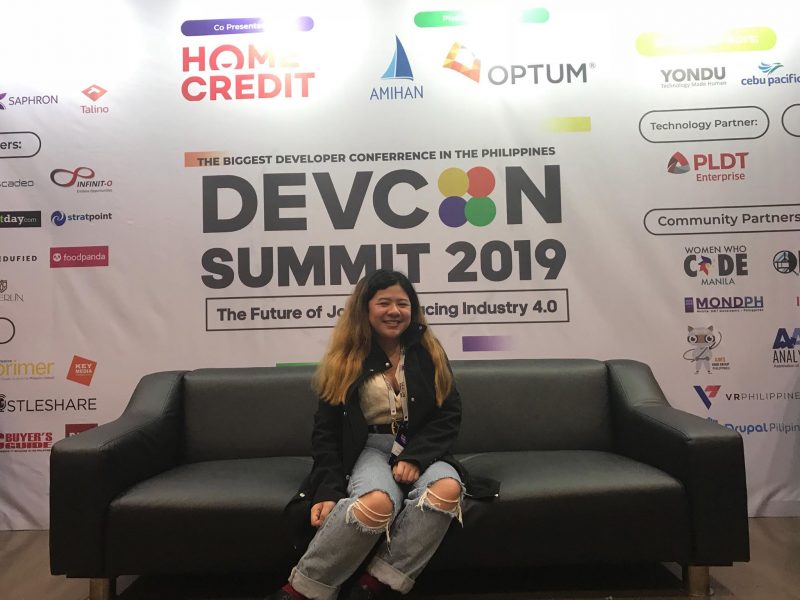 Amisola at DEVCON Summit 2019
For anybody interested in learning more about programming and design, what would you consider as must-reads?
Metahaven is a design collective that has published a lot of writing on aesthetics and politics. Post-Identity Design is an example of a great read.
The Design of Everyday Things: It doesn't just give you guidelines about design; it shows you why design should be human-centered at its core.
I enjoy The Creative Independent a lot, which helps us think about our love for "creation" more mindfully: It's a publication for emotional and practical guidance for creatives, and has lovely interviews and resource packets.
On the "radical" side of things, Logic is a lovely magazine about deepening the discourse in tech. It has hosted some of my favorite writing from articles on the dangers of cartography to the beauty of machine music. I think it fosters some of the best difficult conversations around technology; you know it's good if it brings discomfort.
What's next for Developh?
We're doubling down on unapologetically supporting work tied to our advocacies. Tech is never apolitical.
Along with our fund at developh.org/act, we just launched Cause.ph, a directory for Filipinos offering pro-bono services or fundraising with commissions through art, writing, design, engineering, or more. Not every student has the monetary means to donate or the safety of being on the ground, so we're offering our skills and time. These causes support the BLM movement, COVID relief, human rights, transportation, and education groups.
In the next few months, we're hoping to run our remote accelerator once more, centered around a call for students working on tech-enabled ventures or organizations addressing injustice. Like last year's (we held our kickoff at AWS Philippines), we'll be offering technical support, mentorship and funding.
Art by Tricia Guevara
Follow Preen on Facebook, Instagram, Twitter, YouTube, and Viber
Related Stories: 
Sharpen your wits, we're using secret languages to protest now
Here's a list of #JunkTerrorBill protests and indignation rallies
Don't give up, join the Anti-Terror Bill email protests
The people of the internet have spoken and they said #JunkTerrorBill