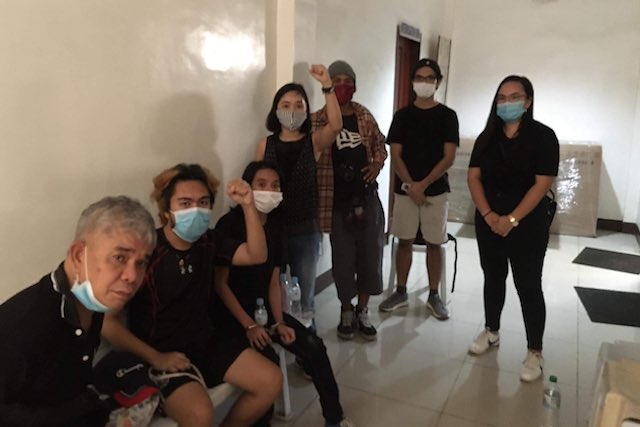 The past few days saw mass indignation over police brutality and the possible abuse of the Anti-Terror Bill which could penalize critics of the government. The dispersal of a peaceful protest against a crackdown on dissent held early today in University of the Philippines (UP) Cebu seems to be evidence that the fear of the public is not fully unfounded. Seven protesters are now under custody at the Cebu City Police Office in Camp Sotero Cabahug.
TAAS KAMAO: In conviction despite arrest, Cebu 7 are now being held at Camp Sotero Cabahug, Cebu City Police Office. #JunkTerrorBill #ResistAsOne #ReleaseCebu7 pic.twitter.com/IbuR8PK470

— Tug-ani (@upcebutugani) June 5, 2020
Earlier today, UP Cebu's official student publication Tug-ani posted photos of police officers already stationed in front of UP Cebu ahead of the street demonstration scheduled at 10:00 a.m. According to their source, a SWAT tactical team and two trucks of police officers arrived and asked the attendees for a permit and quarantine passes. As the armed forces started to disperse the crowd, protesters retreated inside the campus.
Police in riot gear continued to chase the protesters despite the 1989 agreement between UP President Jose Nemenzo and then-Secretary of the National Defense Fidel Ramos stating that "no member of police may conduct operations on UP campuses without prior coordination with, or as requested by UP authorities."
Reports how that police officers continue to seize protesters inside UP despite the Soto-Enrile accord. #JunkTerrorBill #ResistAsOnehttps://t.co/JpG2PCyadG

— Tug-ani (@upcebutugani) June 5, 2020
The seven individuals arrested were Jaime Paglinawan of Bayan Central Visayas, Joahanna Veloso of National Union of Students of the Philippines, Janry Ubal of Food Not Bombs Cebu, Dyan Gumanao of Kabataan Partylist Cebu, Nar Porlas of Anakbayan UP Cebu, UP Cebu University Student Council Vice Chairperson Bern Cañedo and UP alumni Al Ingking.
A breach of social distancing protocols was said to be the reason for the arrests but netizens noticed in a video of Gumanao getting taken away that they were driven off in cramped trucks. She said in the video, "Dili mi arestuhun na mga aktibista. Sobra na ang ginabuhat sa kasamtangan na administrayon ug sa mga kapulisan na naa dinhi karon. Naa mi kauban na giposasan pero non-uniform personnel ang nagdakop sa iyaha. Di na pwede." (Don't arrest us activists. What the current administration and the police here are doing is too much. One of the people with us was handcuffed by a non-uniformed personnel. That's not right.) Making an arrest out of uniform is in violation basic requirements of police operations as stated in the "Know Your Rights: A Citizen's Primer on Law Enforcement." The rest of the protesters are currently staying inside the campus. 
LOOK: Dyan Gumanao of Kabataan Partylist (and former ANINAW Productions correspondent) being taken by police forces. #JunkTerrorBill #ReleaseCebu7 https://t.co/5MTQYZIFS9

— CEGP Cebu (@CEGPCebu) June 5, 2020
Similar to this incident, six jeepney drivers were arrested in Caloocan for taking part in a protest for the resumption of jeepney operations on Jun. 2. A resolution on the case has yet to be made and mass transport group Pagkakaisa ng mga Samahan ng Tsuper at Operator Nationwide are still calling for their release.
A fundraising campaign has been set up for the seven protesters who were detained. While no charges were filed, they were brought to a detention center and the inquest will have to wait for Monday. Donations can be sent through GCash (09064414320) or BDO Unibank Inc. (Karen Ong Yap, 010780114639). On social media, tweets about the dispersal can be found under the tag #ReleaseCebu7.
Photo courtesy of  Tug-ani
Follow Preen on Facebook, Instagram, Twitter, YouTube, and Viber
Related Stories:
Help out unemployed jeepney drivers with this donation drive
Here's a list of #JunkTerrorBill protests and indignation rallies
Not just "nosy," Frankie Pangilinan talks anti-terror in an online lecture
Don't give up, join the Anti-Terror Bill email protests