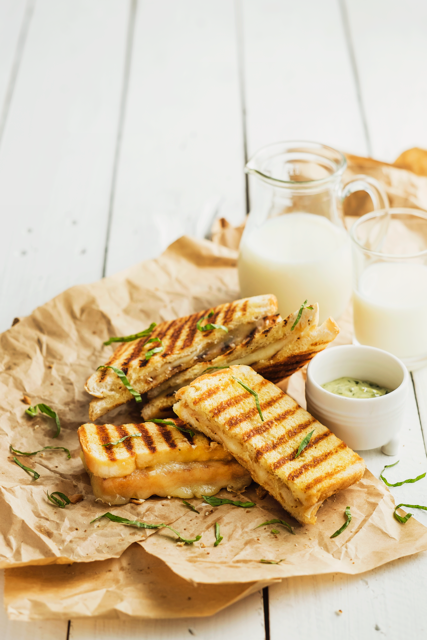 So we heard you had a busy Monday (probably just like the rest of us here who kept track of
#SONAFashion
).
 And you just want those gooey grilled cheese sandwiches to end your day on a high note. 
We hear you and we share your feelings. So calm down and cook. Here's a recipe that won't fail in both cheering you up, and spilling your active sex life—A study says you cheese lovers get laid more. Now wouldn't you like that? 
Ingredients
4 slices white bread
6 thin slices Swiss cheese or Emmental cheese
2 tbsp soft butter
For pesto mayo
2 cloves garlic
3 handfuls basil
Preparation
1.    
For the pesto, blend the basil, olive oil, garlic, and pine nuts. Transfer it to a bowl and mix with mayonnaise and salt to taste. 
2.    
Spread the soft butter on both sides of the bread. Set this aside. 
3.    
Heat the grilling pan. Place the bread on the pan, toasting one side until crispy and golden brown.
4.    
Flip the bread and put three slices of cheese on top.
5.    
Place another slice of bread, with one side already toasted, on top of the other slice with cheese. Flip the sandwich.
6.    
To melt the cheese, drizzle a small amount of water on the pan and place the cover. Steam will help the cheese get that gooey texture.
7.    
Slice the sandwich in half and dip it in the pesto mayo.
Photo by Gabby Cantero
Source: Charlie Carbungco for
Northern Living, "Hard Knock Life," July 2015.