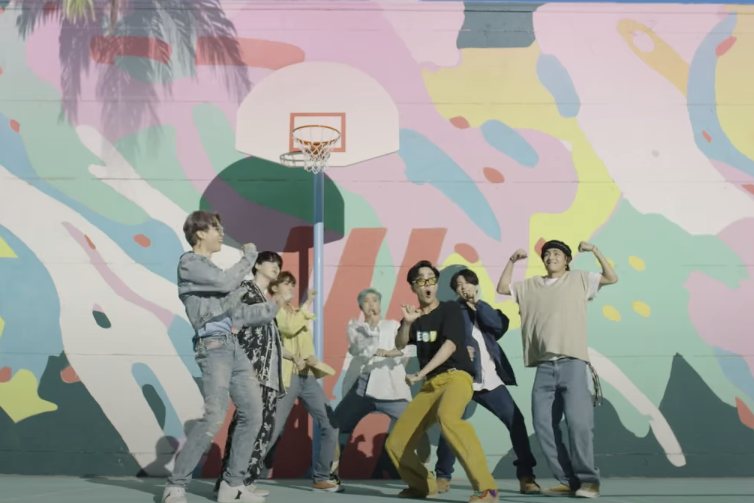 BTS' "Dynamite" just made an explosive debut by grabbing the top spot of the Billboard Hot 100—a first for an all-South Korean group.
With 12 appearances at the Hot 100 and four songs in the Top 10, BTS is no stranger to the chart. The boys recently made their highest debut at the Hot 100 with "On" taking the fourth spot after its release in March until "Dynamite" came in. Billboard announced that the funky disco-pop song topped the chart for the week ending on Sept. 5 and will be updated on the website on Sept. 1. 
The song made its live performance debut at the 2020 MTV Video Music Awards stage last weekend where the boys bagged four awards: Best Pop Video, Best Choreography, Best Group and Best K-pop.
With its music video garnering over 260 million views in just a week, it's no brainer that "Dynamite" is a bop that continues to capture the hearts of ARMYs and pop music fans alike (my mom isn't into K-pop, but she absolutely loves it). 
Moreover, this is the first time that an all-South Korean group led the Hot 100. Back in 2012, South Korean soloist PSY bagged the No. 2 spot at the Hot 100 with "Gangnam Style" for seven weeks while Far East Movement, with two out of four members (at the time) being South Korean, led the Hot 100 with "Like a G6" for three weeks in 2010. All seven members of BTS are of South Korean descent and we couldn't be more proud of them for this achievement (and being announced on Jungkook's birthday—it's the best gift).
How long do you think "Dynamite" will stay at the top spot? Keep streaming, ARMYs!
Screengrab from the "Dynamite" music video
Follow Preen on Facebook, Instagram, Twitter, YouTube, and Viber
Related Stories:
Paulo Coelho, noted BTS stan, wants you to stream 'Dynamite'
An ARMY's declassified guide to stanning BTS
Say hello to our new disco kings BTS in their 'Dynamite' teaser
Get ready for three new groups and more BTS content this year