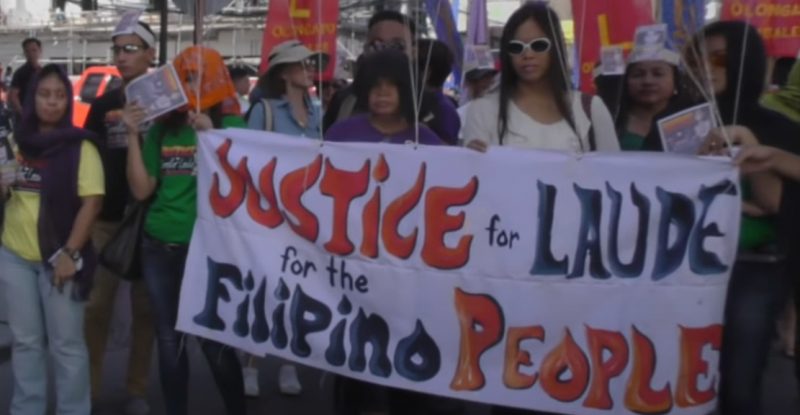 Warning: This article discusses transphobia and a graphic account of anti-transgender violence and murder
Today, Sept. 7, President Rodrigo Duterte granted "absolute pardon" to U.S. Marine Lance Cpl. Joseph Scott Pemberton for the homicide of trans woman Jennifer Laude.
Saying we're angry over this is an understatement. 
Pemberton's pardon will allow him early release from jail and his Good Conduct Time Allowance (GCTA) no longer a problem. Presidential spokesperson Harry Roque says, "Ibig sabihin po niyan, makalalaya na si Pemberton, wala na pong issue kung siya ay entitled sa GCTA, wala na pong issue kung applicable sa kanya yung batas dahil hindi siya nakulong sa national penitentiary. Binura na po ng Presidente kung ano pa yung parusa na dapat ipapataw kay Pemberton." 
He clarified that Pemberton's conviction will remain but the consequences of his crime will be erased. "Ang di po nabura ng Presidente, yung conviction ni Pemberton, mamatay-tao pa rin po siya, pero kung ano yung karagdagang parusa pa, binura na ng Presidente." 
In 2014, Jennifer Laude was murdered by Pemberton in a hotel room, her naked body slumped over the toilet bowl and her head submerged in a brutal act of anti-trans violence. That same year, Laude's mother and former roommate fought hard and filed a murder complaint against Pemberton. In 2015, the Olongapo Regional Trial Court found Pemberton guilty of homicide and was eventually sentenced to six to 12 years in jail. He is now paying for the damages.
Violence against trans people has been present for years and is still prevalent up to this day. The data for how many lives have been lost to this mindless act has not been officially recorded in the Philippines, but The Human Rights Foundation reports that at least 26 transgender or gender non-conforming people in multiple countries have been killed in 2020 alone.  
The fact that this statistic exists and the lives of transgender people threatened every day just by living is something we need to change. The numbers of our own country may not be taken down, but we know and see that it exists.  
The president granting "absolute pardon" to the man who murdered one of our transgender siblings only encourages us to stay ignorant and wave away these issues as if they don't matter enough. Trans rights are human rights and we will not stop fighting. 
Photo screengrab from the "Call Her Ganda" trailer
Follow Preen on Facebook, Instagram, Twitter, YouTube, and Viber
Related Stories:
After 6 years, man convicted in Jennifer Laude's homicide pays damages
Trans women aren't pretending and they don't owe anyone disclosure
Three Black trans women just got assaulted but nobody batted an eye
'Pose' Emmys snub shows that Hollywood needs to step up in recognizing trans actors