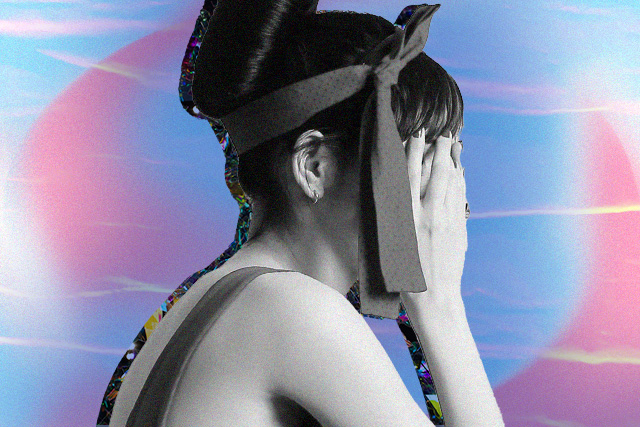 Content warning: This story discusses transphobia and accounts of anti-transgender violence and murder
Have you been on Omegle lately? Personally, I haven't used the online chat website since high school. When the tweet from our fave Gigi Esguerra that made the rounds this week about a certain 2020 vlog trend popped up on my feed, I couldn't believe it at first.
In hindsight, it shouldn't come as much of a surprise since the "Sabi Ko Na Barbie" song came out last February. That was just a few months ago. Still, seeing Gigi's screenshot of YouTube videos where cis men dress up as women to "prank" other dudes for clout was like a bucket of cold water.
If the fact that there are still people who disagree with statements like "Black lives matter" and "Trans women are women" gets you angry and bewildered, I'd like to assure you that we—the people trying to build a more radically inclusive present—are growing in numbers. If you actually clicked on this article because you have yet to be convinced of the title, I'd like to thank you for taking a chance on this and encourage you to read on.
Esguerra said in her tweet that the trend perpetuated the idea that trans women are traps. She also posted a video on her YouTube channel to discuss how this idea is part of the reason why trans women are killed. One of the responses to her tweet was from a guy who said that trans individuals who hide their identity are the real transphobes and violence was a BS excuse for this, especially in a country as "accepting" as the Philippines. 
In a September 2019 hearing on the SOGIE Equality Bill, several lawmakers of our tolerant-but-not-exactly-accepting country made discriminatory statements such as "LGBTQ+ has no clear definition. The set acronym has no set meaning. What will prevent the addition of P for pedophilia?" and "The SOGIE Bill will make us who believe in the Christian faith second-class citizens."
In a 2017 hearing on the Anti-Discrimination Act, boxer-turned-senator Manny Pacquaio said that Jennifer Laude (who was found naked, with her head submerged in a toilet bowl and strangulation marks on her neck) was also at fault for not saying that she "was a man." US Marine Lance Cpl. Joseph Pemberton was convicted of homicide after claiming in court that brutally killing Laude was an act of "self-defense."
Bahaghari spokesperson Rey Valmores-Salinas points out in a series of tweets that trans people hesitate to disclose that they are trans, not because they're ashamed, but because they might get murdered.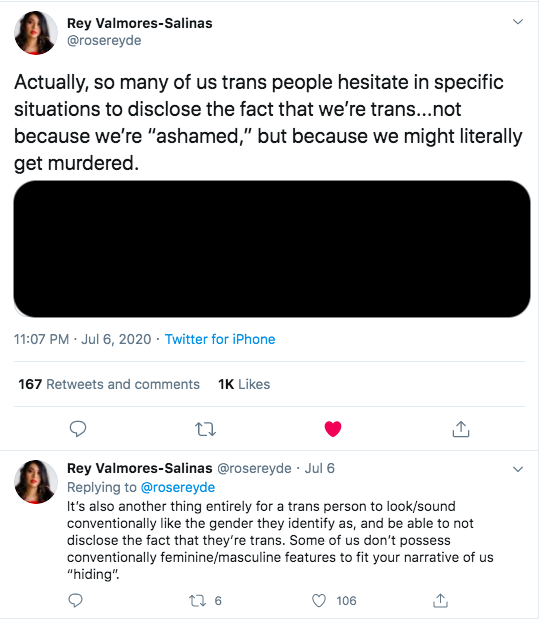 A screenshot of tweets from Rey Valmores-Salinas
Asia Foundation's representative to the Philippines Steven Rood said in an interview with Time magazine, "[Seen] with American eyes, the position of the LGBT community in the Philippines is an unusual one. It's a normal part of the Filipino community, but the violence they may be subjected to has not been very visible."
The Society of Transsexual Women of the Philippines (STRAP) submitted a 2012 report to the United Nations Human Rights Council (UNHRC) on the barriers to legal recognition and social services as well as bias-motivated crimes faced by transgender Filipinos. As of writing, there has yet to be a national report on the actual number of cases of anti-transgender violence and other bias-motivated crimes.
In "VIOLENCE: Through the Lens of Lesbians, Bisexual Women and Transgender People in Asia," OutRight Action International documented several cases of abuse experienced by members of our LGBTQ community. They cited how former Pres. "Noynoy" Aquino's administration abstained from supporting a 2013 United Nations (UN) declaration calling for an end to extrajudicial killings based on sexual orientation and a 2011 UN resolution that would have requested the High Commissioner for Human Rights to prepare a global study on violence and discrimination on the basis of sexual orientation and gender identity.
Although our contexts are different, perhaps the number of anti-transgender violence cases in the United States can give us an idea of our own. The Human Rights Campaign Foundation reports, "Sadly, 2020 has already seen at least 21 transgender or gender non-conforming people fatally shot or killed by other violent means. We say at least because too often these stories go unreported—or misreported."
This is what the reality for the trans community looks like. When a person speaks over trans individuals sharing their plight, they partake in silencing a community already forced to live in fear.
Art by Dana Calvo
Follow Preen on Facebook, Instagram, Twitter, YouTube, and Viber
Related Stories:
This trans Filipina speaks out on isolation and discrimination in Tokyo's immigration facilities
Kevin Balot says trans women shouldn't join "traditional" beauty pageants, huh?
Netflix docu 'Disclosure' talks about trans representation in TV and film
You can still help trans women gain access to basic needs with this donation drive