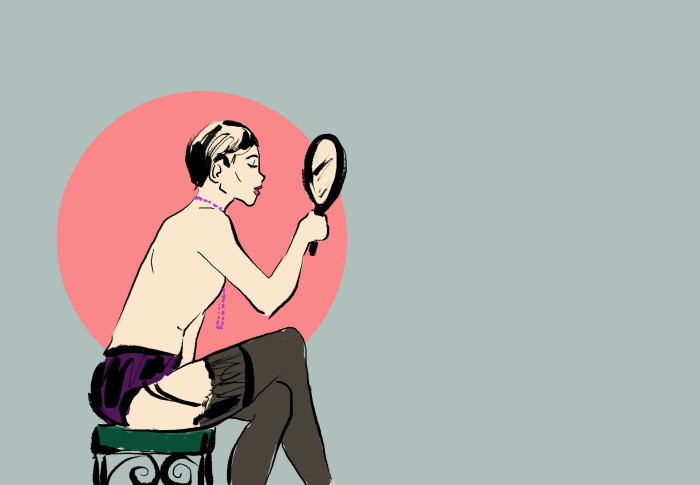 This column may contain strong language, sexual content, adult humor, and other themes that may not be suitable for minors. Parental guidance is strongly advised.
What is it about trans people, or cross-dressers for that matter, that frightens conservatives and Bible-thumpers to the point of assuming they are criminals in disguise?
Republicans went apoplectic with age a year ago when President Barack Obama introduced a directive instructing US public schools to allow trans students to use bathroom facilities and locker rooms according to their gender identity, as opposed to their biological gender.  A number of federal judges ruled against the implementation of the directive.
Now we have that guardian of moral certitude in the Philippine Senate, Manny Pacquiao arguing, with such intellectual acuity, that supporting an anti-discrimination bill such as the one introduced by his colleague Sen. Risa Hontiveros, would provide protection so that cross-dressing would not be used to commit crimes, according to an Inquirer news report.
Pacquiao's argument against a proposed legal enactment was based not on the law, not even on fact, but on that immutable arbiter of all things supposedly handed down by some voice in the wilderness thousands of years ago: the Bible.
The Bible says there are only two genders, the boxer moonlighting as a politician declared, male and female. Men dressing as women, women dressing as men, men and women taking hormones to transition to the opposite sex or having gender reassignment surgery in order to live and be the gender they identify with, must adhere to the gender into which they were born.
This intransigence, this refusal to see nuances in nature, even in gender, is silly, short-sighted and sad. The insistence on regarding them as more prone to crime and moral turpitude is just plain stupid.
To quote the Christian senator, "Ano ba gagawin natin diyan na nagdamit babae yung lalaki tapos nabigla yung lalaki na lalaki ka pala, eh pinatay, (What will we do if we have a man dressed as a woman only to surprise her partner that she was born a man, then kills her)" referring to the case of Joseph Scott Pemberton who killed Jennifer Laude, who was a trans woman picked up by the American military man in Subic, Zambales in 2014. Pemberton allegedly murdered Laude after he discovered he had been deceived—Laude was actually a man, not a woman.
Pacquiao believes, because the Bible tells him so, that men should dress as men and women should dress as women.  I'm not sure what he'd make of David Bowie, Prince, Madonna, or any number of artists who have subverted gender rules, sartorially speaking, in order to make a point about the fluidity of sexual identity.
He also seems overly concerned "that women's clothes could be used by men to commit crimes such as fraud."
Just as rape cases are caused by rapists, and not short skirts, or excessive drinking, or flirtatious behavior, crimes are caused by criminals. Criminals may choose to rob a bank wearing a mask or a dress—or both—but a cross-dresser or a trans person does not automatically possess criminal tendencies because he or she dresses differently from what may be deemed acceptable according to biological gender.
In the case of Laude, Pacquiao seems to lay the blame for her own death squarely at her feet, considering her failure to disclose to Pemberton beforehand that she still had a penis as leading to her tragic fate at the hands of the soldier.
"Jennifer also was at fault because he did not say he was a man," he said, demonstrating exactly why the Anti-Discrimination Bill championed by Hontiveros needed to be passed urgently.
Hontiveros said, "She was just being true to her person and the one at fault was Pemberton as ruled by the court. He hurt and killed Laude. So let us not resort to victim-blaming."
Just as the opponents of the bathroom ordinance in the United States were ridiculously misguided in insisting that it would open a Pandora's box of pedophilia and sexual assault because males dressed as females would be able to enter women's bathrooms.
A report in Time Magazine demolished many of the myths that underpin the hysteria surrounding the bathroom issue. For instance, sexual assault is sexual assault and is therefore a crime regardless of the reason why someone may claim they entered a woman's space.
"If you are a man who dresses as a woman and goes into a bathroom and commits a crime," says the Human Rights Campaign attorney Cathryn Oakley, "whether you have a non-discrimination protection on the basis of gender identity or not, that behavior is illegal and criminal and you could be arrested and go to jail."
Most of the arguments against the bathroom ordinance are just plain prejudice. In fact, statistics point to trans people being more likely to be victims rather than the victimizer.  "What is really unacceptable," says HRC's Oakley, "is we're pinning [these fears] on people who are, in fact, themselves incredibly vulnerable in bathrooms.
It's unfortunate that the likes of Manny Pacquiao choose to be consumed by their fear and myopia instead of trying to understand the unique and complex situations trans people often find themselves in. Yes, it is a big leap for many to grasp that gender identity is not a binary, or that gender identity and sexual orientation may not always necessarily correspond.  They seem to regard the decision to transition to another gender as one lightly and frivolously taken, that one day a boy wakes up and decides to dress up as a girl and enter a woman's bathroom for fun. They don't seem to realize the internal and societal challenges a trans person struggles with every single moment of the day, every day of their lives until they finally have the freedom, and the protection of the law, to live in safety and express themselves according to the gender they identify with. Considering that trans people have been killed for doing just that, Pacquiao and his band of self-righteous Bible-thumpers should take a cue from their holy book and do the Christian thing:  have some mercy and compassion.
B. Wiser is the author of Making Love in Spanish, a novel published earlier this year by Anvil Publishing and available in National Book Store and Powerbooks, as well as online. When not assuming her Sasha Fierce alter-ego, she takes on the role of serious journalist and media consultant.
For comments and questions, e-mail [email protected]. 
Disclaimer: The views expressed here are solely those of the author in her private capacity and do not in any way represent the views of Preen.ph, or any other entity of the Inquirer Group of Companies.
Art by Dorothy Guya
Follow Preen on Facebook, Instagram, Twitter, Snapchat, and Viber