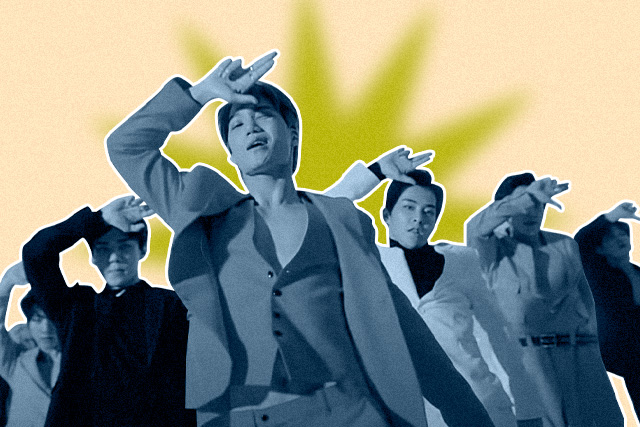 As a newbie K-pop stan, getting into the community is pretty exciting. Seeing so many back-to-back releases (from new groups to comebacks) and the creativity poured out to make up for the pandemic (like virtual concerts and collabs), 2020 has so far been a big year for K-pop. Since quarantine prevents me from meeting up with my friends and gushing about all the new content, somebody at home had to bear with my fangirling—my mother.
I began talking to her about all the groups and songs I liked and it turns out that she also has friends who stan the same groups. (Yes, you heard that right—there are tita K-pop stans out there.) Since we're together 24/7 during quarantine, both of us fell into the K-pop blackhole and began losing all our time and money over it. Kidding aside, it's been a great bonding activity for both of us and I feel like it strengthened our relationship as mother and daughter. Here's how deep my mom got into it.
It started with SuperM's comeback
Recently, I gave a review of SuperM's "Tiger Inside" music video and, I have to say, writing that story got me hooked on the band. I was a big fan of their song "Jopping" and hearing the sound of their new releases convinced me to pre-order a physical copy of their first full-length album which comes out very soon. Since the official website says that they don't ship to the Philippines, my mom offered to ask her EXO-L friends where they get their merchandise. Then, the music video recommendations came rushing in and the obsession started.
Mom: Well, I got into it when you were ordering the SuperM album. I asked my friends because they're super fans. I figured they would know where you could get it so I asked them because you were so insistent on buying it.
Me: I wouldn't say I was insistent. I was just wondering where tita bought her merchandise since SuperM doesn't directly ship here.
Mom: OK, sure, whatever you say. True enough, my friends sent us the link where they ordered their merchandise from and then you started showing me their pictures and so did my friends. SuperM started to grow on me, 'tsaka yung songs nila kasi very nice naman and upbeat. Kasi usually when I listen to music, I have the tendency to go with the beat although I can't sing (laughs). So, ayun. You know, when I was young like you, I was into these things so I guess kaya medyo ganyan pa rin ako hanggang ngayon. 
Me: Yeah, I overheard you talking about them in your recent video call with your friends. But didn't it start way before SuperM's comeback? I thought you were already aware of the K-pop groups I liked.
Mom: I was, but I was more into K-drama. I understand it more because of the subtitles and the story. Siyempre, I like the cute guys and my friends are also into it. Yung K-pop kasi hindi ko naman maintindihan yung songs and parang it's so fast so I couldn't really see their faces and all. But when I started seeing them up close in the fancams, ayan na. 
Me: So, who would you say was the first group that you liked? 
Mom: OK, let's go back in time (laughs). Parang wala back then. Kasi the first group that I knew was BTS because they're in American TV. During the times I caught them on the award shows, nagalingan ako sa kanila. And then one of my friends watched them in a concert with her daughter, so she also told me that they're very good. EXO naman, I heard about them from my friends at work. They would show me videos during lunch time and they would say, "Ito yung bias ko." or "Ito yung cute. You should watch him." Ganun, but it's so fast so I didn't really get into it. I just agree na magaling sila, but I still swoon more over the K-dramas. 
She fell deeper thanks to an EXO music video
My mom said that she got into K-pop because of my affinity to SuperM, but she talked way more about this one EXO music video which convinced me that that was the *real* turning point for her.
Mom: I think I *really* started listening to K-pop when you showed me all the pictures and videos of SuperM. 
Me: Yeah, I saw you added them to your Spotify playlist in the car.
Mom: Their songs are really nice kasi. I like "Tiger Inside" and, since favorite mo rin yung EXO, I watched "Love Shot" and Kai caught my eye. Actually, matagal na rin pinapakita sakin ng friends ko yung "Love Shot," siguro twice or three times na. Lagi nilang sinasabi, "Tignan mo 'to yan yung naka-red," which was Kai kahit ang favorite talaga nila si Chanyeol. It didn't stick with me back then, but I noticed na magaling siya sumayaw. When you showed it *again* to me, [I realized na] magaling na nga sila. Siya [Kai] ang magaling. (laughs) Nakakatuwa lang because it's a lot like before. I would follow bands when I was in school. Then, I would buy all the merchandise and posters. I remember my friend gave me this mounted poster of Duran Duran. Gosh, it takes me back.
She can't decide who's her ultimate bias and bias wrecker
It's no brainer that K-pop artists are not only really talented, but also very good looking. When it comes to talking about biases, a lot of K-pop fans confess that it's normal for more than one group member to catch your eye. My mom may be new to K-pop, but she's already familiar with K-pop slang. She told me that she really looks at the visuals first before noticing vocals or dance. When I asked her who her bias is and if she has a bias wrecker, it took her some time to think about it.
Mom: Actually, I don't know who's number one. Parang tie—dalawa sila. But for SuperM, I like Kai for his sex appeal. He's so sexy and manly. And I like Taeyong because he's so cute and so handsome. Basta he's cute.
But for bias wreckers, it's not Kai and Taeyong 'cause they don't wreck each other. It's Baekhyun. I told you he's growing on me, but it's not the way na nakakakilig (like the way I look at Kai and Taeyong) because he's boyish and wholesome cute. Taeyong kasi is like *tiger* cute, but Baekhyun's like a boy next door. Pero pwede din ba from another band? Kasi to me it's like there are biases per band. Kunwari sa EXO, si Kai din pala since he's also there (laughs) pero bias wrecker ko si Sehun or maybe second bias.
Me: (Laughs) But I'm surprised that you knew all of those terms ahead of me. I just found out what bias wrecker meant last week.
Mom: Dahil nga kasi sa friends ko. They keep talking about it. They also told me about their experiences when they tried to buy tickets here for EXO and yung terms lumalabas. Like may nagtanong sa kanila, "Sino po bias niyo?" Kasi natutuwa yung mga kids na they're buying tickets for themselves mismo because usually yung mga older doon just buy for their kids.
Even though she was a fan of bands before, getting into K-pop is different 
My mom isn't totally new to fan culture, though. Back when she was in college, she'd listen to the artists she liked on the radio, buy their merchandise and read magazines about them. But as much as she likes Kai and Taeyong, she doesn't see herself fawning over them as much as the artists she obsessed over in the past.
Mom: It's different because, before, the performers were more my age so talagang feeling mo ay boyfriend mo sila or you dream about meeting them. At that time, I was like you. I would really follow them and have their pictures everywhere and on your phone. Probably if there was this kind of K-pop back then, I'd be like my friends lining up and buying all those tickets. Now it's just purely entertainment for me. They're nice to look at, but it's not like I'd dream of meeting them or that they'll fall for me.
Me: Would you say that quarantine contributed to your love for K-pop? Because for me, I think it did since there are new songs and videos coming out like SuperM's album or NCT 2020.
Mom: Ah yes, andiyan kasi si Taeyong (laughs). They have so many videos kasi on YouTube right now and magaling talaga sila kasi. Magaling sila sumayaw and as a group, that's so hard to do ah. 
BTS din magaling. I like "Dynamite." I don't actively search them pero since lumalabas sa YouTube, napapanood ko na rin lalo na if it looks interesting sa notification napapaclick na talaga ako. Or if there's a little time to kill, kunwari malapit na magdinner tapos alanganin na to do a certain task, then I will watch muna. That's how I saw that KBS special na lahat sila nagperform doon.
Her advice to parents of K-pop stans: Support your kids
Just like Mrs. George from "Mean Girls:" My mom's not a regular mom, she's a cool mom. She's aware of how much K-pop can make somebody feel happy and advises other parents that if it's not interrupting their kids' studies or work, then they should support them.
Mom: Well, I did hear that there are some instances when the fans are pretty rabid? (laughs). But based on the stories from my friends, there are times that the EXO fans help each other. During the time they were lining up for the concert, may nagbibigay ng photocards for free, tumutulong sa pila or they tweet about other things that they're giving away at the shows. They're just very dedicated, so I guess may tendencies na nga na nagiging violent sila which is not OK. But the good thing about it is may community where they look out for each other. Control lang. You should talk more about this with your titas since they're *super* fans. 
Me: Would you say that this is a good bonding activity between us? I enjoy spending time with you just to watch K-pop music videos or interviews.
Mom: (laughs) Yes, magandang bonding activity ito kasi kunwari yung tita mo halos same level na yung pagkagusto niya sa mga K-pop bands with her daughter so tuwang tuwa sila na magkakasama sila sa concert o sa pagbili ng merchandise. Well, I guess it's because we all like to see cute guys. So yes, sama na ako if ever manonood ka ng concert lalo na sa Korea. Excited na rin ako sa bagong album ng SuperM. To all the mommies that have kids who listen to K-pop, watch them because they might spend too much (laughs). 
Me: Are you calling me out?
Mom: (laughs) Hindi ah. I understand you kaya because I totally went through that phase. At that time, it was the British invasion. Pero going back, if it doesn't do them any harm like get in the way of their studies or work, it should be OK just make sure your kids are not losing touch of reality or dreaming to the point that it's not healthy.
Me: Speaking of dreaming too much, papayag ka ba na future boyfriend ko is a K-pop artist?
Mom: Wait, let me think. Sige, pasado na sakin si…sino nga ba bias mo? Si Lucas, oo na. Mukha namang mabait.
As SuperM's Ten once said, "You don't need to be young to love K-pop—it's all over the place. Every age can love K-pop." While my mom and I wait for the release of SuperM's upcoming album "Super One," who do you think we should listen to or stan next?
Art by Dana Calvo
Follow Preen on Facebook, Instagram, Twitter, YouTube and Viber
Related Stories:
SuperM unleashes the 'Tiger Inside' in their latest MV drop
A K-pop slang cheat sheet for the newbie stan
Here's the TWICE starter guide you're looking for
An ARMY's declassified guide to stanning BTS