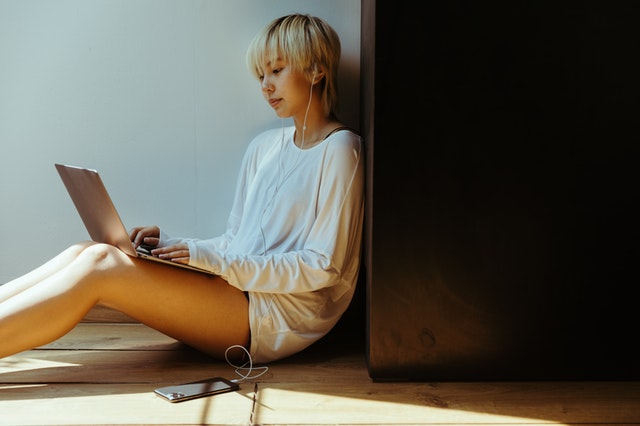 During this pandemic, I loath prolonged silence. Not to say that I don't enjoy the late-night quiet or the afternoon lulls in between the workday anymore—it's just that the quiet has given my three brain cells too much time for overthinking (and it's been very exhausting). 
So in true Gemini fashion, I started hunting for new things to happily fill my head with. I exhausted all of my fave lo-fi hip hop beats (you know, like the girl by the window) and Netflix TV shows playing in the background, but none of them were hitting like they used to. I was about to give up until I decided to explore the podcasts available on Spotify. And let me tell you, I was changed.
Since my discovery of scouring through the podcast world, I'm happy to report that I've come back stronger, wiser and with new companions to help fill the stressful workday or the *too* quiet nights. If working alone has become daunting for you as well, I've found 5 Filipino podcasts to help accompany you while you're doing your day-to-day tasks.
"Decaf After Six"
"Decaf After Six" is a podcast featuring resident baristas, DK Tijam and Chad Arrieta who chat about love, friendship, and music. The two impart wisdom they've gathered over 30 years while hoping to entertain their listeners in the process. The podcast is like a regular conversation between friends over (decaf) coffee. DK and Chad are like the wiser, older members of your barkada who everyone gathers around to listen to at your weekly inuman.
One of their episodes include "TOTGA Con Leche: Who is your TOTGA?" or otherwise known as the one that got away (a very ouchie topic, please don't look at me) which DK describes as, "Yung tipong tao na parang, akala mo kayo na, parang siya yung ine-expect mo na gusto mo maging partner for your whole entire life, tas wala na." (Okay it hurts. You can stop now.) 
This podcast is the perfect way to unwind after a long workday or to accompany you as you work through the daily tasks you have at your job. Not only are they #relatable and funny, but they also offer some good Uncle Iroh level wisdom. 
"Whoa or No"
If you're interested in reviews and weighing the pros and cons of all things trending, "Whoa or No" is a great place to start. Chad from "Decaf After Six" and his good friend VP Gregorio created this podcast as a sort of public service for their listeners. They try a variety of things like the Spicy McNuggets from Mcdonalds or listening to Taylor Swift's new Album "folklore" to give their honest opinions which you can consider before pressing "place order." 
Their podcast is light and enjoyable, providing fun while helping you map out your life choices. I know I need to. *Cries in add to cart*
"Surely Support Group"
Since there aren't any physical shows these past few months, it's been a tough time for us theater geeks. Luckily, the "Surely Support Group" podcast gives us that dose of theater to keep us going. So whether you miss the secrets of the backstage of your show or looking for someone to discuss current theater-related topics, you'll find it all here. This podcast started up by theater fan Pau Miranda and her friends touches on all things theater-related—from show reviews to special guests like the cast from "Ang Huling El Bimbo." Their fun and casual tone make it feel like you're back with your friends huddled around a table at a nearby restaurant after a good show. 
"Stories After Dark"
If you're looking for a little Philippine mystery or want to learn more about our country's true crime stories, grab a flashlight and listen to "Stories After Dark." This podcast's eerie vibe is perfect for Halloween. It features many of our country's spine-chilling stories like their episodes on "Mount Makiling and its guardian spirit Maria Makiling" and "The Ozone Disco Fire." Each episode is accompanied with suitable spooky music and a mode of storytelling that's reminiscent of campfire horror stories—making this podcast definitely not for the faint-hearted. 
"Tsaastrology"
Satisfy your astrology cravings with the Spotify podcast "Tsaastrology" hosted by my fellow Gemini Bern, Nikki the Scorpio and VP (from "Whoa or No") the Virgo. Over the years, astrology has been growing more popular. Who knew sun, moon and rising signs were a thing before the astro trend? This improv comedy podcast will have you laughing and screaming things like, "As a Leo, I strongly identify with this" or "This speaks to me on a Pisces level." 
If you want to feel heard or drown in your feels, you can dive into their episode "Teabag: Mapanakit Na Sign" where they talk about how each sign can hurt your feelings, as they read fan responses and share some of their own heartbreak stories. Get ready to cry. 
As the quarantine doesn't seem to be ending anytime soon, it's always great to find new things to enjoy. Whatever form that may take, whether it's podcasts or videos, we hope you take that well-deserved pause and press play to "me time." 
Photo courtesy of Ketut Subiyanto on Pexels
Follow Preen on Facebook, Instagram, Twitter, YouTube, and Viber
Related stories:
These YouTube channels help calm my pandemic worries
Watch your favorite YouTubers make quaranthemed videos
My ASMR boyfriends are all the love and affection I need
Listen to the most-streamed female artists on Spotify