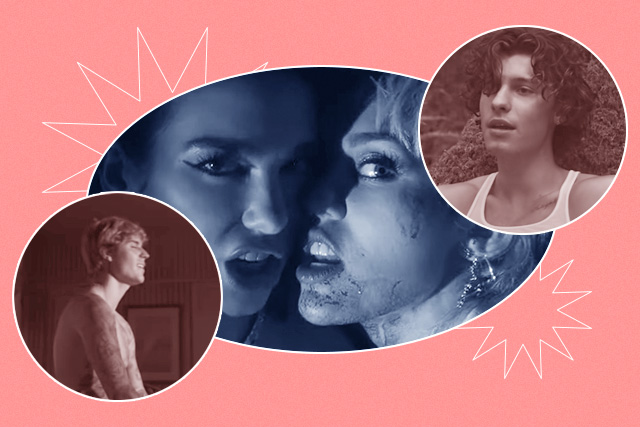 With pop royalties Miley Cyrus and Shawn Mendes both releasing collabs today, our Friday has never looked this good.
Back in July, Miley posted a photo with Dua Lipa on Instagram with the caption, "Dua has heard what you haven't," teasing a potential collab. The artist satisfied our yearning #MileyxDua hearts by releasing a teaser for her hot new song "Prisoner" with Dua yesterday. The song and its music video hit streaming platforms earlier this morning.
"Prisoner" is the second track off Miley's upcoming album, "Plastic Hearts," set to hit the market on Nov. 23, following the lead single "Midnight Sky." With Dua hopping on the track and fitting the retro upbeat sound once again, the two artists' sexy af collab definitely got us on our feet and wrapped around their fingers. As the song says, we can't get them off our minds.
And if that wasn't enough to fill your playlist, Shawn is also releasing a killer collab with fellow Canadian artist Justin Bieber today. Earlier this week, fans thought that the two were beefing after an interaction that made rounds on Twitter, but it looks like the singers were just teasing their new partnership. The upcoming track "Monster" will be the next single off  Shawn's fourth studio album "Wonder," coming out Dec. 4. 
View this post on Instagram
Shawn dropped the emotional title track earlier this month and is gearing up to release his Netflix documentary "In Wonder" on Nov. 23. It looks like a huge month for the young artist and he's showing no signs of slowing down any time soon.
With these two tracks entering this year's roundup of smash-hit collabs, it won't be long until they take the charts by storm too. Have you already picked your fave collab of 2020?
Art by Dana Calvo
Follow Preen on Facebook, Instagram, Twitter, YouTube, and Viber
Related Stories:
Lady Gaga's 'Chromatica' tracklist has Blackpink and Ariana Grande on it
WATCH: Ariana Grande, Miley Cyrus, and Lana Del Rey as badass dark angels
Knock, knock—Stray Kids and CL both released new music videos
Is Miley Cyrus' new song 'Midnight Sky' a collab with Dua Lipa?