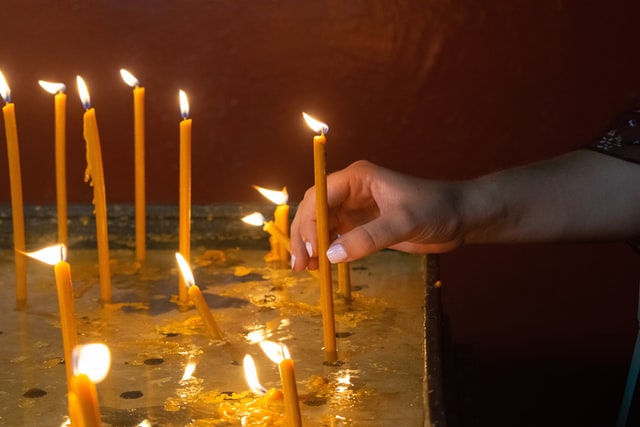 Nov. 17 marked the 40th day since the death of Baby River, but, sadly, her family still wasn't given the right to mourn in peace.
On Nov. 15, Kapatid, an organization that supports the friends and family of political prisoners, said that bishop Broderick Pabillo, the Apostolic Administrator of the Archdiocese of Manila, will be offering the mass on Nov. 17 for the late daughter of activist and political detainee Reina Nasino. However, Baby River's family was once again denied their right to mourn as the police insisted that they had no permit and attempted to violently disperse the candle lighting ceremony held after the mass outside of the Santo Niño in Tondo, Manila.
Baby River was born in the first week of July while Nasino was in detention. She was separated from her mother on Aug. 13 and Nasino was denied the chance to visit her until she passed on Oct. 9.
Family and supporters of detained activist Reina Nacino, who were hoping to light candles outside the Santo Niño church in Tondo, Manila to commemorate the 40th day since baby River's death, clash with cops who insisted the event did not have permit. | Wheng Hidalgo, ABS-CBN News pic.twitter.com/LZUg46Ulc7

— ABS-CBN News (@ABSCBNNews) November 17, 2020
Nasino and her colleagues were arrested for alleged illegal possession of firearms and explosives during a police raid in November 2019, but asserted (in a statement with Karapatan) that charges were "trumped up" and that the "evidence" was planted by the police. 
Backed by a team of lawyers, Nasino tried pleading with the courts multiple times to care for her daughter. The courts dismissed her request for Baby River to stay with her in the jail's dorm and also denied her appeal for temporary release to breastfeed her child. Even when Baby River was admitted to the Philippine General Hospital's intensive care unit, Nasino wasn't allowed to visit her. After Baby River passed away on Oct. 9, Nasino's initially approved three-day furlough to attend the wake was cut short to a few hours due to lack of jail personnel despite being handcuffed and accompanied by 20 policemen.
Sa huli pinayagan din ang grupo na magsagawa ng maiksing solidarity program na may social distancing. Nagsindi ng apatnapung kandila at nag-alay ng apatnapung bulaklak ang grupo para kay Baby River. @News5PH pic.twitter.com/rAALcjskQD

— Ryan Ang (@ryanangnews5) November 17, 2020
Relatives and supporters of Nasino and Baby River were able to continue the 40th day candle lighting ceremony and hosted a short solidarity program while practicing social distancing. As we remember Baby River on her 40th day after death, we continue to demand that Nasino and all persons deprived of liberty must be treated with dignity and respect. No mother should be deprived the right to care for her child and nobody should be denied their rights to grieve and mourn in peace.
Photo by Reka Roman on Unsplash
Follow Preen on Facebook, Instagram, Twitter, YouTube and Viber
Related Stories:
Grieving moms shouldn't be treated this way, Manila police
A furlough to attend Baby River's funeral is a far cry from justice
Today, Jennifer Laude's murderer walks free
Police arrested 7 protestors, not terrorists, in UP Cebu