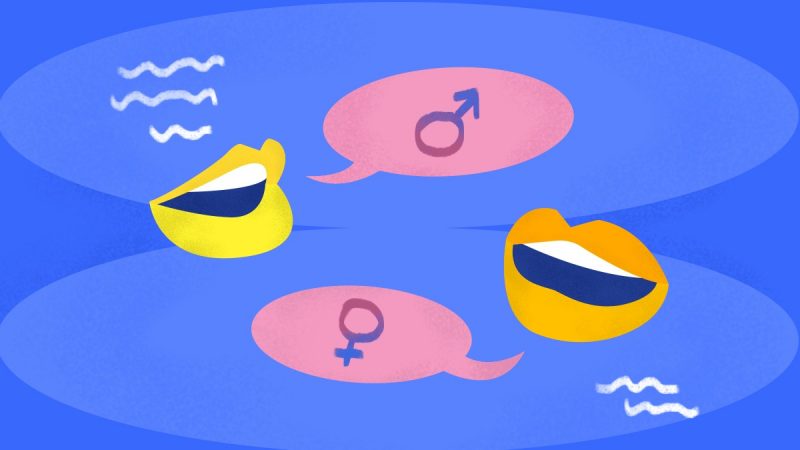 "We give names to anything that deviates from the norm. An eye is simply an eye when it's 'normal,' but when they face inwards, one is called duling (cross-eyed), and when outwards, banlag (wall-eyed). Add to the list such deviations as kalbo, sungki, bingot, etc. Need I say that these deviations [make some people] objects of ridicule? Most of the time, they are." Daryl Pasion, assistant professor in language and culture at the Department of Humanities at the University of the Philippines in Los Banos (UPLB), says in an email exchange with Preen. 
We asked Pasion how the language that we use affects the discourse on the topics of LGBTQ+. It is undeniable that often, the long discussions that we have on social media regarding gender identity remain academic, and can be quite difficult to understand. The platforms we use, accessible using expensive smartphones and laptops, further makes the discourse exclusive to those who have the privilege to own such gadgets. 
We also wonder how Filipino, or the Taglish conversational language that we use daily, shape our discourse as a community. Are the languages we use limiting? How do we explain the contents of the SOGIE bill using everyday terms, when its language can be quite detached and often expressed in "new" English terms?
Pasion embraces the idea of having a wide range of Philippine languages. "There's simply joy in knowing that the range of our language is as wide as the range of our gender and identity. Who doesn't like #range?" 
Asked if he thinks our language is Filipino-centric, he agrees. "Filipino language owns the spotlight, but I'm glad that we are now discovering the potential of other Philippine languages in education, and even in emergency situations." However, this diversity can also make the discourse on gender identity exclusive to the marginalized. Pasion adds, "It disproportionately affects those who do not speak and understand these languages by not being cognitively capable to participate in these discourses. So the question is, whose discourses are we talking about?" 
Pasion highlights that beyond language, the accessibility of the platforms that we use to facilitate discourse should also be checked. Even if millennials or zoomers translate the terms to make the contents of the SOGIE bill understandable to more people, if the discourse only circulates in our echo chambers and gated communities, then we're still far from reaching a common understanding. 
In the Filipino language, the common misconceptions that we have on gender are: One, that gender is binary, and two, that it is based on appearances, says Pasion. "We categorize things in binary, when we say one is 'maganda,' this immediately means that she is not 'panget.' It makes it easy for us to understand cultural concepts based on oppositions and deviations from these oppositions." Gender is a spectrum, but our daily language follows a line of thinking that can be so binary, which can make it difficult to explain the fluidity of gender. 
Pasion also notes that we use visual observations to assign someone's gender identity. When a man acts or looks more feminine, we call him "bakla" because he is "malambot". A child immediately conflates a man wearing makeup as gay, because these were the stereotypes we were taught as kids and reinforced by media and facilitated by the language that we use. 
But this doesn't mean we would forever be stuck with this regressive cultural mindset, because we can use language as a tool to unlearn. This also highlights the intersectionality of identity politics to political issues in terms of access, especially when access to quality and liberating education (formal and informal) can lead to understanding. 
Asked about how our language educates children in schools, Pasion answers, "DepEd materials are infested with a lot of dangerous gender stereotypes, mostly perpetuating the male supremacy…And children learn words like bakla, tomboy, etc. and the values attached to these words in the language of humor and insult." Children are social beings, and the language that they use immediately transmits cultural values. Which is why it's important to teach them topics on gender without the dangerous binary stereotypes, says Pasion.  
It is understandable that it can be quite unsettling being faced with unfamiliar new terms such as "Mx.", but to reiterate, these are only new words, but are not new phenomena. The LGBTQ+ have always been there, and now that there more spaces to discuss these, it is just important to properly define these terms for their recognition. Language is evolving, and discussions on this should be recognized as valid and important. This is the nature of language. Like gender, it is fluid. 
Pasion says that the new terms may be seen as disruptions of the established linguistic disorder, but we need to talk about them and to use these terms to come up with an understanding. He used the word "char" as an example. He explains, "We just woke up one day and we already understood the word and all its nuances, and nobody explained that to us, we just knew it." 
Gender is fluid and is on a spectrum, to dismiss people into binary categories can be dangerous. But he stresses that the fight is beyond language. He adds that there may be allies who may not also be particularly equipped to articulate the discourse, but that the common ground and the goal is the struggle to be understood. Understanding entails the use of language to normalize these seemingly new terms. "Naming is important—it's a recognition that they exist, and from there, understanding follows," says Pasion. 
He ends with the challenge to speak about such issues to younger people. "Explain the terms to your 7-year old cousin. Stretch the language, play with the terms, inject metaphors if you must, so that you and your cousin can reach an understanding. We know that we have succeeded when the terms have grown complex, more nuanced, when different people of different ages, with different languages, can now speak about it in their own terms, in words they find fitting." 
Beyond language, discourses on gender are also influenced by power-relations culturally and systematically embedded in our society. When we ask about the accessibility of these terms, it's important to ask about the factors that make these terms accessible or not. The struggle of recognition or understanding will always be different depending on how the person is enabled to participate in the discourse based on class, race, and generation. That's why the SOGIE bill and the fight for recognition should always be intersectional, because we just cannot push for "gender equality" when members of LGBTQ+ are also differently oppressed in other facets of their lives. This is why we should continue dismantling oppressive systems that exacerbate the present inequality that members of LGBTQ+ experience because of their gender identity. 
Design by Jan Cardasto, Photo by Delia Giandeini on Unsplash
Follow Preen on Facebook, Instagram, Twitter, YouTube, and Viber
Related stories:
These statements from the SOGIE bill hearing got us rolling our eyes
No, AFP, the SOGIE bill does not grant 'special privileges'
How do you do it: A safe sex guide for the LGBTQ+
Understanding what SOGIE means and why it matters