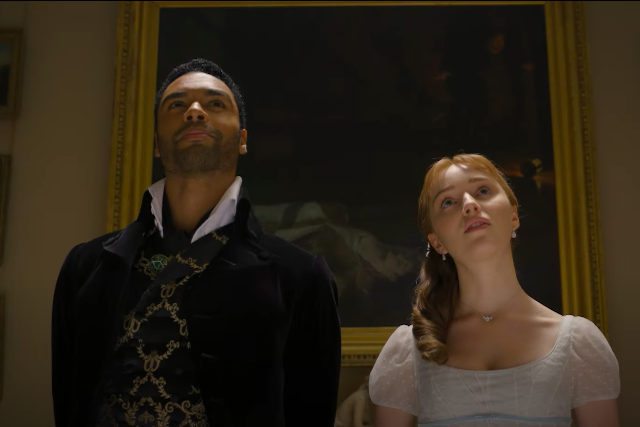 "Grey's Anatomy" might be in its final season but its creators have cooked up an equally spicy show that will take us back to the Regency era in England.
Showrunner Chris Van Dusen is collaborating once again with producer Shonda Rhimes to bring author Julia Quinn's eight-part "Bridgerton Family Series" to Netflix. The adaptation (or at least its first season since we're already anticipating more) will take its cue from the first book in the series titled "The Duke and I."  We follow the eldest daughter of a powerful family, Daphne Bridgerton (Phoebe Dynevor), as she makes her debut in  London's competitive marriage market. Set in the world of London's elite between 1813 and 1827, the series is expectedly filled with glamor and gossip. It's like (a less white!) Gossip Girl but instead of Kristen Bell, Julie Andrews is voicing a yet to be identified columnist. We can already tell how binge-worthy it is.
View this post on Instagram
Daphne is witty but she's not exactly the type of person who enjoys playing mind games for the sake of romance. Though she comes from an aristocratic family with good prospects of finding a suitable match, what she's looking for is true love. As her older brother begins to rule out her potential suitors, the mysterious writer Lady Whistledown (Andrews) of a high society scandal sheet (think old-timey tabloids) takes an interest in her story. 
Daphne then meets the sought-after (read: very sexy) and rebellious Simon Basset (Regé-Jean Page), Duke of Hastings. He's a committed bachelor who intends to shun high society. Despite initially not getting along, they make a deal to go on a fake courtship so Daphne's reputation doesn't get ruined and Simon can get matchmakers off his back. Of course, since it follows a fake dating trope, they're bound to fall in love. 
This eight-episode is a reimagination of a time when elegance and etiquette are everything. It has BIPOC actors in the main cast and a heroine who is looking to prove that she's very much capable of making her own choices. We're interested to find out what it will be adding to Regency period romances.
You can dig into the drama when it premieres on Netlix on Dec. 25.
Photo screengrabbed from the "Bridgerton" trailer
Follow Preen on Facebook, Instagram, Twitter, YouTube and Viber
Related Stories:
'Gameboys' is coming to Netflix—with new bonus content
Filipino paranormal crimefighter Alexandra Trese teases her Netflix debut
Grey's Anatomy is coming to Netflix—all 15 seasons this time
A cheat sheet to the 15 Filipino films coming to Netflix