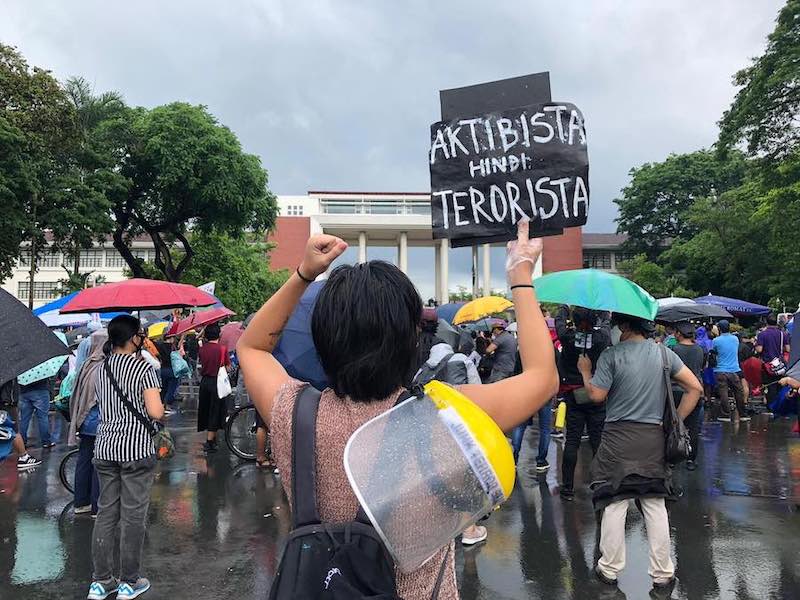 This just in: Defense Secretary Delfin Lorenzana has signed a letter terminating the UP-DND accord.
Since 1989, the Department of National Defense (DND) and University of the Philippines have upheld the UP-DND accord, which is an agreement that prohibits military and police forces from entering and operating inside the UP campus except for emergencies or if the school officials requested their presence. 
Also known as the Soto-Enrile accord, the deal was put in place to protect students from military intervention. 
In 2015, UP officials expressed concern that the accord had been violated when six military agents were apprehended by campus police. The Armed Forces of the Philippines defended the presence of the AFP personnel, calling it a legitimate national security operation. At the time, the school was organizing a solidarity camp to host Lumad citizens for the annual protest caravan Manilakbayan.
According to Inquirer.net, the move to terminate the agreement is purportedly meant to help the counterinsurgency movement as apparently not being able to enter UP campuses freely has hindered the military from carrying that out. Lorenzana said that "there is indeed an ongoing clandestine recruitment inside UP campuses nationwide" by the Communist Party of the Philippines and the New People's Army. "Both have been declared as terrorist organizations by the Anti-Terrorism Council created by the new anti-terror law," wrote Inquirer.
Citing neither sources nor specific instances, Lorenzana claimed that "a number of UP students have been identified as CPP-NPA, some of them were killed during military and police operations."
Many public figures have already spoken up against the UP-DND Accord ending. Sen. Francis Pangilinan tweeted, "Tinutulan natin ang panghihimasok ng diktador noon. UP has always been and will always be a citadel of freedom and democracy. No to the unilateral and arbitrary termination of the Enrile-Soto Accord. Pakiusap lang. Please don't mess with UP."
Though Lorenzana said that the termination of the UP-DND Accord will not mean that UP will become a military outpost not a widespread suppression of "activist groups, academic freedom and freedom of expression," the fear is not unjustifiable. Red-tagging, especially of UP students, continues to proliferate. Just last year, students holding a donation drive for workers of the Philippine General Hospital reported being red-tagged. The League of Filipino Students was similarly red-tagged in December. 
With multiple cases of activists being arrested after being red-tagged, like the December arrests of Altermidya editor Lady Ann Salem and Amanda Echanis, we've seen what this could lead to.
We once again affirm our support for all student activists and the continued fight for our basic rights and equality. Schools are centers of learning, not militarization. 
Featured photo courtesy of Inquirer.net
Follow Preen on Facebook, Instagram, Twitter, YouTube, and Viber
Related Stories:
Everything we know about the arrest of Lady Ann Salem, editor of red-tagged Manila Today
Here's what we know about Amanda Echanis' arrest
What if there were no cops? On a world without police and military forces
A cop shoots an unarmed mother and son, you should be mad