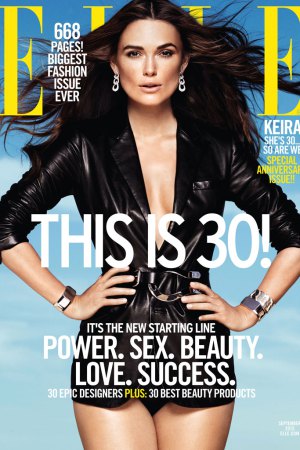 This year's September issue covers are rolling out one by one like bombs in the fashion world. Latest to explode is Elle USA's 30th anniversary issue, aptly featuring the stunning 30-year-old herself, Keira Knightley.  "This is 30!" reads the cover line all in bold font, while surprises await in its 668 pages.
Senior vice president, publisher, and chief revenue officer of Elle Kevin O'Malley promises to be "good content." He adds, "This is the largest issue that Elle and/or Hearst has ever published."
Elle will feature four different covers of Keira each shot with different themes: beauty, accessories, American fashion, and French fashion. The inclusion of the French aspect is because Elle USA is partnering with its independently owned big sister Elle France, which is celebrating its 70th year anniversary this year. It is along the lines of this joint celebration that the cover story was also shot in Benedictine Abbey in Avignon, France and on Oct. 6, a Paris Elle birthday party will be thrown during Paris Fashion Week.
The play with the number 30 doesn't begin and end with the cover. The anniversary issue also comes with a 30-page portfolio photographed by Max Vadukul with 30 of the biggest designers and their muses. Included in the folio is Giorgio Armani with model Karolina Kurkova, Louis Vuitton's Nicolas Ghesquiére with actress Charlotte Gainsbourg, Victoria Beckham with model Alexandra Elizabeth, and Michael Kors with model Alessandra Ambrossio. This benchmark portfolio was 18 months in the making.
[
WWD
]
Photo courtesy of Elle