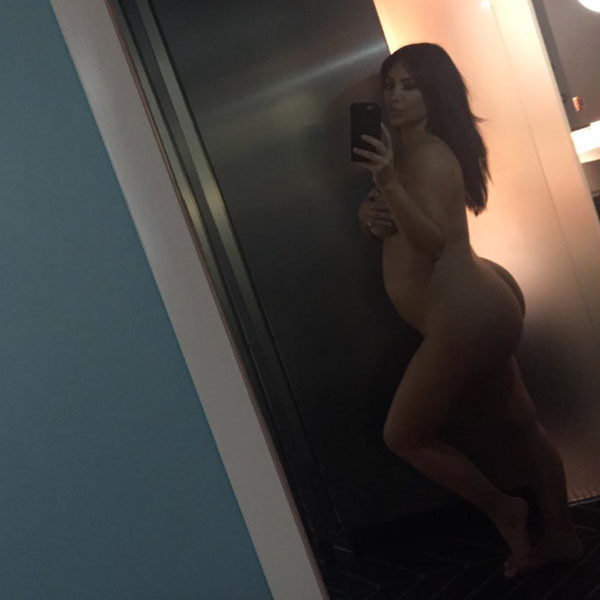 Kim Kardashian loves doing photo shoots. And to add to her growing number of nude photos, there's another naked selfie she took and posted.
Yet again, doing what she does best—breaking the Internet. Kim took to her Instagram account to post the development of her pregnancy. The Keeping Up With the Kardashians star slams those who criticize her growing baby bump saying, "Everyone's body (sic) is different; every pregnancy is very different!"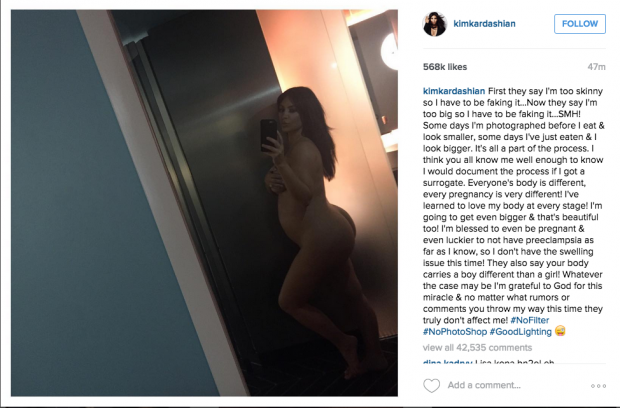 And there is Kim, in all her naked glory, with her hand covering her breasts and her left thigh angled to hide her special place.
She writes, "First they say I'm too skinny so I have to be faking it. Now they say I'm too big so I have to be faking it."
This is Kim's second pregnancy after her and husband Kanye West's two-year-old daughter North. The couple announced late June that they areexpecting a boy this time. They recently announced a name for the new baby and it's also directional. Here it comes: Easton.
Since then, the public's eye on her growing baby bump has become more discerning and judgmental through paparazzi photos of her, watching her every move and every inch growing on her waist.
This is what might have prodded her to post the Instagram photo and drop those charged statements. But it's Kim Kardashian. Who knows what she's up to, ever?
[
E! Online
]
Photo courtesy of Kim Kardashian's Instagram account