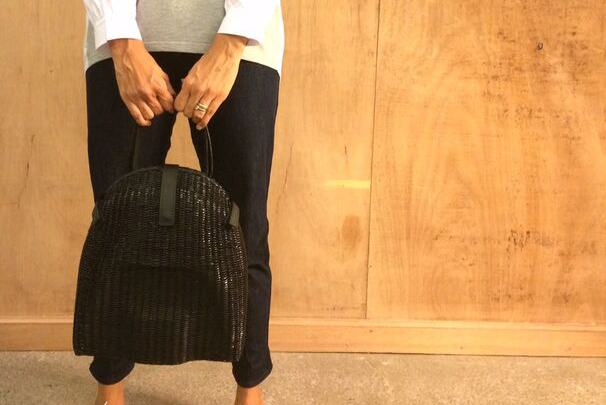 Local fashion boutique Tala Manila will be hosting a pop-up tomorrow until Sunday featuring two homegrown brands: Zacarias, a hand-made, hand-woven line of bags and Dotcomme, an anti-fit line of clothing.
Zacarias, whose designs are conceptualized by Emmy Award-winning television producer-turned-designer Rita Nazareno of S.C. Vizcarra, is a "mélange of progressive designs" combined with the art of hand weaving. The designs are meticulously weaved with natural materials such as wicker, chaircane, water hyacinth, and lupis, which are modernized with the combination of natural and recycled leather or microfiber.
The products are sold both in Europe and Japan and for the first time ever, they will be shown locally and exclusively at Tala. "I have a French business partner, Marjorie, who is terrific at getting Zacarias into fantastic stores in Italy, Monaco, Spain, France and Japan," Rita says. "I have known [Tala owner] Mavis Fuentabella since we were classmates in fifth grade. We got back in touch again and what she has at Tala Manila is outstanding—discreet, distinct, impeccable designs."
On the other side of the fashion spectrum is Dotcomme, an anti-fit and anti-sexy line of basic pieces by friends Patrice Ramos-Diaz, Cecile Zamora-van Straten, and Penny Ong. What started out as just the three's penchant for the colors grey, black, and baby blue morphed into an actual hobby clothing line. The collection is for the tomboys at heart who prefer boys' clothes over form-fitting pieces.
"We [didn't] want to overthink or over-strategize. We just want to keep it simple and offer well designed pieces, escaping the unnecessary noise that usually surrounds a brand," Patrice says. "We would like to focus on the product and allow the brand to take shape organically from there. I guess we also feel we could, in our own little way, have an influence on local fashion."
She continues, "More importantly, we wanted to do it for fun. It was an excuse to spend more time with each other. Sadly, our partner Penny passed away last June, and we figured she would want us to continue on with it as planned."
The pop-up store will kickstart tomorrow, Aug. 13, at 4:00 p.m. and run until Aug. 16 at Tala.
Tala. Unit 103, Three Salcedo Place, 121 Tordesillas Street, Salcedo Village, Makati City. Store hours are from 10:00 a.m. to 7 p.m. For more information, visit their Facebook page.
Photo courtesy of Tala