Given that so many Japanese brands are adorning local shores like The Great Wave off Kanagawa, you'd think that Filipinos would have already been tired of anything kawaii, Zen, and, well, kooky. Thankfully, this xenophobia hasn't extended to Japanese desserts. There's something about Japanese methodology and French confectioneries that make for a compelling experience, enough to give rise to Tokyo's Grand Dame of specialty cakes out of a two-year retirement.
Occupying an open space and sandwiched between retail storefronts at Glorietta 3's ground floor, Paper Moon Cake Boutique and Café's mille crepe is like beautiful, eloquent indie pop to the palate—and not just because entertainment tycoon Boss Vic del Rosario, Jr. is behind all this. The cakes consist of 20 lacy, paper-thin crepe layers with light pastry cream and crowned with a caramelized crust.
Most dessert places are all about flash, but the no-frills-all-thrills mille crepes displayed in the chiller were tempting despite, or in spite of, its homespun, handmade charm. The flavor configurations had me grappling for a rationale: the large crepes come in Original, Chocolate, and Mango; the medium crepes are only made in Original; and the minis totally snubbed the Original, opting for a Strawberry edition in addition to the Chocolate and Mango versions.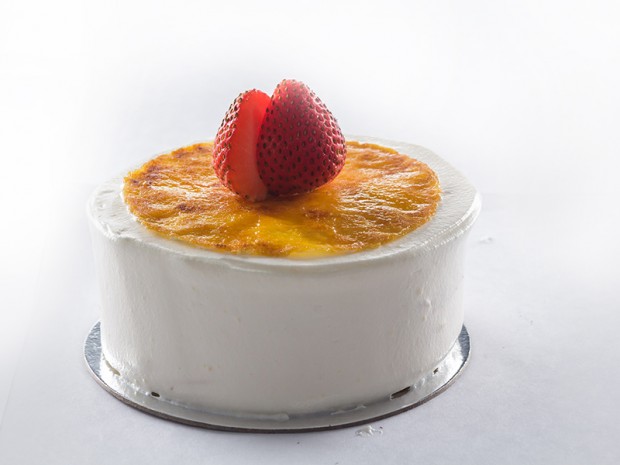 I went to the preview of its first branch, complete with ogling onlookers, and found an endearingly bashful Madame Emy Wada, Lady M herself, slicing cakes for the guests. It was a nice gesture to see her so hands-on. Poring over the abbreviated menu gave me the impression that this could be a major dessert-time obsession. I made the mistake however of trying out the chocolate and mango mille crepes first, which were vibrant with each bite.
Word of caution: be wary of pairing the mango crepes with the fruit lemonade; it was a real tropical punch—seeds and all. Going back to the crepes, when I got to my slice of the Original, it felt a little vanilla-plain, save for the indulgent candied blanket on top. It was still a delightful dessert but perhaps it was too subtle for my robust expectations. Go for the Strawberry Mini for a little tartness. The Mango and Chocolate versions did it for me, though.
There were however other delicious choices: the crisp and puffy Choux Fromage injected with cream cheese crème bavarois that I don't mind working into my diet every day; the zesty candied Ginger Cookie Sandwich sprung me back into action and snack on the Rum Raisin and Walnut Chocolate Chip cookies. And while I didn't get to fork over the savory menu, my seatmate's Bacon Mushroom Quiche looked galvanizing on first glance—then gone the next.
As I mentioned, many dessert places are all about the presentation, but this café is simply about its enduring crepes. You can't last close to 40 years in the business of specialty cakes and justly resting on your laurels if your product isn't good, right?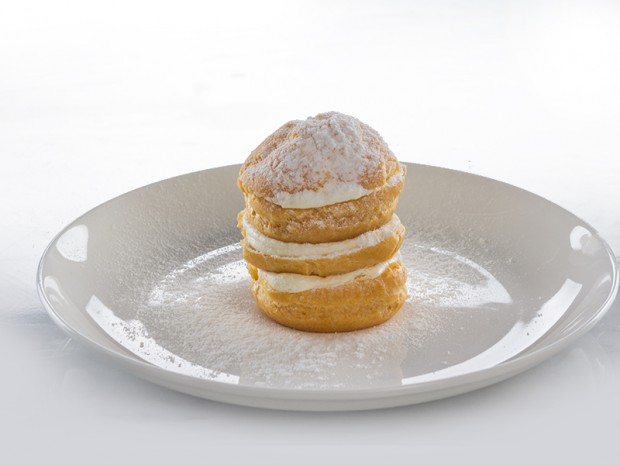 Ambiance
Exposed space in a busy mall with basic white seating arrangements? A little too casual and doesn't support the elegant appeal of the cafe, but given the right storefront, there's definitely potential.
Service
Owing to its Japanese roots, the servers were welcoming albeit busy and keen to exhibit omotenashi, which has become the new hospitality benchmark. A smile from a cute server would appease any hothead.
Price
A bit steep but you're paying for a premium. A slice will cost you P225 and it goes up the bigger the crepe—though the sizes are hefty enough. But cosmopolitan types would shell out cash for quality products anyway. Or hype.
Problems
It was a day before the official opening so kinks were still being ironed out: some menu items were still not available, slight delay in orders, which part of the counter to go to, and tables were a little compressed.
Paper Moon Cake Boutique and Café. G/F, Glorietta 3, Ayala Center, Makati City. 4/F, Trinoma Mall, North Avenue corner Mindanao Avenue, Quezon City. For more information, e-mail [email protected].
Photos courtesy of Paper Moon Cake Boutique and Café