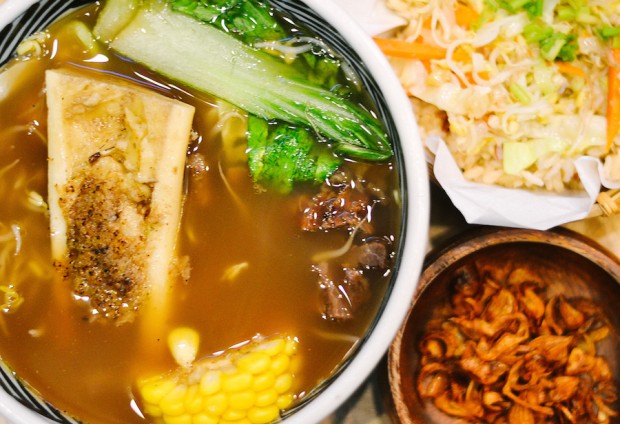 The comfort that soup brings on a stormy night is unparalleled. Warm and wholesome, it's also very healthy as it is one of the most basic dishes known to man and harnesses most of our basic foods.
It's too bad that we have somehow ruined it by making things quicker. Broth cubes are thrown in water to mimic flavors, or soup packs are opened for that hot, quick fix when really, they're just salty mixtures that provide only momentary satisfaction.
Cheska Cariño, executive chef of Sabao Soup Bar, wishes to reclaim the way we look at soup, treating the ingredients with much care and respecting them. "It's the Japanese technique and a healthier way to cook," she says. On a cold night amid traffic and drizzling rain, we picked the chef's brain on what makes a good soup.
#1 Start with only the freshest
Chef Cheska tells us, "The most important thing about making good soup is using choice ingredients. For your broth, you want to make sure that the [beef] bones [you use in it are of the] best quality from your trusted butcher. Your vegetables should be at the freshest [state] you can get them [before you] serve immediately. You have to start with the raw materials because anything you start with will show up in your end product."
#2 Every step is a process on its own
As mentioned earlier, Chef Cheska employs Japanese techniques to classic Filipino soups. This means that every ingredient is cooked separately, according to how you can best maintain their flavor and nutrients. "We simmer the broth for 16 hours. In the broth, we throw in the bones and other meats along with vegetables like sayote. By the time it's ready to serve, we strain the soup to extract the vegetables that have turned to mush from the heat. What you're left with is a soup that has fully absorbed all the flavors from your ingredients."
On the other hand, the vegetables and the choice cuts that go into the soup before eating are cooked on-the-spot. They blanch the vegetables to maintain their crispiness and to not compromise the minerals they contain.
#3 Know your cuts
Two types of meats are needed to make an effective beef base. For your broth, Chef Cheska advises you to use chucks and shanks along with the beef bones. "These are the overworked muscles of the cow, so they are the toughest yet contain the most flavor," she explains. For the beef served in the dish itself, they use prime cuts like brisket, which are tender and do not require much cooking time lest the taste and softness be compromised.
#4 There are no shortcuts
But how about when you are strapped for time? How can you make a good soup if you don't have 16 hours?  "There's no way around it," says Chef Cheska. "If you want to have good soup, you have to plan at least two days ahead. You can make a big batch of broth that you can simmer down and store in the freezer and can take out whenever you want soup. It's healthier and you can experiment with the flavors you want."
When it comes to reheating the soup, you also can't go about it the easy way. "I would advise that you reheat it over a stove, so you can check the taste of the soup along the way. When you use a microwave, the water will evaporate and the taste will change; it might be too salty. "
#5 Try unlikely toppings
No matter how traditional sinigang, bulalo, and binakol may be, there are ways to switch up the taste and introduce a new spin to them by choosing toppings that you wouldn't usually go for. "It might be weird but I like canton with bulalo," recommends the chef. "For tinola, I always put a lot of pickled ginger which [also] helps in digestion and cleanses your palate. You can also add lemongrass oil. I also have soy egg in it, which is a soft-boiled egg that's steeped in soy sauce and a mixture of spices."
Her favorites, singang and binakol, are also not without added toppings. "[I have the sinigang] always with extra chili sambal paste, which is based from the other Southeast Asian sambal, but we added sampaloc so you have that added element of anghang-asim. I also get extra gabi and mush it in the soup. I love sotanghon and chicken skin with my binakol."
 
Sabao Soup Bar. G/F Signa Designer Residences, Valero Street corner V.A. Rufino Street,Salcedo Villlage, Makati City. Open from 8 a.m. to 10 p.m., Monday to Saturday. For reservations, call (0917) 581-8969. 
Photo by Acushla Obusan