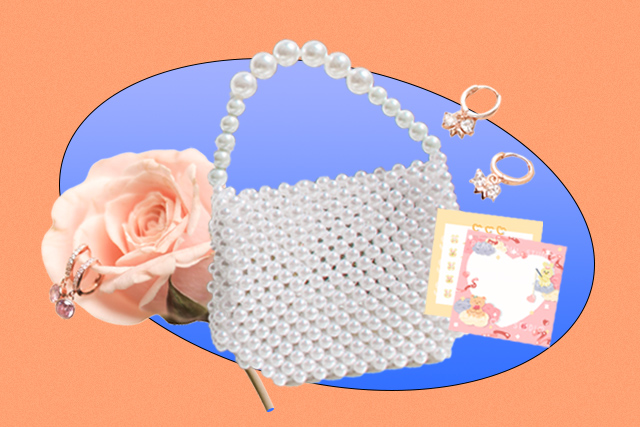 Would you believe we're only a couple more days away from Valentine's Day? Whether you're single or in a relationship, no one's stopping you from showering the people you love with gifts for Valentine's Day. While going on physical dates out may still not be safe(seriously, when will this pandemic end?), you need to up your gift-giving game. If you're in the mood to be different this year and want to skip the typical chocolates and flowers, it's time to send care packages of all sorts of treats that could make your SO smile.
Luckily, several small businesses have started to release special promos and collections for the season.  If you're running out of ideas on what to get your significant other this year, we got you covered. 
For the valentine who can't get enough of pearls
View this post on Instagram
Who said you can only wear pearls as jewelry? Gunita The Label is taking pearls to the next level with their Perla collection of handcrafted bags coated in your fave classic gem. For Valentine's Day, this local brand partnered with Fait Avec Amour, a local flower shop, to offer bundles of flower arrangements or what they call "love handles" together with their pearl pieces. 
Gift your SO something practical like these pearly bags that make a statement while being just the right size to carry the essentials for a chill date out. 
For the valentine into minimal bling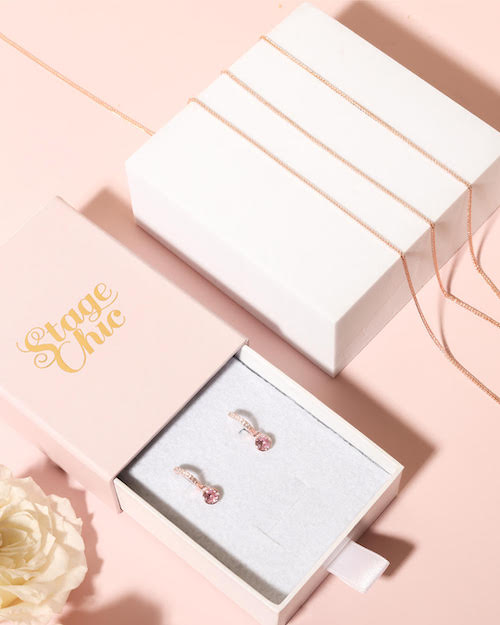 There's nothing wrong with going with an old school necklace or pair of earrings to spoil your lover this Valentine's Day. If your valentine is an old soul and you two aren't into doing something bongga this year, Stage Chic's Rosé collection features minimalist jewelry made out of 925 sterling silver and plated with rose gold decked out with little bow and pavé details. Send them a dainty necklace, cute earrings or sparkly ear cuffs to celebrate your relationship.
For the valentine with a sweet tooth 
View this post on Instagram

For our valentines who just can't get enough of sweets, nothing beats a good plate of freshly baked cookies. Known for unconventional flavors, Pretty Tasty's Valentine collection offers two new flavors, red velvet and chai spice. Although red velvet is a crowd favorite for baked goods, this local shop's version surprises its buyers with a sweet tartness and subtle floral notes from its raspberry rose cream cheese filling, while staying true to its classic dark chocolate flavor. The chai spice cookies, on the other hand, are made with a homemade chai blend, topped with white chocolate chunks and rolled in rose sugar. They also look too gorgeous to eat.
These flavors come in a "Be Mine" box of four including two pieces of each Valentine flavor, but you can also opt for the "Sana All" box of 10 which includes a half dozen sampler of their classic brown butter chocolate chunk cookies and best-selling earl grey orange cookie.
For the plant parent valentine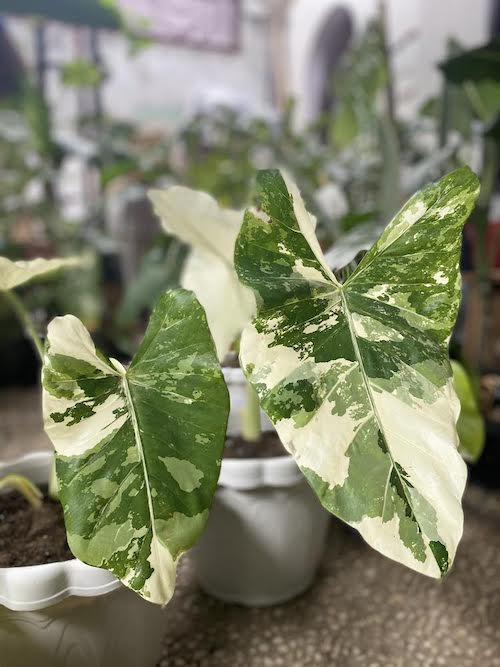 Just as the saying goes, "the way to a plant parent's heart is more plants." Err, something like that. For our SO who's into nurturing plant babies on the daily, it might be a better idea to skip the conventional bouquet of flowers and send a living plant instead. Dior & Co. has a wide selection of colorful ornamental plants that can brighten any space, indoors or outdoors. Its Valentine picks for this year are Alocasia Albo, Cadena de Amor, Peace Lily, and Variegated Kalanchoe which offer unique patterns that'll definitely make gorgeous additions to your gardens.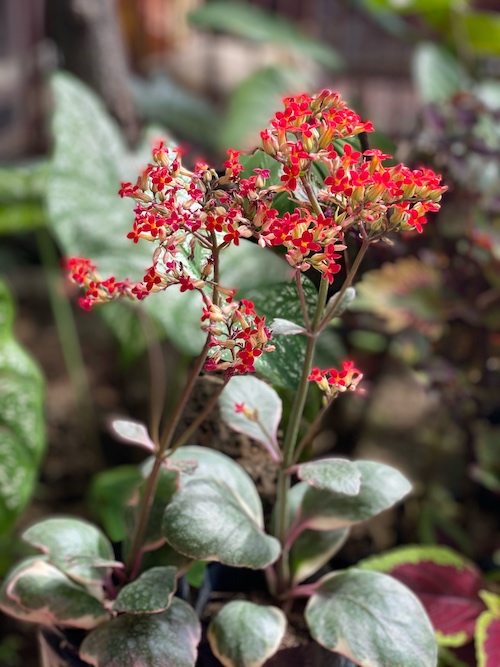 For the valentine into K-Pop
View this post on Instagram

To those dating K-pop stans, you need to accept that their biases come first when it comes to finding your space in their hearts. Kidding aside, every K-pop stan treasures the merch that they collect and sending them cute stuff to support this hobby can go a long way. Plus, you don't need to worry about giving them something that they already have if you're thinking of getting them official merchandise. Peachsoul Studio's Valentine collection offers a wide selection of tiny stickers, deco sheets and memo sheets that they can use to decorate their journals, toploaders, binders or shelves that house their beloved photocards or albums.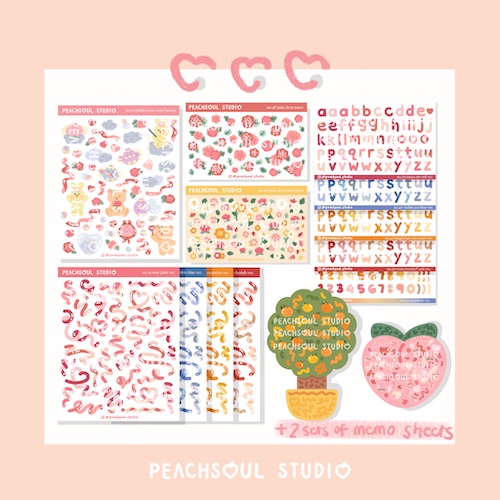 Here's a cute idea: gifting a polaroid of both of you and using this art store's stationery to decorate it yourself. If my future boyfriend did that for me, he's bumping Lucas Wong off my bias list. 
For the valentine who deserves a self-care sesh
View this post on Instagram

We know that the year just started, but some of us may already want a much-needed R&R at home. Spoil your lovers by encouraging them to take a much-needed self-care sesh by sending a scented candle with love notes. Mula Kay Mhey's scented candles are ideal for those whose love language are words of affirmation, or anyone who needs a pat on the back for a job well done. You can choose a scent and have them create a personalized message on the candle just by filling up a form on their Instagram. It's the little things that count.
For the valentine who always wanted to be a barista 
View this post on Instagram
Instead of spending the day chilling in a coffee shop for Valentine's Day, why not get your own coffee-making set and make each other your own cups of joe? Balay Coffee is an online store that sells coffee equipment that are hard to find in the Philippines. If you and your SO have been dreaming of starting your own coffee shop, start with getting your own Aeropress and be baristas for each other for a day. 
The Aeropress uses a rapid, total immersion brewing process that makes up to three cups of full-flavored coffee without the bitterness and high acidity usually created by the French press. Plus, it's portable so you can take it anywhere with you, be it the beach, the mountains or a chill date at home. Cop yours to create freshly brewed coffee for cold brew, lattes, cappuccinos and other espresso- based drinks. Balay Coffee is offering a Valentine's promo for the Aeropress retailing it for only  P2,349 from P2,599, until Feb. 15. 
For the valentine who claims that "this is our song" whenever it comes up
View this post on Instagram
While a lot of couples share a playlist of all the songs that they like, there are some who claim that there's one song that just means the world to them. It could be a classic harana song sung by their favorite singer or a song that they wrote themselves. Make your partner feel extra special by sending them a wooden music box that plays "your song" together with a sweet treat. Home and Haven's Valentine's Day gift boxes include personalized music boxes (just choose your theme song from their list) and four-inch minimalist cakes with customizable messages. 
Not only do these gifts send joy to your loved ones, they support a good cause, too. 100% of the profit made from this initiative goes to Kids Integrated Development through Schooling, a scholarship program led by the UP Junior Marketing Association for the kids of poverty-stricken areas in Barangay Loyola Heights in Katipunan, and from the Tahanan ng Panginoon–Our Lady of Pentecost Parish. 
Art by Jan Cardasto
Follow Preen on Facebook, Instagram, Twitter, YouTube and Viber
Related Stories:
A paid leave to find your Valentine? Only in this Quezon town
Valentine's Day will never be the same for me and it's okay
Don't let Mercury retrograde ruin your Valentine's Day plans
Valentine's Day lingerie to make you feel cute—for you