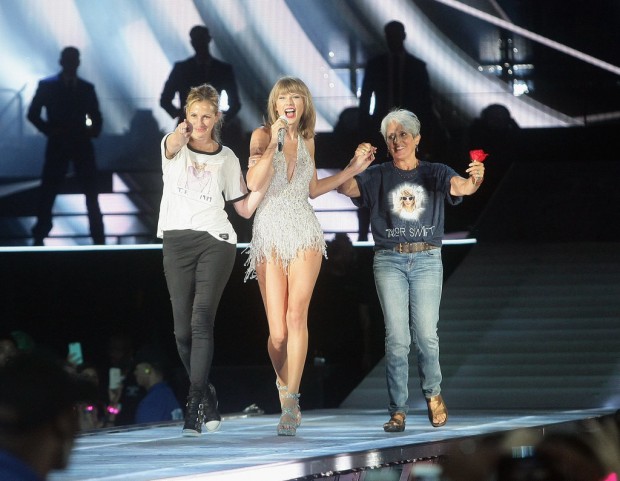 Just when we thought we've met every single member of Taylor Swift's girl gang, she brings out two more recruits: At her concert in Santa Clara, California last night, movie star Julia Roberts, and musician and activist Joan Baez joined her onstage to perform her hit single "Style." The two appeared wearing TSwift T-shirts, and Taylor later took to Instagram to say, "Tonight Joan Baez and Julia Roberts danced it out to 'Style'. These two women are my heroes. What an honor."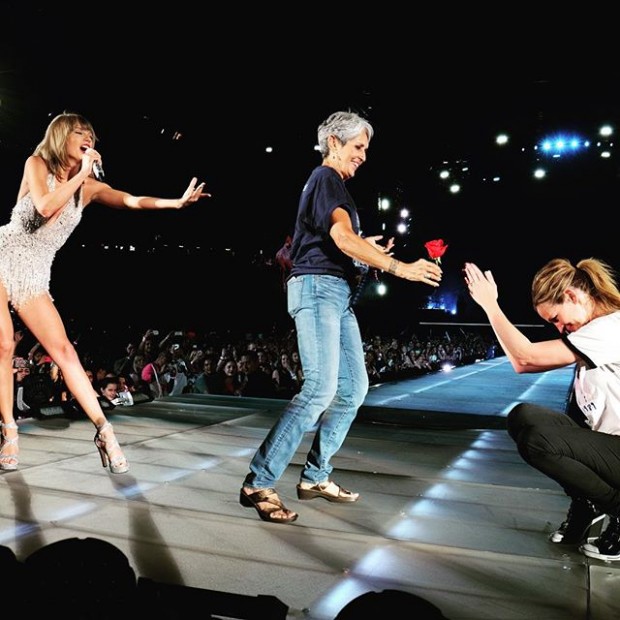 The A-list support occurred just four days after The Daily Beast wrote a scathing piece entitled "Is America Turning on Taylor Swift?" The piece began with Miley Cyrus calling Taylor out on the violence in her "Bad Blood" music video, then began treading the ignorant waters that Taylor dipped her pinky toe into during her online altercation with Nicki Minaj.
It then brought out the big guns with Grizzly Bear lead singer Edward Droste voicing out his contempt for America's prom queen: "Met a celebrity I always speculated was terribly calculated and mean, and they exceeded all my expectations of rudeness and arrogance. HATE," he continued, "If you know please don't @ the person, they see all and have the capacity and desire to destroy, seriously, please just know and lol[…] This is an eternal blind item, bc I'm too petrified of their insane power. No need to speculate, just HAD to voice my disgust."
He later revealed that he was, in fact, referring to Taylor Swift and then tweeted a magazine article that published Taylor's mean girl friendship rules for her famous friends. In her best Regina George impersonation, Taylor allegedly tells them what to wear onstage (to avoid being upstaged) and "not to speak unless spoken to."
https://twitter.com/edwarddroste/status/625439406200127489
So is Tay-tay really a nightmare dressed like a daydream? To be fair, don't say she didn't warn ya.
[
Pop Sugar
]
Photo courtesy of Pop Sugar