ICYMI, K-pop powerhouse Shinee celebrated its 13th anniversary last May 25. The 2nd-gen icons held an online event on streaming service V Live to mark their time together since debuting in 2008 with "Replay."
It also happened to be the group's first Shinee day after their hiatus — Onew, Key, and Minho just returned from the military last year. And to pay it forward to maknae Taemin, they each paid tribute to him with a video send-off for his May 31 enlistment.
View this post on Instagram

Making the occasion more memorable were video greetings from fans across the world. And yes, the Philippines got representation — in the form of 19-year-old Kirsten Lopez, a college student from Las Piñas City.
Lopez admits in a chat with Preen that she knew the chances of getting her own video in the event were slim. However, she remained hopeful and convinced herself to "shoot your shot." Up until the night of the event, she had no clue if her video had made the cut. She decided to remain optimistic: "Lalabas ako d'on mamaya! Tiwala lang!"
In the end, her heartfelt message — where she told Shinee they were fans' "tahanan" — was seen by thousands online, and of course, by her own idols. "I guess #manifesting worked?" she quips.
A Filowol since 2009, Lopez was about 8 years old when she got hooked on "Love Like Oxygen" and "Ring Ding Dong." As for her bias, it was Key first; now all of them are on rotation, including Jonghyun of course (who can blame her?).
She let us in on how she got the chance to send Shinee a message, what's made her stay as a fan for over a decade, and what she wants to see when they're back. The questions and responses have been edited for length and clarity.
How did you get to send a video message to Shinee?
It was around May 5 when a Lysn message about a surprise fan event for Shinee's 13th anniversary V Live Party appeared. There were 3 parts: sending a question for Shinee, voting for their best B-side track, and the holy grail of them all — the fan video message. The moment I saw this fan event, I quickly planned what I had to do and the next day, I filmed my video message!
The fan video message required a template where you had to say "To Shinee World, Shinee is ____!" The limit is 15 seconds so I was planning really hard!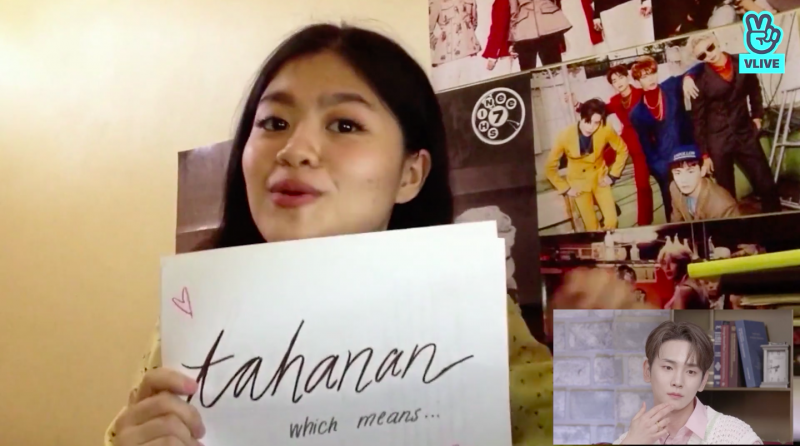 I took a pause and reflected: What does Shinee mean to me? And that's when "tahanan" came into my mind. And I realized, that's what Shinee means to us Shawols, and that's how they make us feel after all these years. [So I came up with the message:] "To Shinee World, Shinee is our home, comfort, happiness, and peace through the ups and downs in our life."
What do you like most about Shinee?
I'd say that I adore their sincerity when it comes to loving each other (the members treat themselves like family and you can just feel it!), cherishing Shinee World (us Shawols), and being committed to their passion and craft. Shinee isn't afraid of being true to themselves, and their freedom of expression became a way for many other idols in the K-pop industry to be more experimental not only with their music, but with their fashion, dancing, and other forms of art. For me, they're my safe space, and they never fail to show us that Shawols are their safe space too.
What would you like to see from them when they come back again?
We have Onew, Key, and Minho who will be promoting while Taemin [is] away, and I believe that they'll work much harder just as Taemin did when his hyungs were away.
View this post on Instagram

When the time comes that they'll be having a comeback, I'd like to see them do something that they always do — breaking barriers, being experimental and doing something they've never done before, and continue building up their own genre which is Shinee! Surprise us, Shinee!
Art by Pammy Orlina
Follow Preen on Facebook, Instagram, Twitter, YouTube and Viber
Related Stories:
Taemin's 'Never Gonna Dance Again' concert was a work of art and I'm still not over it
Taemin dropped his farewell (for now) album 'Advice,' and yeah we're gonna miss Tae-pop
An ARMY and an EXO-L on fandom beef and the mute button