In 2021, there are still people on the internet who use the term "K-pop stan" in a derogatory manner—as if a typical K-pop stan is just a fancam bot slash professional beef instigator. Sure, we love a good fancam and we can be protective of our faves but that's not all we are. We talked to two best friends, an ARMY and an EXO-L respectively, to dispel one of the biggest misconceptions about K-pop standom: that all we do is wage fan wars.
We sat down with 21-year-old account support Nathalie Milante and 22-year-old project assistant and Zyca founder Zoe Aluag to talk about the rivalry between the fandoms they're part of and how they carve healthy fan spaces for themselves and others. 
Hey, Zoe and Nathalie! To start off, tell us a bit about your friendship.
Nathalie: We've known each other since high school. We were in the UP Rural High School Filipiniana Dance Troupe together but we were never classmates in HS. Our friendship progressed [when we became blockmates] in UP Los Baños. Zoe became part of my support system and I hope ganoon din siya sa 'kin. We've always made time to support each other and go to events together. 
Zoe: Very low-key lang 'yung friendship namin. Since we've graduated, di kami 'yung tipo ng best friends na araw-araw nag-uusap.
As an EXO-L and an ARMY, do you often talk to each other about K-pop?
Zoe: I don't think we talk about K-pop kasi Nathalie is a low-key stan. I asked her kanina, "Kailan ko nga ulit nalaman na ARMY ka? Di ba noong Zoom call kailan lang?" And she told me, "Ano ka ba. Since college pa ako BTS fan kaso 'di ko pinapaalam sa mga tao." Parehas kasi kaming NCTzen and nalaman ko lang noong pupunta pala siya ng concert ng NCT Dream. I was super jealous. [laughs] 
Were you really keeping it under wraps, Nathalie? Have you always known that Zoe was a K-pop fan, too?
Nathalie: Hindi lang naman ako K-pop fan. I've also been a Directioner. And going through those fandoms, I've realized that I [prefer] stanning people on my own. I like talking about them but not engaging with the fandom. 
Back in high school, parang nagkaroon ng K-pop surge. Hindi lang ako BTS fan noon pero mahilig ako dati sa JYP [groups] like Miss A and 2PM. Doon ko nalaman na EXO-L si Zoe.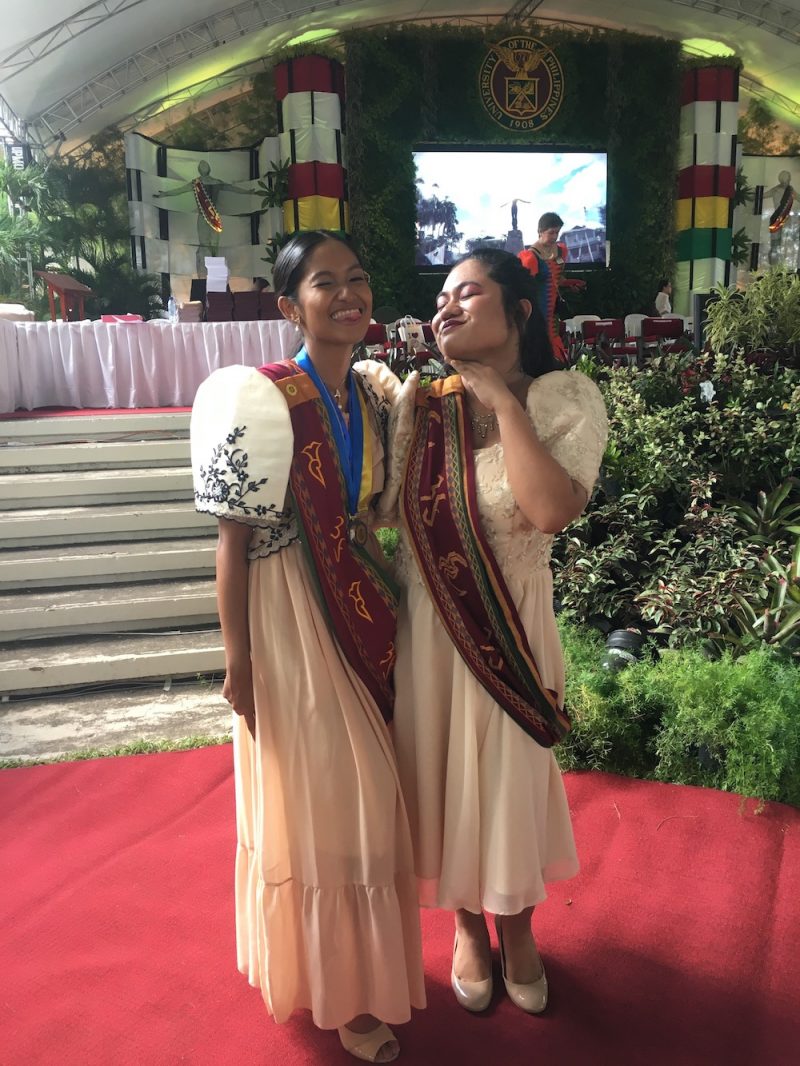 I have to ask, what are your thoughts on the "rivalship" between EXO and BTS? 
Zoe: I think it's very petty. Fights between fandoms are normal naman even before—like the SONEs [versus] Blackjacks fan war. Since EXO and BTS are two of the most popular male groups and they're mostly nominated in the same categories, stans tend to pit them against each other and compare achievements. But I don't think it's fair to compare the two because they debuted in different years and have different music styles.
Nathalie: You can brag about your fave's achievements without undermining those of other groups. Competition in the same industry is inevitable but some members of EXO and BTS are friends.
Zoe: I also don't think all ARMYs and EXO-Ls are always at each other's throats. Look at me and Nathalie. I have a lot of ARMY friends and hindi naman sila nakikipag-away randomly on social media. [laughs] Popular lang 'yung rivalry nila because the ones that do fight stand out and people are more inclined to [heighten] drama. 
Nathalie: I think people are feistier online. All the fights that I see now are online. Not to say that [IRL] fights haven't happened before. I know grabe [and] personal 'yung mga away with Super Junior fans dati but I haven't seen fans fighting physically. 
Was there ever a time when you felt hurt by an action done by someone from a different fandom?
Zoe: This isn't a personal experience but a close friend told me about this. For K-pop music award shows, fan votes [are a big factor] in winning. [There are people who volunteer to collect votes for a group] para isang bagsakan na lang. At the time, BTS and EXO were competing. One ARMY made a fake EXO-L account to collect votes and traydor pala siya. Binigay niya lahat ng votes sa BTS. Sobrang na-hurt and nagalit 'yung friend ko doon. [laughs]
Nathalie: I became a BTS fan in 2016. BTS [allegedly] plagiarizing was an issue back then and, as a new fan, I was also finding out about how [BTS members help] make their own music. Nagtrend pa 'yon after nila manalo ng award and after a concert. It doesn't matter to me if fans argue with each other online but when I learned that [the members] also saw the [hashtags about it], it felt like a foul. I realized after that I should distance myself [from fan wars].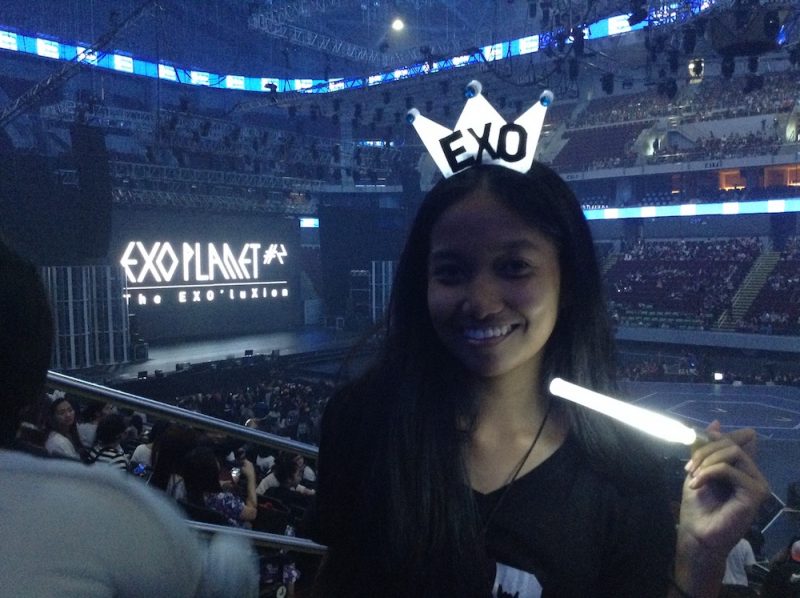 Would it be fair to break off a friendship with someone who keeps posting negative comments about your faves?
Nathalie: Admittedly, if I can't approach them about it, ako 'yung dumi-distance. I mute them talaga pero I weigh [the decision]. Ito lang ba 'yung lagi nilang sinasabi? If 'yon lang talaga, I mute them for self-care. It doesn't mean that I ignore them completely, I just don't want to feel bad whenever I see them on my TL.
Zoe: I don't like breaking off friendships over it so if I see someone downgrading my favorite group, I don't bring up the K-pop topic in our conversations to avoid having arguments.
Has fandom beef ever driven you out of a fandom?
Nathalie: I believe that my decision to stan a group shouldn't be based on the fandom. I create my own fan experience. It's always about kung napapasaya pa ba nila ako. 
What are your tips for friends who are from "opposing" fandoms but still want to support each other?
Zoe: Respect each other. We don't have to stan each other's favorites. We can just let each other be. Kung may makita kang petty comments, you can just move along. If your friendship started way before you stanned different groups, it should be stronger than your different tastes in music.
Nathalie: When I approach Zoe about EXO, I don't look for bad news. What's the point of K-pop? It's the music, choreography, etc. [I tell her about what I liked about EXO's work.] I think I watched "Scarlet Heart," which has Baekhyun in it, because she recommended it to me. And even if you don't end up liking their favorites, be open-minded. Plus, there are a lot of aspects in my friendship with Zoe outside of us being fans of different groups. Find other things that you both like.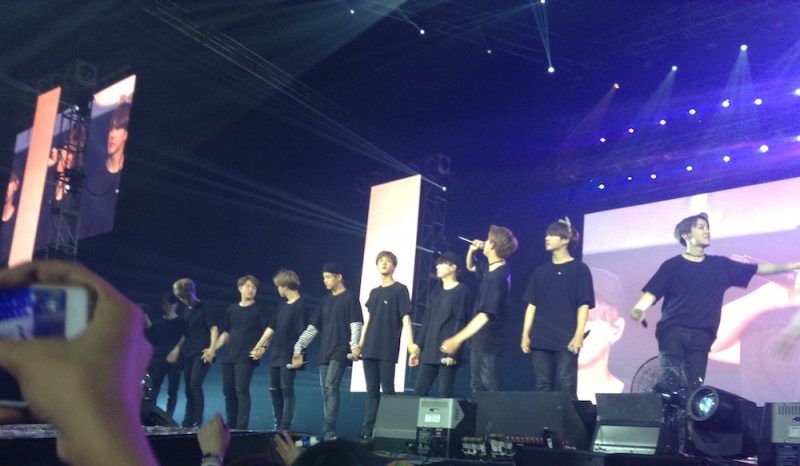 Word of advice for people who can't stop starting beef?
Zoe: Let's enjoy the artists we like without having to make comments about others. Fights are useless. They give bad reputations to fandoms and to artists as well. As fans, we're part of their anchors in the industry. Since some of the members are friends, we shouldn't taint that relationship. 
Nathalie: Ask yourself what's your reason for starting it. There's no need to defend the artist from a comment made by [another group's] fan. Assess if it's you being hurt or the artist. And go outside. Touch some grass. 
What does stanning your favorite group mean to you?
Zoe: I've been into K-pop for a decade. EXO's songs are always in my company—when I feel sad or when I need to feel productive. I treasure them so much. If I need uplifting during a bad day, EXO playlist agad 'yung pini-play ko sa Spotify.
Nathalie: I was in a super bad place in 2016. Nakita ko lang 'yung mukha ni Jimin sa timeline ko so I checked BTS out. At the time, I felt like they turned my world around. I felt like I was home with them. Worry ko dati na two years down the line, magsasawa ako sa kanila. But I realized that I don't need to see them every day and I don't need to know everything about them like how I stanned in my teenage years. BTS are like my friends. I felt like I grew with them, like we understood each other. 
Art by Pammy Orlina
Follow Preen on Facebook, Instagram, Twitter, YouTube and Viber
Related Stories:
Filipino BTS ARMYs on being the black swans of standom
An ARMY's declassified guide to stanning BTS
Exo's Xiumin in 'Hadestown'—please make it happen
The It girls and boys of every K-pop generation