If you're part of BTS' ARMY, chances are you've already received a photo of a BTS member followed by the question "Who's this?" through DMs at least once. Even though I've become less active as a fan, I still get the thrill of introducing BTS to someone new. I've learned that it's best to turn it into a push-and-pull situation. Despite the wider acceptance of the K-wave, a number of people are still in denial when they realize that they're starting to like K-pop (and even K-dramas). With sentiments like "Di ako magpapalamon sa K-pop" still very much a thing, there stands this image of K-pop stans as consumers consumed.
But how is stanning BTS different from any other pop culture obsession? There have been so many articles written about the group being this "seemingly overnight sensation" and many have tried to study how to recreate their success. Does it seem like I was duped into wanting to support seven funny, hardworking and nice musicians? How are my two BTS inspired tattoos (a Love Yourself heart and the song title "everythingoes") different from other band tattoos? 
I had a little chat with my fellow Filipino ARMYs Mirza, Ave, Geisha (all three are members of one of the biggest local BTS fanbases, Bangtan Boys PH), Djam and Nery. We talked about misconceptions, overcoming prejudice, and how our lives were touched by the boy group. 
A lot of fans have said that they met BTS when they needed them the most. Can you tell us a little bit about yourself and when you started stanning the group? Have your reasons for loving them changed over time?
Mirza: I stumbled upon "Graduation Song" on Youtube which was newly posted at that time. I found the three members on the video (J-Hope, Jimin and Jungkook) cute and it was interesting to me that they had a vlog. In 2013, not a lot of K-idols did vlogs or were active on social media. Back then, BTS frequently replied to their fans on Twitter. 
After watching all their vlogs, I was hooked. I did my research on them and followed some Korean fan accounts. The next day, I created Bangtan Boys PH. That was on Feb. 9, 2013 which was months before their official debut. Even if they weren't as big or popular then, I gave my full support because I saw so much potential in them and connected with their songs. 
Until now, they never cease to amaze me with their love and passion for their craft. They have remained grounded despite their success. I became part of their journey right from the start and I was able to grow and learn more about myself through them. My respect and love for them have only grown deeper. 
Djam: I found BTS in 2015 when I was around 23 years old. I was no real stranger to K-pop standom, though I've sort of lost interest in K-pop around that time. It was kind of a transitional period for me. I was coming out of a really horrible few years of my life and I was starting to see a real upswing. I stumbled on the "I Need U" music video via Twitter, watched some live performances, and boom. I was back in K-pop for real. 
I wouldn't say that I needed them, to be honest, but I associate them with a period of my life when I was getting back on track after being derailed for so long. They were like an anchor or a mirror. Maybe both those things. I was having fun again, finding this old fire in me. I was really invested in their journey, the underdog beating all the odds kinda stuff. Their triumphs were my triumphs. 
I still feel like they're old companions. I'm not as invested anymore, but a part of me will always be proud of their success. In a way, it's also mine.
Nery: I became a fan of BTS right after the Fake Love era, and this was before they released the culmination of the Love Yourself series. I was dealing with a lot of inner turmoil about my gender identity at the time as well as fear for the future since I'd be graduating soon. So when I found BTS, it felt serendipitous. 
They sang about how to love yourself ("Answer: Love Myself") and how it was okay not to have your dreams completely figured out yet ("Paradise"). I know some people may think that we're fans only because we're following what's "uso" and trendy right now. In my case, it's their lyricism and the comfort and acceptance their songs bring.
I don't think my reasons for loving the group has changed, but it has increased as I came to learn more about BTS and continue to see their growth. There are small things, too, like how BTS goes through lengths to ensure that they're as inclusive as possible by using gender-neutral pronouns in songs and interviews. As nonbinary, it's verbal reassurance from them that they believe that I belong in their fandom. Something like that shouldn't be so rare, but it is.
In K-pop fandom lingo, you call your favorite group member your "bias." I saw a post about how you can guess a fan's personality based on who their bias is. Would you say that this is somewhat accurate? If so, what could stanning a certain member say about a fan and what do they usually admire about their bias?
Mirza: Personally, I don't think that's accurate. [Laughs] I love all seven of them but my bias is J-Hope. I am far from being a great dancer and a happy pill. My heart chose him because I saw how genuine a person he is. We see him as a ray of sunshine but when he's serious, you can tell he cares a lot for the other members.
Djam: I have no idea what being a Jimin stan says about me. [Laughs] To be honest, I don't think it's about personality. More like preferences? I can tell you that Jimin stans admire his duality. He's got a bit of a devilish side that a lot of people tend to overlook because he's soft and sweet. Plus, his artistry. He comes alive onstage and he has charisma in spades. Maybe I do envy him a little.
Nery: I think it's because as people, we're ultimately drawn to those who we want to be like or like to believe we're like. In a way, a person's bias emulates a part of their personality that they've already truly embodied before meeting them or are yet to set free. 
There's some who joke around about how Namjoon stans are the smartest ones in the fandom, how Yoongi stans are the quiet yet ruthless ones, and how Seokjin stans are the chaotic ones. I suppose there's some truth to that, but I like to think it's admiring parts of yourself that you wouldn't have realized were amazing, charming qualities until you saw them favored in somebody else that plenty of people admire.
ARMYs are often portrayed as a fanbase solely made up of "wild, pre-teen girls." However, a lot of fans have spoken up about how diverse the fandom is. Can you tell us more about this and your thoughts on the prejudice against ARMYs?
Nery: There's this idea that only teenage girls can like BTS because they're young and attractive Asian men. The fandom does include a lot of teenage girls but ARMY is made up of fans of different ages, genders and races. Dismissing BTS as a teenage girl's "childish obsession" is, frankly, misogynistic and racist since it implies that men like them aren't meant for anything else. 
Djam: Yeah, the fandom is really diverse for sure. BTS articles on Naver always have a good mixture of men and women checking them out, a lot of whom are in their 30s or even older. BTS stan twitter is even more diverse.
There's always been a lot of prejudice against K-pop stans in general, which is based on Western standards for music and the culture around it. I don't really care if the fandom is kind of stereotyped in that way though. What's so wrong about teen girls? Just because they like it, it's not good? BTS makes great music. Those teen girls got taste.
Nery: Teenage girls get so much unnecessary hate for acting like teenage girls in a way that teenage boys never, ever experience. BTS has made it incredibly clear that anybody can like their music. It isn't anybody's right to exclude anyone, be they older fans or teenage girls.
Mirza: ARMY is one of the biggest fandoms in K-pop right now so all eyes are on us. There are people who call the fandom toxic or loud because some fans are more outspoken. Others prefer not to engage in negativity. Since we have grown worldwide, we can't blame each other for our cultural differences. Our fanbase (Bangtan Boys PH) tries its best to remind our followers to spread love just like BTS would.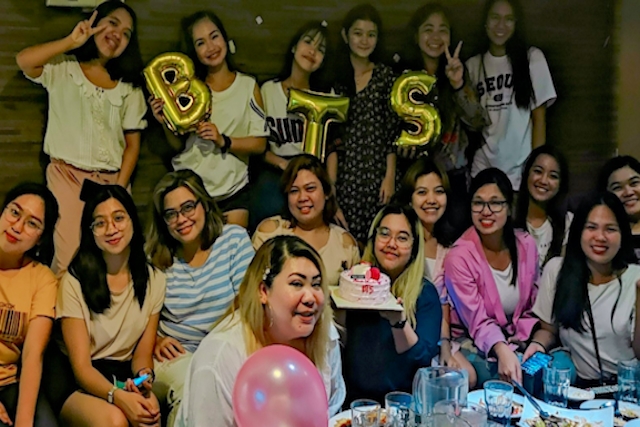 Filipino K-pop fans are known for being dedicated. There's an inside joke that you'll need to learn Filipino if you want to be a fan on account of their massive online presence. What can you say about claims that Filipino K-pop fans don't support the local creative industry and its artists? 
Ave: I agree that Filipinos are known for being vocal with what they love. Filipino ARMYs are very expressive and we're used to sharing what we feel about BTS and their music, especially on social media.
Geisha: I wouldn't say we are not supportive of our own music. One of the reasons why we enjoy K-pop is because its artists go through years of training and hardship because they genuinely want to become one. What most Filipino K-pop fans are looking for in our local industry is that genuineness. This is evident in indie artists and bands loved by the same Filipino K-pop fans. 
Djam: My short answer: supporting one doesn't mean that you don't or can't support the other. Here's my long answer. I think that in the late 2000s and early 2010s, a lot of people probably favored Korean entertainment over local. I don't see that as much anymore. 
My theory is that accessibility has a lot to do with it. K-dramas and K-pop became super visible. That was just the nature of the Hallyu wave. Now, the local creative industry has tons of fresh voices that are getting more visible and breathing life to it each day. I don't speak for all K-pop fans, but I think the evolution of both is so exciting.
K-pop fans recently gained attention when fans flooded "racist" tags on Twitter with fancams. I heard ARMYs also matched BTS' Black Lives Matter donation. Would you say that ARMYs are mostly socially-conscious?
Geisha: I would say ARMYs are because we are heavily influenced and inspired by BTS. A great artist has the capacity to influence their fans. ARMYs are active in giving back to the community through charities and sustainable projects.
Nery: We live in a world where most of us just care about what affects us directly. Being a fan of a group that continues to donate to various causes doesn't always change that. However, I have seen the great lengths that a lot of people in the fandom go through to ensure that ARMYs remain sensitive and supportive towards issues such as the BLM. 
During the first few days of BLM (and up to this day, actually), a lot of stan accounts were dedicated to organizing and helping in all the ways that they could. When BTS made the donation, it fueled (and pressured) everyone to do better.
Djam: ARMYs have always been very charitable, even back in 2015. The power of the fandom to exact tangible change is undeniable. ARMYs have always used that power for good, at least so far.
I've seen fan accounts doing industry research like chart analytics and I've seen several fan projects for different causes. What does this say about the fandom and how has BTS inspired these types of engagements?
Ave: I think it's mainly inspired by BTS' dedication to their own craft as well. We've also seen BTS' compassion, how they try their best to help those in need. BTS sets an excellent example and ARMYs come up with various projects to do the same.
Djam: A force to be reckoned with, the fandom has members who coded a data tracker for multiple music charts FOR FREE. People in the entertainment industry would've paid thousands of dollars for that kind of work. It's been amazing watching the fandom grow into what it is now over the past few years. 
I think BTS deserves the following and they're the type of people to inspire it. I wholeheartedly believe that they're some of the most sincere, most earnest artists out there. They have a lot of growth yet to do, but their foundations are solid.
It's BTS' seventh year in the industry and the seventh ARMY day just passed. Why is this year extra special for the group and how did ARMYs celebrate it during quarantine?
Nery: I think the number seven is kind of metaphorical to BTS and the fandom because it represents a lot of good things: the seven members, the seventh album, and now BTS' seventh anniversary. It's kind of poetic how the seven members and several other things came together so they could create art despite a lot of circumstances going against that. We celebrated it with BANG BANG CON (a two-day, nearly 24-hour BTS concerts stream) in May and ended with "BANG BANG CON: The Live" where BTS performed songs from their latest "Map of the Soul: 7" in June.
Mirza: Every year BTS celebrates their anniversary with an event called "Festa." This is their way of thanking ARMYs and a special way to "spoil us" with two weeks of content which includes, but is not limited to, new music, videos and family portrait photos. 
Bangtan Boys Philippines was supposed to have a huge gathering to celebrate it but instead, we had a four-day countdown through social media where we had held activities and gave away prizes to our followers. On the day of the anniversary, we had an online cup sleeve event. (Never been to one? On cup sleeve events, fans usually create exhibits, give away freebies and print out cup sleeves to celebrate a certain K-pop group or member.)
Djam: This year potentially could've also been BTS' last year as a group, what with their initial contract expiring and all that. It's a little bittersweet to think about what might have been if the members themselves hadn't preempted it by renewing their contract with Big Hit Entertainment several months in advance. 
Sorry to be talking about disbandment so early, but it really makes me wonder. Could they potentially have seen this as a good place to stop? What would they have done afterward? They'd already talked about it before, so were the reasons for that gone, or were they continuing despite those reasons? Just some of my thoughts.
Can you give us a short message to BTS?
Mirza: Let's continue to walk in this flower path together. Borahae.
Djam: I hope you continue to grow for the better, not just as artists but as people and as leaders.
Having talked with my fellow ARMYS, I was reminded that at the heart of stanning is opening yourself up to joy. I didn't become a fan to prove anything to myself, much less to others. If I believe that I became a better person because I chose BTS, that's just a plus. Am I grateful for that? Absolutely.
Photo screengrab from RM's "forever rain" music video
Follow Preen on Facebook, Instagram, Twitter, YouTube, and Viber
Related Stories: 
We made it: BangBangCon and the lessons we can learn from BTS
K-pop industry silent on #BLM? BTS begs to differ
BTS' V beats Adele and PSY as the top solo artist in over a hundred countries
BTS'#EndViolence campaign: Why it matters so much