This story is part of "Please Make My Cats Famous," a video series where editor Zofiya Acosta attempts to make their two cats famous via a series of challenges.
Maybe I'm narcissistic or I have a god complex, but I genuinely think I have the best cats in the world. Astro, my Kinkalow and exotic shorthair mix who inherited none of his parents' characteristic features, is a weird and cute chonk who loves cuddles. Then there's Onion, my black puspin who turns almost russet-colored in the sunlight and has an adorable little tuft of white on his belly. In terms of his features, I think he's the epitome of a good cat. He's just a perfect little boy. I'm convinced if I entered him into a cat show, he'd win hands down. 
So really, my cats have what it takes to be famous, but I'm the one holding them down. And because nothing makes me happier than showing my kiddos off, I decided to actually try to make them famous and rise through the ranks of the cat world.
Now, I consume a lot of cat content. My TikTok, Instagram, and YouTube recommendations are mostly taken over by cute kitty clips. I think I watch so much that it even bothers my own cats a little.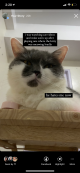 All that's to say that I have a bit of understanding as to what kind of kitty content gains traction online. It's not like I haven't forayed into it before. I made an IG account for Astro back when he was five months old. Since I already have that, I'll pretty much be using it for this challenge.
Still, I don't actually know how to be famous myself, so I asked help from Mikyle Quizon, a content creator who posts men's fashion on his Instagram and vlogs about his life on YouTube. He gave me a few tips, as well as a challenge: Put Astro in an oversized hoodie and sunglasses.
It turned out to be easier said than done.
As soon as my interview ended, I hopped online to buy a kitty hoodie and sunglasses. Knowing that Astro was a huge honk of a cat, I sought out the biggest ones I could find. Confident I had gotten the right ones, I hit add to cart and bought the challenge items.
It all seemed fine until I actually got them. The hoodie wasn't oversized at all—in fact, it ended up being a little snug. Still, Astro was able to fit into it and serve looks, so that was okay. 
The glasses though.
Before it came, I figured if the glasses turned out to be too small, I could put them over his head, kind of like a headband. That would still be cute. But when the glasses arrived, they ended up being too tiny to even do that. They were around ¼ of the big boy's face. It clearly wasn't going to work.
Improvising, I instead tried to take photos of Astro wearing the hoodie looking wistfully out the window. That's men's fashion-y enough, right?
View this post on Instagram
I think it ended up okay! But, again, the cat narcissism and god complex. What do you think?
In the words of every content creator ever, you can't grow without an audience. Follow Astro's bid for stardom on Instagram at @astrophethecat. You might just be one of those people who knew him before he got famous!
Header art by Pammy Orlina
Follow Preen on Facebook, Instagram, Twitter, YouTube and Viber