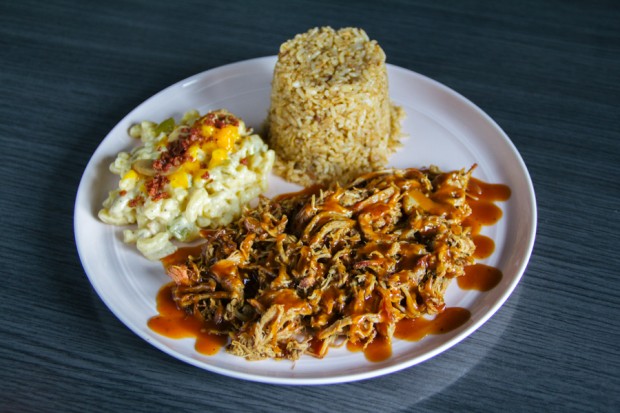 Having opened recently, Cue and Brew in BF Homes Parañaque is one of the first few restaurants in the Philippines that practice slow cooking in their kitchen. Like their name suggests, this is a good place to stop over from some smoked eats and beer. At the moment, their menu is just a single page highlighting three main dishes: the Smoked Pulled Pork Plate, Pulled Pork Sliders, and the Smoked Beef Brisket. The three dishes focus on smoke cooking. According to head chef Ari Gamboa, they smoke the meat on low temperature for 12 hours every day.
 Food
The meat in the Smoked Pulled Pork Plate (P260) is so soft, you can pull apart the meat with just your fork. Their barbeque sauce is an original recipe, but it's a little on the spicy side, so consider yourself forewarned.
The Smoked Beef Brisket (P295) is tender, you barely need a knife to slice into the meat. Another expectation the brisket lived up to is that it didn't feel dry at all. This could be attributed to their slow-cook method, which keeps meat tender.
Both aforementioned dishes are served with one side dish and your choice of rice: steamed rice (P30) or Dirty Rice (P50), which is their own version of fried rice with trimmings of meat (they look like cubed Spam) and flavored with their secret sauce.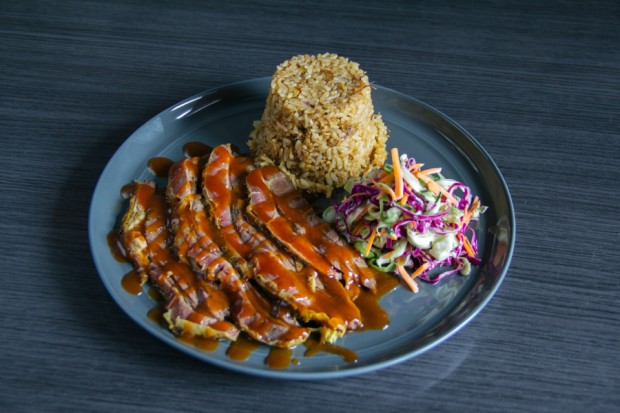 Among their side dishes, try their Mashed Potatoes (P50), which is smooth—no chunks!—and has a generous amount of cheese and bacon. The Truffled Mac and Cheese (P160) is a bestseller that features cheese, bacon, mushrooms, and truffle oil. While it's comforting at best—how can it not be?—the mixture of cheese can be a little powdery sometimes. Their Parmesan Fries (P100) have the consistency of McDonald's Twister Fries, to provide you with a reference, but are sprinkled with parmesan cheese. They don't, however, taste particularly special.
The Pulled Pork Sliders (P230) are four mini burgers of pulled pork topped with coleslaw. The meat proved to have a consistent taste and while the coleslaw doesn't always appeal to everyone, it balances the tangy taste of the sauce.
Just like their menu, they have a limited number of drinks available. You can choose from bottled water (P30) and canned soda (P40), but most reach for the local beer, like Brew Kettle (P50) and San Miguel (from P50 to P65).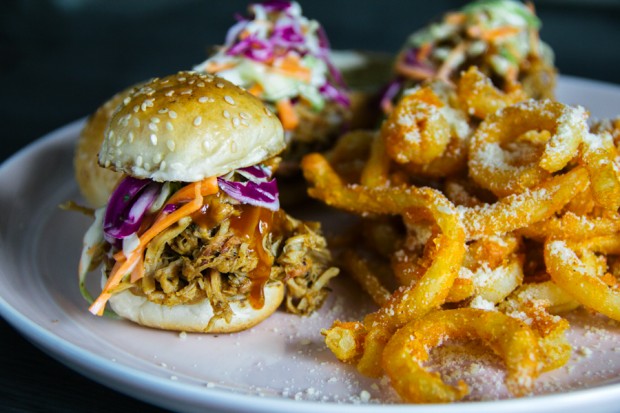 Ambiance
Cue and Brew is a mixture of wood, cement, yellow lights and a window that brings in natural light, highlighting to the whole "smoking" concept of the place. The place also feels chill enough to sit back, pig out, and drink some beer with friends.
The only downside? It can feel a little claustrophobic as they can only accommodate around 10 people at most with just four tables inside and no outdoor seating.
Service
The staff made sure we were comfortable and attended to our every need fast and well. Because the place is so small, it would be difficult for them to not be attentive. Since they practice slow cooking, they don't microwave their food, which makes for quality dishes, but it can take a while to prepare.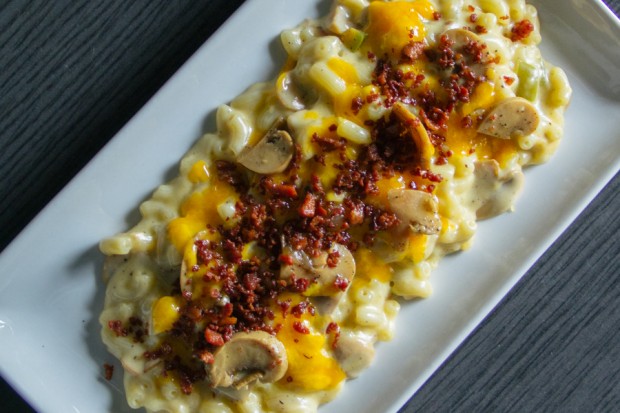 Price
The most expensive item on the menu would have to be the Smoked Beef Brisket Plate (P295) and because this is served with two side dishes. The most you can spend, if we're being conservative, is P345 for a plate and one beer.
Problems
The short menu might be an issue for some. However, the quality of the food makes up for the limited choices available. They're looking to develop more menu options as well as desserts so watch out for that. Currently, they're only accepting cash.
Cue and Brew. 248 Aguirre Ave BF Homes. (02) 624-2877. For more information, visit their Facebook page.
Photos by Chissai Bautista