"Am I ready to continue leading my people in this reckoning of our lives, at whatever cost?" Bai Bibyaon Ligkayan Bigkay asks herself in the novel "We Call Her Ina Bai: How Strong Women Are Made." It's one of the book's many chilling lines on the intergenerational trauma that the Manobo people have endured from continuous violence and displacement brought by defending Indigenuous land in the Pantaron Mountain Range in Mindanao. 
"We Call Her Ina Bai" is a Lumad (a collective term adopted by a number of Indigenuous groups in Mindanao) triumph in owning their narrative and gaining support for reclaiming their home. Ina Bai, as Bai Bibyaon Ligkayan Bigkay is also called, is the only known living woman warrior and chieftain of Pantaron. The novel is a collaborative project based on actual interviews of her and other members of the Manobo tribe conducted by Sabokahan youth leader Sharmaine Dausay, Save Our Schools Network volunteers, and Liyang Network members, as well as archived recordings from Midya Mindanaw in the early 1990s.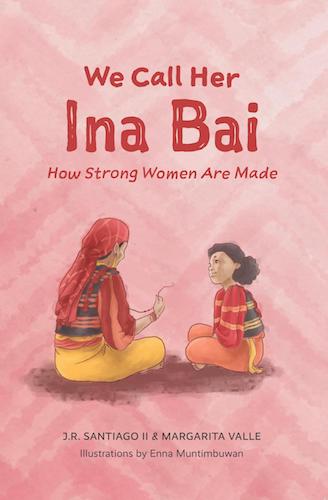 Writers Margarita Valle (a journalist who is also a Lumad from the Mandaya tribe) and Jeremy Santiago II are straightforward, but that's not to say that the novel isn't lush and provocative. In each chapter, we move back and forth through the perspectives of Ina Bai and Dausay as they take us along their powerful coming-of-age journeys. Even those already familiar with the ways Indigenous communities are being attacked will surely be alarmed: The gripping anecdotes on pangayaw (tribal warfare) against logging company Alsons and dangerous evacuating missions to Davao City provide appalling proof that government efforts are ineffective in protecting Indigenous rights. The book also offers an insightful look into Manobo culture—their customs and oral literature.
'A long line of strong women'
The book begins by transporting us to the Pantaron of Ina Bai's youth. She speaks about its impenetrability during the Japanese occupation and how she was brought up to love the people of her tribe and the mountain range itself. But this peaceful collective life was forcibly taken from them by logging and mining companies backed by para/military groups. 
"This story is woven in the beads and fabric of the lives of thousands of Lumad of Pantaron. Some parts are reddened more prominently by the blood of lives lost, while some parts emerge in varied colors for the many victories we have celebrated and the defeats that we have suffered. But, when viewed as a whole, this tapestry of a story is red, because that is the color of the struggle of my people," she says.
Ina Bai's half of the story narrates how she defied the custom of arranged marriage and rose to become a datu, how she was able to help forge unity among Manobo tribes, and how she was able to convince other women to become warriors.
Dausay, on the other hand, tells us what it was like growing up as a bakwit (a colloquial term for evacuee) forced to leave her home in Talaingod, Davao del Norte to stay in the evacuation site at the United Church of Christ of the Philippines compound in Davao City. Still in her teens, she tells us how she was able to reconcile her tribe's custom of tamuk (where you allow a visitor to borrow at a price that the visitor sets themself) with the exploitation that they have suffered. We are made privy to the reasons that led her to become an activist and a farmer-teacher, despite accusations of being part of the New People's Army.
"My name is Sharmaine and I come from a long line of strong women who have waged battles large and small to etch their place in our tribe and in the world. My struggle, in truth, may pale in comparison to the struggle the women before me have faced in their lifetimes. They have already blazed the trail in overcoming the fetters of being Lumad and of being women," Dausay says humbly, yet filled with pride for her people.
Told with immense courage and grace, "We Call Her Ina Bai" is a war cry and an ode to all the women who choose to collectively fight for peace and justice. Don't miss out on its book launch on Sept. 11 where you can hear from Ina Bai herself.
Want to learn more and lend a hand to the communities that helped create this novel?
Art by Pammy Orlina
Follow Preen on Facebook, Instagram, Twitter, TikTok, YouTube, and Viber