Most people have been on a work-from-home setup for almost two years now, but for those who are just about to start it can find it pretty hard to adjust to. Since you're at home—a place of comfort—it can be hard to get in the zone and switch to work mode. 
But hey, there are ways to boost your productivity while maintaining a healthy work-life balance. Trust me, you'll be thanking yourself in the long run once you've found your footing and developed a balance between work and life. 
Here are some tips to help ease you into working from home so you can be productive while also taking care of yourself.  
Set up a designated work space at home

With your home doubling as your office, at some point you might struggle separating your work from your leisure time. Before the pandemic, people usually work at the office and go home afterwards, leaving work-related worries at the workplace and relaxing at home. Working from home is a different story. The line between work and life tends to blur, so it could help to set a boundary of sorts that can help you draw the line between work and personal life. 
Set up your own "home office," a designated space in your house where you do your work. Think of it as setting up your own spot for working, so that when you're done with work for the day, you can leave the space to take your mind off of work. This also works the other way around—setting up a workspace can help you shut out distractions so it'll be easier for you to get in the zone for working.
Invest in a trusty device for your work-from-home needs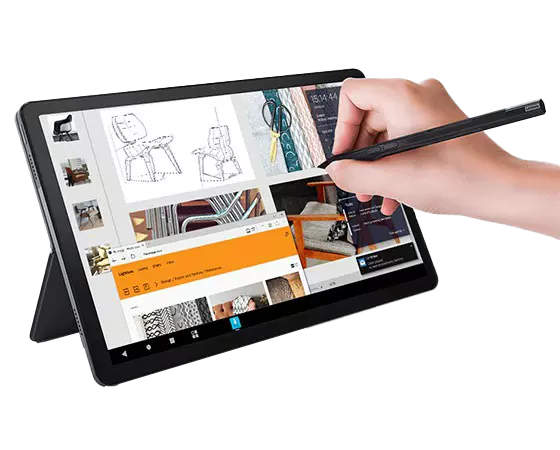 Now that you have your designated workspace, the next step is to invest in the equipment you'll be using for work. Most – if not all – work from home jobs require a laptop or a PC, especially if your job involves meetings and writing reports. If you're not sure which model to get or if you're on a tight budget, then a tablet could work. The Lenovo Tab P11 Plus is a tablet designed to handle laptop-level work; weighing a measly 1.44 lbs and only almost as thick as a standard pencil, it's a device that is easier to carry around in case you really need to take your work elsewhere. And take elsewhere you can, indeed: The Lenovo  Tab 11 Plus supports nano SIM card use so you can connect to the internet via any local network. It also supports storage expansion, which means you can lug all your digital files in a microSD card and take them anywhere with you.
The Tab P11 Plus runs on MediaTek Helio G9OT Octa-Core Processor, a new chipset that really delivers on the performance—through enhancements made on the hardware and software, the device can guarantee smoother and faster rendering, rapid tactile feedback, and better visuals, ensuring a hassle-free remote work for anyone.
The unit comes with an 11 inch display with 2000 x 1200 resolution and a TDDI LCD with 84% screen-to-body ratio and logged 400 nits that allow for vibrant display, whatever is on display.
The Tab P11 Plus also has an optional ultrathin keyboard with a built-in trackpad and shortcut keys, so it will feel just like using a regular laptop. The tablet also has Productivity Mode, a feature that allows multiple apps to be open simultaneously on the screen, just like having multiple tabs open on a desktop. And don't worry too much about overloading the tablet – it has up to 6GB RAM, so it can handle some real multitasking.
Get organized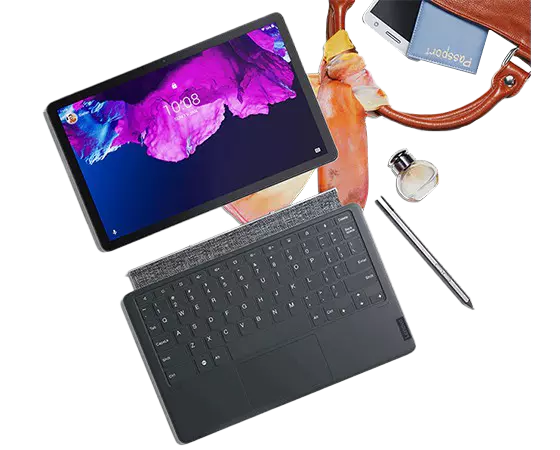 Meetings can be really nerve-wracking, especially if you need to take a lot of notes, so sometimes it might be hard to keep up and stay organized. Taking notes can be done either digitally or by hand – go with whichever you're more used to. The Lenovo Tab P11 Plus can let you do both.
Aside from the ultrathin keyboard, the tablet has a bundled accessory in the form of a stylus, the Lenovo Precision Pen 2. With 4,096 pressure levels and tilt detection, the Precision Pen 2 is great not only for jotting down notes by hand, but also for sketching or doodling. If ever inspiration strikes while you're away from your workspace, just whip out your tablet and Precision Pen 2  and jot down your ideas. The Precision Pen 2 is also designed for long hours of usage, with 200 hours of usage time available on one charge.
Organizing your notes is also a breeze. You can color code your note entries or sort them into custom labels so you can easily find and pull up your notes when you need them.
Chat up a friend or colleague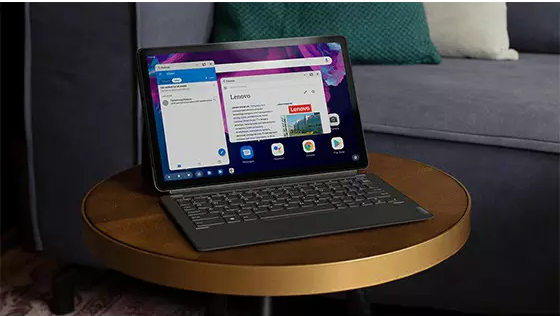 A benefit of working from home is that you can have a quieter atmosphere since you won't hear any talkative co-workers buzzing in your ear. But working remotely can also be pretty isolating. A good way to relieve feelings of isolation and loneliness is to chat up a friend or even a co-worker. 
If you're starting to feel lonely, find a friend or co-worker you can talk to. Catch up with your friends through chat or through video call so you won't feel so alone. The Lenovo Tab P11 Plus is also great for video chats – its high resolution 8MP front camera with 99-degree wide angle enables crystal clear video calls. And with its background noise cancellation feature, you don't have to worry about your neighbors' dogs barking over your conversations or disrupting your train of thought. 
Remember to take breaks

It's important to rest after a long day of working, so your mind can recharge and take a break from worrying about work. Remember: productivity isn't everything, and your mental health also matters. Pat yourself on the back for getting through the work day, plop down on your comfy couch and put on your favorite TV show for a much needed me-time. The Tab P11 Plus also doubles as a trusty device for your entertainment needs. With stunning 2K resolution on its 11-inch display and Dolby Atmos audio over four speakers, it delivers high-definition and immersive viewing experience. And don't worry about using the tablet after work – the Tab P11 Plus can last up to 15 hours on a single charge of its 7700mAh battery, or possibly up to 80% of that for hardware intensive programs such as office suites and basic creative suites.
If playing games is your go-to activity to unwind from a long day at work, the Tab P11 Plus is also great for casual mobile gaming. Because it has MediaTek® Helio G90T Tab Octa-Core processor and having up to 6GB RAM, the tablet can handle running mobile games with less lag.
If you feel like just unwinding with a good movie or album to enjoy, you have at your disposal some of the top apps today preloaded on your device. Sit back and binge-watch movies on Netflix, explore some DIY videos on Youtube, or explore new music on Amazon Music. 
Can't decide on how to spend your well-deserved me-time? The Tab P11 Plus has Entertainment Space where you can find recommendations for TV shows, movies, comics, e-books, and games. Entertainment Space can be accessed by swiping right from the tablet's home screen. Sign in to your subscription services to get personalized recommendations all in one place, no need to jump from app to app to look for your next great read or your next go-to TV show, movie or game.
Sometimes, it's the little things that count
At the end of the day, you want your little home-office setup to work for you, and sometimes, even the littlest of things contribute to making that possible. Things like having a productivity tool that runs a special technology to protect your eyes—the Lenovo line of tablets have TÜV Certified Eye Care that ensure lowered levels of harmful blue light, reducing strain to your eyes. Getting an extended Lenovo after sales services—such as Warranty Extensions and Accidental Damage Protection One is also a plus since it ensures that your device is protected, and that your pocket is protected from unexpected repair costs.
Ready to take on the world, even at home? Let Lenovo be your partner. Get the Lenovo Tab P11 Plus bundled with the Precision Pen 2 for only P16,995 at the official Lenovo Experience Stores,  Shopee, Lazada, and authorized resellers nationwide. For more information, follow Lenovo Philippines on Facebook.
Follow Preen on Facebook, Instagram, Twitter, TikTok, YouTube, and Viber