While we were waiting for designer Martin Bautista's new collection for spring/summer 16 to drop, he uploaded a few photos from the lookbook on his Instagram account. The designer also casually dropped the fact that for the photo shoot, he not only made the clothes but also did the model's makeup.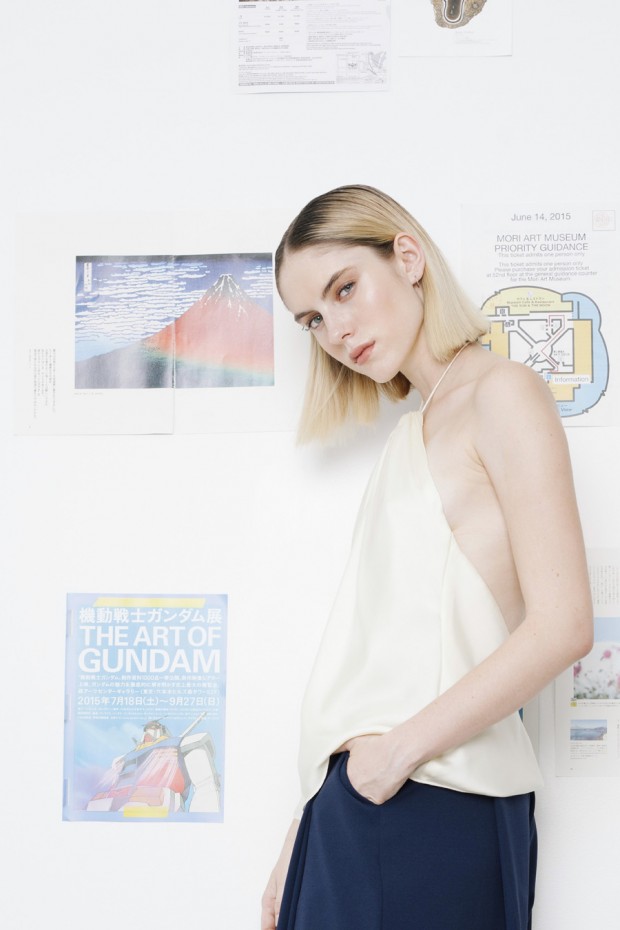 Riding on the dark red lip trend and pairing it with burnt copper eyeshadow and sharply arched eyebrows, the strong look matches the loose, easy-breezy clothes he's got lined up for the coming season. Preen quickly checked in with Martin to ask him how long he's been playing around with makeup, and what his favorite products are.
How long have you been dabbling in makeup?
Martin Bautista: When I was in secondary school, before I went home from school, I would drop by the bookstore and spend hours looking at the pages of Kevyn Aucoin's book Face Forward. Now that I can afford the better brands and expensive stuff, I hoard! I don't even wear makeup myself; I only test the product on my hands or play with it on one eye or a certain face part and I'm happy with that. Or sometimes, I practice on my mom or my sister [when] they attend weddings.
I  also have so many wonderful and incredible [friends who are makeup artists]. One of them is Robbie Piñera. We share and exchange products we discover, buy products, and review them. [Being a makeup artist] is just like making clothes; it's in the same line of making women beautiful. I guess more than anything else, that's what makes me obsessed about it.
As a creative endeavor, what do you like about your makeup?
The power to change a feeling or emotion and express who you are. There's something that makes me zen with makeup. It's a quiet, calm process. [It's] totally different from making clothes where you have to deal with a lot of people [and put] more time and effort. There's an inner peace to it.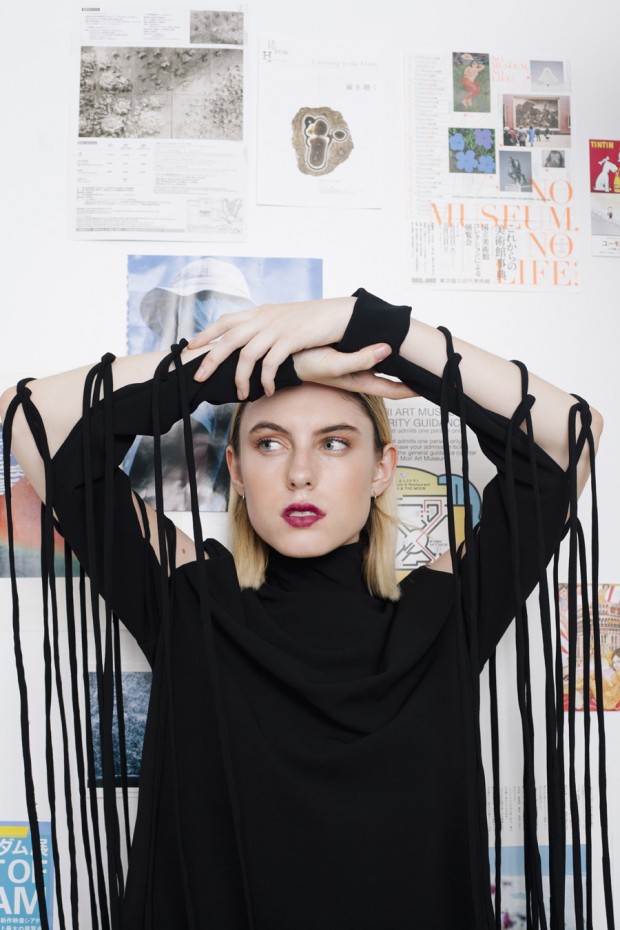 When it comes to your own clients, do you often suggest hair and makeup looks that they can wear with your clothes?
All the time! I enjoy doing that a lot. I even suggest products to try, lipstick shades, etc.
What was your inspiration for the makeup for your current collection?
I just wanted to make her look like she did her own makeup. The collection has a Japanese manga undertone to it so I definitely wanted to use some color. Healthy glowing skin, strong feathery brows, warm brown gilded lids with terracota matte shadow on the base, then matched with a nude peachy lip and another look with a berry pink lip.
Name five products that you used so people can try these looks at home.
#1 Charlotte Tilbury Matte Revolution Lipstick in Love Liberty
It's a dark berry plum shade, I love this product so much because it's not a flat-out matte lipstick. It has glowing pigments that are invisible to the eye [and] create the illusion of lit-from-within lips that appear fuller and plump!
#2 Nars Eyeshadow in Lola Lola
[It's] for neutral gilded lids. Gilded but not glittery [and] can be worn for day and nighttime. And it works well with most skin tones!
#3 Dior Show Designer Mascara
This beautifully sets the lashes apart from each other for a more natural look, [so it] gives you a bedroom eye effect! Perfect for lower lashes too.
#4 Tarte 12-Hour Amazonian Clay Blush in Breathless
It's a beige-y pink that's perfect if you have too much color on the eye and the lips; it's very subtle color. I love that it's long-lasting too!
#5 Hourglass Ambient Lighting Palette
I use Dim Light as a finishing powder to the entire face—it blurs out any imperfections and pores and creates this beautiful flawless finish! Use Incandescent Light for highlighting above the cheek bone, brow bone, cupid's bow, and chin. This product has no glitter, looks natural, and works well even in the daytime without looking fully made up! It just mimics natural light beautifully.
With additional reporting by Cai Subijano
Photos courtesy of Martin Bautista