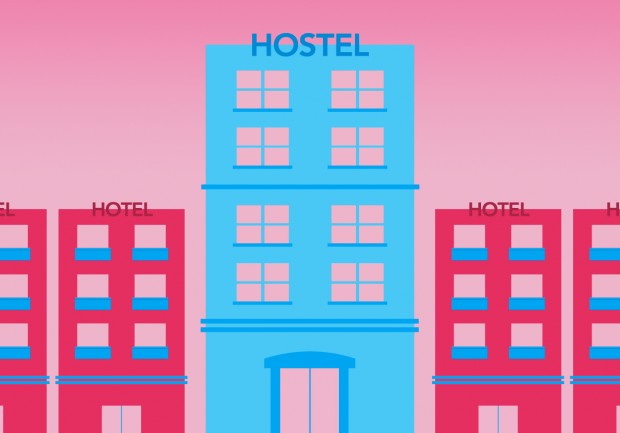 My mom and dad are two of the coolest people alive. I've believed this thoroughly for my entire life. When they had just married, they were young, in love, and flat-out broke. After a year of scrimping and eating boxed macaroni and cheese, they managed to buy a couple of tickets to Holland and spend a few months cycling around Europe. During their adventures, they stayed in hostels, playing Uno cards with strangers and visiting chateaus with roommates. Each night as a wee Elliott was tucked into bed, I heard stories of snarky New Zealanders and pizza orders lost in translation. Interestingly, when I finally became a lone traveler, I found myself in hostels and in the presence of these "strangers" and "roommates" who are mostly female travelers. I wondered why?
When I dropped a summer internship with a magazine to travel across Asia, my folks graciously agreed to bankroll my jaunt without a second thought. I started booking hotels without a second thought, never once did I consider staying in a hostel. Hostels seemed unnecessary and dingy, somewhere sketchy where one could be robbed or worse. But where did that idea come from?
The power of suggestion is, well, powerful. I've never seen Eli Roth's movie Hostel, but the term still gives the gen pop (a turn of phrase I'm borrowing from my binge of the latest season of Orange is the New Black) an icky feeling. And then there is the idea that hostels are the homes of torture porn.
I zipped through Penang's Georgetown, an iconic area for backpackers and other adventurous types. I was curious about their hostels with invitingly trendy lobbies and cafés, but still, I had made arrangements that were clean and comfortable. It was not until arriving in Ulaan Baatar, Mongolia a couple of days before my Ger trip that I realized unless I was willing to shell out the big bucks, a hostel would be the only way to go.
So, with a bit of Googling, I found Hostelworld.com, a site that amounts to a Trip Advisor for hostel accommodations. For 280 pesos a night, I was able to book a room in Sunpath Mongolia, a hostel that the site assured was a "96-percent value for money." There were a few photos, but none to really make a solid decision by, though with no other real choice, I decided to go for it.
Sunpath was tucked away into an apartment complex, or, more correctly, was part of an apartment complex. The exterior felt a little suspect, but so does nearly everything else in Mongolia. Inside, I found myself completely off-guard.
It was bright. And it was clean. And it was cute.
My room was a six-bed, mixed gender room. It was reminiscent of a more spacious dorm room, and notably much cleaner than any shared accommodation I had ever been in. There were no panties on the floor or errant candy bar wrappers. The entire hostel was filled with chatty Europeans, with their flexible work schedules allowing months off at a time so they could hop off the Trans-Siberian train and trek around. The whole place oozed with the camaraderie of a rather polite sleepover, people taking turns popping up from tarot card readings or cooking in order to grab the door for some newcomer.
This is what I had been so afraid of: sharing a room with a Swedish girl, Lena, whose strangest query was by chance if I had a hard drive with the third season of Homeland on it. I felt foolish.
I noticed two things about my fellow adventurers. As I was saying, first, they were primarily women, though a couple other guys populated the dorms. About 80 percent of Sunpath was female. Secondly, they clearly weren't people who needed to be staying in a group setting.
I questioned Pui, a British-based traveler preparing for a 10-day meditation retreat in the Gobe Desert. Pui had spent the last couple of years traveling, and though she had spent a stint milking cows in Australia, she didn't particularly have financial incentive to stay exclusively in hostels. Originally she had planned to meet up with a friend in order to attend the retreat, but her friend had dropped out. Not one to be held back, Pui decided to come along, and chose a hostel based on its safety. While I've had some awesome experiences in the past Couchsurfing, Pui had been creeped out by a couple of guys who had hosted her, and now tended to stay with groups. This was a moment where I checked my male privilege. I never really have to think particularly hard about my safety, but for the women staying in hostels, they created little temporary tribes of sisterhood and sanctuary. Totally makes sense.
Not a half-hour after meeting her, another Swedish girl named Ellie popped in. As she settled in, I started chatting to her about what brought her out to Mongolia, and it turned out she too was going on the 10-day silent retreat. After networking her with Pui, we all went to grab a bite to eat, with Ellie recommending a vegan spot she had read about in Lonely Planet.
With the girls networked, and delicious food in my stomach, it all finally clicked.
A hostel woman is, in many ways, the ultimate free-spirited traveler. She invites friends, but waits for no one. She reads travel sites and Lonely Planet, but isn't afraid to veer off the beaten path for authentic cuisine, usually recommended by locals she's spoken to in their native tongue. She's stylish, but always willing to give away her crop top to those in need.
I left my first hostel experience with so many wonderful memories of my own, that I promptly checked into another in Hanoi, a city full of alternate venues. One day, when I tuck in my children to sleep, I'll have my own batch of stories to tell, of adventures in far-off places, of the hostels in which I stayed, and the quirky Swedish girl who greeted me with a request for a hard drive with an obscure crime drama.
Art by Dorothy Guya