Trevor Noah has some thoughts about the "Kim-Kanye-Pete situation." 
By now, you've probably seen at least one headline about the three. Here's a quick rundown: Last February 2021, Kim Kardashian filed for divorce against Kanye West, and by April, the rapper responded. Both of them cited "irreconcilable differences." Just last March 2, Kim was declared legally single.
Both of them started seeing people in the interim. Kanye West reportedly had a short-lived fling with model Irina Shayk around March to August in 2021, and then model Vinetria after, who he dated for a few months until they split in December. January saw his much publicized relationship with actress and "Uncut Gems" muse Julia Fox. 
Meanwhile, Kim Kardashian started seeing comedian Pete Davidson in November after she hosted an episode of "Saturday Night Live," with him officially calling her his girlfriend in a People interview in February.
Despite the fact that he's been seeing multiple women after their split, Kanye has been making multiple public attempts to win Kim back in increasingly erratic ways bordering on harassment. He's also branded Pete as Skete, and released a song about the situation called "Eazy" with two (so far) accompanying music videos. The first depicts Kanye kidnapping and seemingly decapitating Pete, while the second shows Pete getting beat up by what looks like a skinned figure.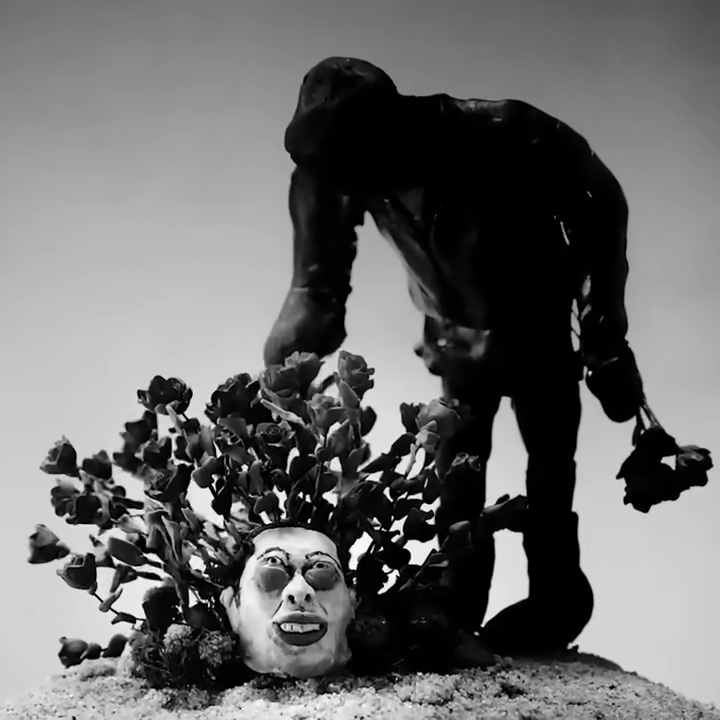 On social media, reactions to this drama were mixed. While many have called it harassment, many of Kanye's fans continue to back him up, calling his Instagram posts funny. Some have also noted that, considering the Kardashians' history, this may be a publicity stunt.
For his "Daily Show" monologue on March 16, host Trevor Noah decided to throw in his own two cents. 
Unpacking the Kim-Kanye-Pete situation and the harassment many women face when trying to leave a relationship. pic.twitter.com/qF3cfiYL9R

— The Daily Show (@TheDailyShow) March 16, 2022
He notes that while this may have started as a tabloid story, it's spun into something darker that people need to take seriously. "It touches on something that is more sensitive and serious than people would like to admit," he says, adding that, "Two things can be true. Kim likes publicity. Kim is also being harassed."
"I see a woman who wants to live her life without being harassed by an ex-boyfriend or an ex-husband," he shares. He adds that there could be many things to "hate" Kim for and you may not feel sorry for her—after all, she's a white woman known for appropriating Black culture—but it doesn't change the fact that seeing all this play out is terrifying.
"What she's going through is terrifying to watch and it shines a spotlight on what so many women go through when they choose to leave," he says. 
He then draws on his own experiences with his mother. He recounts people criticizing her for "overreacting" to the abuse she suffered from his stepfather. "I remember once we went to the police station and they said to my mom, 'Oh, but did you talk back?… What did you say to him?'" This unfortunately culminated in a murder attempt that involved her getting shot in the head in 2009.
"It seems like nothing, and again I'm not saying Kanye will [do the same thing]," he says, "But you see it in all these stories where people say 'We saw it' [but didn't do anything.]"
The crux of the story is that Kim has immense power and privilege—and yet she's still experiencing this much harassment from her ex-husband for all the world to see. "What we're seeing though is one of the most powerful and richest women in the world unable to get her ex to stop texting her, to stop chasing after her, to stop harassing her."
Noah concludes: "All I'm saying is if Kim Kardashian cannot escape this, then what chance do normal women have?"
We shared the same sentiment on our TikTok page. Kanye is publicly humiliating her, leaking their private conversations, and frequently provokes his followers to get involved. It's terrifying and downright dangerous. "Anyone can be a victim, even if you're the most famous woman in the world," we said in February.
Kanye took to Instagram to respond to Noah's monologue in a now-deleted post where he called Noah a racial slur, replacing the words of the song "Kumbaya" with the epithet. His account was then restricted for violating the platform's policies on hate speech, harassment and bullying. According to CNN, this was due to his attack on Noah.
Photo courtesy of Kim Kardashian's Instagram page
Follow Preen on Facebook, Instagram, Twitter, TikTok, YouTube, and Viber