With the grand return of Pride celebrations to the streets, lots of baby queers are celebrating Pride month as openly part of the LGBTQIA+ community for the first time. One of them is Miel Pangilinan, sibling to Frankie Pangilinan and KC Concepcion as well as the child of Sharon Cuneta and outgoing Senator Kiko Pangilinan. The second youngest of the family published their coming out post on June 13 along with photos of them with their rainbow flag. It's giving queer joy.
"This June, I am celebrating my first Pride month as openly and publicly queer," Pangilinan wrote. "It's a really emotional and freeing time right now, and I'm endlessly thankful to my close friends and family who have supported me and shown me love as I've grown and explored my own gender and sexual identity."
Not only did Pangilinan express the catharsis they're feeling but an understanding that Pride is about resistance. "I'm also incredibly thankful that I am able to safely celebrate my identity this year, as I know there are many people in this country that don't have the same privilege," they added. "I've also got a lot to learn and understand as a newer member of the Filipino queer community, and I'm trying my best to educate myself on current situations and present issues relating to gender equality and LGBTQ+ rights in our country." 
They ended their post with the line, "And yes, I am the gay cousin" and hashtags such as #sapphic and #queer. Baby gay's first slay.
View this post on Instagram
In response, Mommy Sharon reposted Pangilinan's post with the touching caption, "All I will say is that I love all my children and will support them in their lives and choices. I am proud of my children and all my children are perfect. I love you, my Miel." Dad Kiko meanwhile promised in a comment, "Mama and I will always be here for you. Always. For certain. Forever. No matter what. Period. No more comma. The end of the paragraph. Amen." Parents, take note.
Eldest sister KC Concepcion also expressed support, commenting on their post, "I'm always going to be here for you as your « ate » no matter what."
Big sis Frankie went on protective mode on Twitter when she asked her followers to send her sibling love because there were homophobes who left upsetting comments on the Pangilinan's post. Her tweet included a screenshot of Pangilinan's response to one Instagram user who wrote, "Sana fake news lang ito."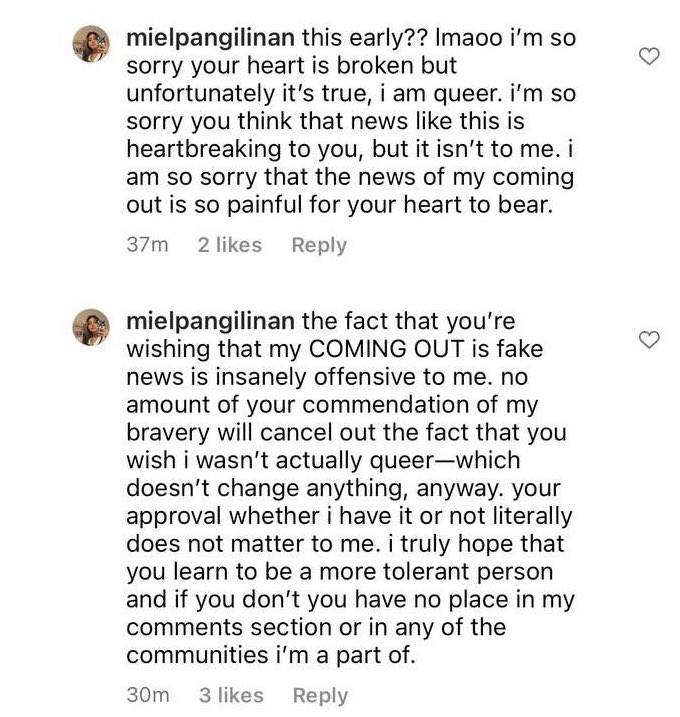 "I'm so sorry you think that news like this is heartbreaking to you, but it isn't to me," Pangilinan replied. "The fact that you're wishing that my coming out is fake news is insanely offensive to me. No amount of your commendation of my bravery will cancel out the fact that you wish I wasn't actually queer." Go tell 'em!
This is another reminder that a person's coming out isn't about you. Stop hijacking coming out posts. If you don't have anything nice to say, move along. No need to leave backhanded compliments. Let queer folk enjoy the month in peace.
Art by Pammy Orlina
Follow Preen on Facebook, Instagram, Twitter, TikTok, YouTube, and Viber