"Sleep With Me," starring Lovi Poe and Janine Gutierrez, is the newest GL to hit the shores. It's a love story between two people with different disabilities, and explores the ways in which they navigate the world and allow themselves some tenderness.
At the press screening, director and creator Samantha Lee said that she wanted to show the different ways people love each other. She had started writing the show during the pandemic, and she was steeped in "sadness and self-loathing. The only way I could dig myself out of that loneliness was through the love of people around me."
The show, which won an audience award at the recent Outfest LGBTQ Film Festival in Los Angeles, reflects that. There's the love between its two main characters, of course. Poe's Luna is a science textbook writer who has a condition where she can't sleep during the night. Gutierrez's Harry is the DJ of a popular late night radio show called "Sleep With Me," which Luna listens to. She's also a wheelchair user. 
Their meet-cute happens when Luna's newfound "friend"—the cashier at the convenience store she frequents, played by Nour Hoooshmand, who is less of a friend and more a desperate acquaintance—begs her into accepting a prize she got from Harry's show, as she can't leave her till to go to the studio. There, Luna quite literally bumps into Harry and quickly after leaves unceremoniously without even giving her name. 
That would be the end of the show, if not for Harry's brother, played by Kerwin King, whose own boy problems lead Harry to confessing to the girl that dropped by her studio on air.
I have to be honest, I wasn't sure about whether or not Poe and Gutierrez would have good chemistry. Neither of them have done many queer roles (I've only tracked down a one-off "Magpakailanman" episode for Poe where she plays a butch lesbian, and none for Gutierrez), and though they were on the same network for a long time, they didn't do a lot of roles in the same shows. My viewing of the show assuaged that worry, though. I felt genuine kilig, especially during their first date—ish—at a mami shop.
(Full disclosure, while researching for this review after watching the show, I found this headline on a story about the two from 2020: "Janine, Lovi nagliyab ang kaseksihan sa IG." So never mind, maybe I just didn't see the vision.)
I especially like the way Poe embodies Luna. She's very charming and believable as the character, and dare I say it might be her best role. Luna is both extremely cool—she's all black band shirts, multiple chains, and on first-name basis with the bartender at a queer bar—and also the most awkward person in the world, in a way that's endearing but also really genuine and relatable and very, very gay. It's easy to make awkwardness look annoying and contrived, hashtag #awkward, if you will, but Poe pulls it off. As a queer person surrounded by queer non-men myself, her awkwardness is very authentic. Her awkwardness is supported by the story: She's awkward because her disability isolates her socially.
As a GL, of course the show's main thrust is the love between Harry and Luna. But that's not the only kind of love you see here. Harry's brother has his own storyline with his crush Whammy, played by Enzo Almario. The familial ties between Harry and her brother (we love queer siblings) and Luna and her sister also run deep. 
"Baka Bukas," Lee's first film, was famously criticized for having a lot of vibes, but not much substance, with the movie not being fully representative of the lives of queer women in the country. Was a lot of that criticism warranted? Maybe. However, it's an observeable phenomenon that queer works by queer creators are more closely scrutinized than works by creators who aren't marginalized; this double standard means that non-marginalized creators can often get away with unscrupulous content more. And Lee was an openly queer woman director who told sapphic queer stories, which even now is a rarity.
Whatever the case, it seems as if she's been taking in the criticism. Her sophomore film, "Billie and Emma," told the story of two young school girls in love. Set in the province, the movie also tackled issues like teen pregnancy. With "Sleep With Me," her first foray into shows, she's still trying to tell a more substantial story about an interabled couple.
Their disabilities are not incidental to the story. "Sleep With Me" tackles the different ways ableism affects their lives. Luna has an invisible disability, and we see early on how her status as a person with disability is often disregarded because it's not visible. A guard tells her off for using a persons with disability parking lane, her boss reprimands her for not being awake during the day and assumes that it's because she parties at night, and we find out that her condition led her to not finish college and gave her a hard time finding employment. When her boss starts telling her off, we feel the discomfort with her, and we feel just as trapped when her boss inadvertently points out that it would be hard for her to find another employer just as "accommodating" to her condition.
Harry's disability is more visible, and we see how ableism plays out there as well. Her coworker's girlfriend sees her and just immediately calls her inspiring in a condescending way—the kind of tone-deaf way a lot of non-disabled people act when they see a person merely existing with a disability. When she and Luna go on a date, they go to a restaurant that's not wheelchair-friendly and the staff constantly bumps into her.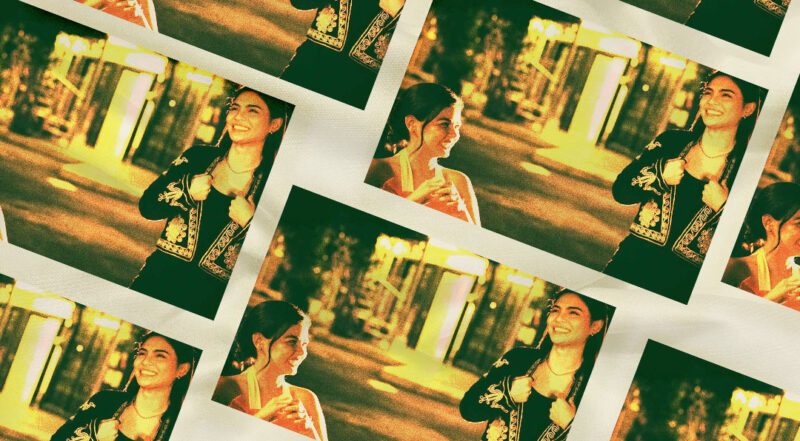 The show also presents the less obvious, but more insidious ways ableism affects her life. Her non-disabled ex, played by Gelai Penales, is very infantilizing. You truly feel Harry's confusion of whether or not her ex loved her for her, or if she just loved her in a trophy-like way, as if she loved her for the sake of having a girlfriend with a disability. It's an unfortunately real problem. With Harry's ex, we see how love can feel toxic and crushing from someone who genuinely thinks she's being loving. 
This kind of story is way long overdue, and if anything, I appreciate that it's tackled at all. It's not perfectly done, but it's done respectfully and with care. It's great that it's an interabled love story instead of having one person having a disability and leaning into savior tropes (with Harry's ex, the show criticizes that). 
I also really like that it's a sapphic show where the main characters already know they're gay. So much of queer media, especially queer women's media, is centered on young coming-of-ages where you're still realizing you're gay. While that's obviously a very important experience, your life after that is also important. Realistically, you will not end up with the first girl you fell in love with, and the relationships you have after when you've already been comfortable with your sexuality are all the more fulfilling and freeing for that.
I know there might be some push back to calling the show a GL—in a recent interview, Lee points out that the show is a love story first and foremost, and isn't there something inherently off about automatically giving a show a niche label just because it's gay? But if I'm going to be honest, I like that there's a shared lineage of media made for queer women, which is what the moniker suggests, even if many shows gifted the label feel less that and more made for the cisheteronormative male gaze. (I'm biased, though. I grew up reading GL comics and yuri manga made by and for women.)
Full disclosure: I haven't seen the full show, just a specially edited version of the first few episodes at the press screening. Still, I fully enjoyed it, and I am pretty much going to binge the rest when it's out.
Art by Ella Labio
Follow Preen on Facebook, Instagram, Twitter, TikTok, YouTube, and Viber