We've seen how art and all forms of its expression has helped many of us cope with the pandemic, and what better way to indulge in art now than to experience it firsthand through Pelikulove's Shout Out Online Festival (Maghayag at Lumikha) from Sept. 19 to 25.
Pelikulove is a multi-arts portal which aims to provide arts education and a platform for artistic and socially-relevant content. It has partnered with the National Commission on Culture and the Arts to stage a seven-day online festival of short films and stage plays as the culminating activity of the Pelikulove master classes of National Artist for Film and Broadcast Arts Ricky Lee and Palanca Hall of Fame awardee Rody Vera.
The works, which are produced in cooperation with regional theater and film organizations, can be viewed for free at pelikulove.com beginning Sept. 19. There are three sets of works to be showcased; each set is composed of three productions.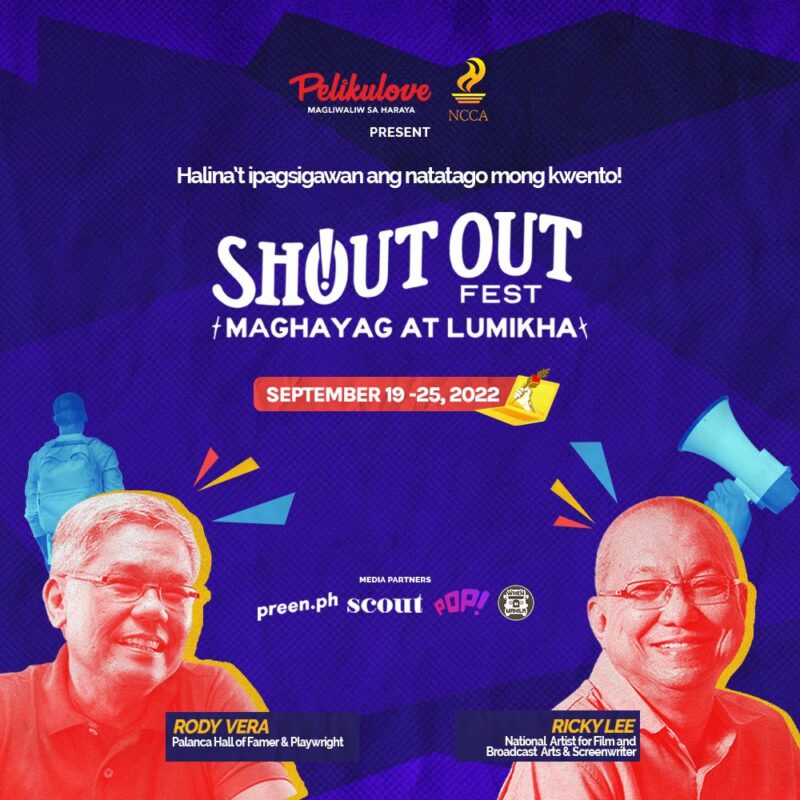 Set A features the short films "Libro for Ransom" which tackles the theft of Jose Rizal's masterpieces and was written by Ralph Morales and directed by Arjanmar Rebeta, "Cooking with Love" written by Viva Andrada O'Flynn and directed by Delfin Castillo, and "When a Manananggal Loves a Man" by Raymund T. Barcelon and directed by Neil Azcuna of Integrated Performing Arts Group off MSU-Iligan Institute of Technology.
Set B features the short films "How to Make an Effective Campaign Ad" written by Paul Dela Cruz and directed by Roman Perez, Jr. of Pelikula Indiopendent, as well as "Hypertext"  and "Quarantine 5." "Hypertext" tackles intimacy issues and was written and directed by United Kingdom-based Pinoy visual artist Jovi Saysay, a member of SOA Philippine Studies, University of London. "Quarantine 5," meanwhile, is a story of five former activists written by Andrew Estacio and directed by Sari Saysay of Sining Banwa in Bicol.
Set C features the plays "No Trespassing," "Ilaw sa Labas ng Tahanan," and "Till Human Voices Wake Us and We Drown." "No Trespassing" is set in the sugar plantations in Bacolod and was written and directed by Dada Grifon and co-directed by Julius Dela Peña of the La Salle Film Society of Bacolod. "Ilaw sa Labas ng Tahanan" is on two women trying to cope with their husband's deaths and was written by B. Salvador and directed by Benjie Kitay of the theater company YATTA in Dumaguete. "Till Human Voices Wake Us and We Drown" is about mambabarangs now working as nurse and caregiver and was written by Rogelio Braga and directed by Nyel Camilon.
Aside from the short films and plays, the Shout Out Festival will also present virtual learning seminars, talkbacks, and Q&As with artists and mentors. Festival visitors will access e-books, self-paced courses on playwriting and scriptwriting, and other arts and culture-related content.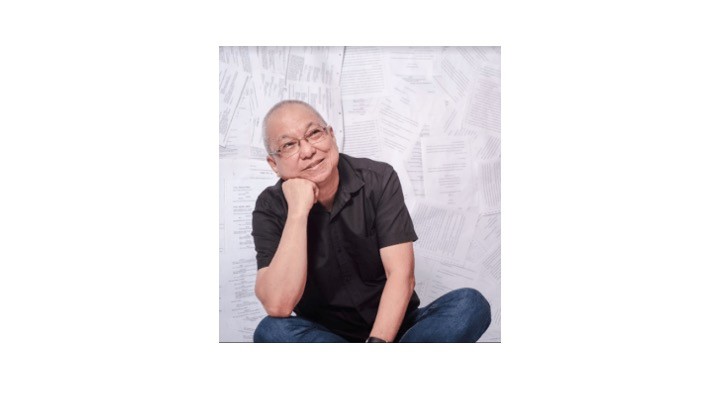 Access to the festival's content is free. However, due to the platform's limitations, only selected audiences can join through prior arrangements. Early registrants have a chance to avail of e-books by Lee, Vera, and film critic Joel David without any fee.
Aside from Lee and Vera, Shout Out's board of festival directors includes TV and film director Jeffrey Jeturian, University of London professor Cristina Martinez-Juan, University of the Philippines director and educator Issa Manalo Lopez, Harlequin Theater Guild artistic director and De La Salle University and Pelikulove program director Raffy Tejada, and indie film director and Pelikulove chief creative producer Ellen Ongkeko-Marfil. The festival's council of evaluators includes film critic Joel David, actress-screenwriter-playwright Bibeth Orteza, and playwright and Ateneo de Manila Theater Arts program coordinator Glenn Sevilla Mas.
Ongkeko-Marfil notes, "We are very excited to hold the first ever 'Shout Out Fest' as this festival epitomizes Pelikulove's mission of nurturing an engaging and open environment towards building a creative community. We'd like to show that art is the soul of our lives and it must continue to thrive even in the midst of a pandemic. Now, more than ever, is the time to shout out our fears and triumphs, and shout out for the future."
For questions and inquiries about the "Shout Out Fest" Online Festival, contact mobile (+63) 923359 6286 or the Pelikulove's Facebook, Twitter, Instagram and YouTube social media accounts. The festival's complete schedule is available at pelikulove.com.
Follow Preen on Facebook, Instagram, Twitter, TikTok, YouTube, and Viber