This article has been updated to include Adam Levine's statement.

A day after Sumner Stroh's first TikTok video on her alleged affair with Adam Levine went viral, the singer issued a statement through an Instagram Story posted on Sept 20.
"A lot is being said about me right now and I want to clear the air," Levine's statement reads. "I used poor judgment in speaking with anyone other than my wife in ANY kind of flirtatious manner. I did not have an affair; nevertheless, I crossed the line during a regrettable period in my life."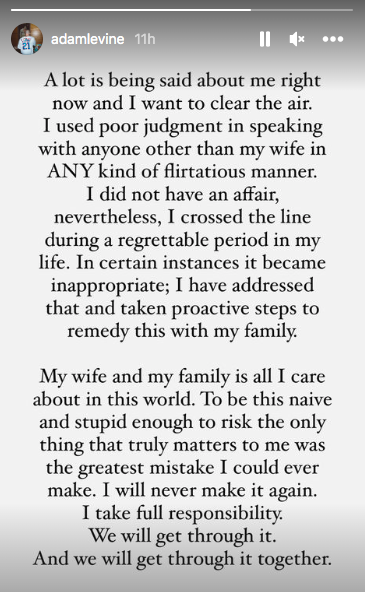 "My wife and my family is all I care about in this world. To be this naive and stupid enough to risk the only thing that truly matters to me was the greatest mistake I could ever make. I will never make it again," he adds.
While Levine's statement and manner of releasing it hasn't done him any favors in the eyes of netizens, two women named Alyson Rosef and Maryka have also come forward with screenshots of their flirty conversations with Levine. 
Stroh, who claims that she had a physical relationship with Levine in a Page Six report, seems to have a comeback to the statement that no affair took place. "Someone get this man a dictionary," she wrote on Instagram Stories.
– – –
Can you imagine naming your baby after your ex? Let alone after a person who you've been exchanging flirty Instagram DMs with behind your wife's back? If we are to believe 23-year-old Instagram model Sumner Stroh, that's exactly what Maroon 5 frontman Adam Levine wanted to do. 
Stroh made her claims about the affair in a TikTok yesterday, Sept. 19. She shared screenshots of conversations she allegedly had with him—including a message where he asked if he could name his baby after her.
"I was having an affair with a man who's married to a Victoria's Secret model. At the time, I was young, I was naive, and, I mean, quite frankly, I feel exploited," Stroh said at the beginning of the video. She also claimed that they saw each for "about a year" and that they had stopped talking months before Levine sent her the weird question.
The alleged message from the singer read, "Ok serious question. I'm having another baby and if it's [a] boy I really wanna name it Sumner. You ok with that? DEAD serious." The screenshot shows that it was sent on June 1.
You may be wondering why Stroh came forward with the story now, and it is supposedly because one of the friends she trusted the screenshots with was attempting to sell the story to a tabloid. It is *possible* considering that Behati Prinsloo posted her first bump photo while expecting her third child with Levine just a few days ago, on Sept. 16. 
View this post on Instagram
Netizens weren't too keen on taking Stroh's side, with a number of them accusing her in the comments section of clout-chasing and playing the victim in a situation that also impacts Prinsloo and her kids. They also pointed out that it's no secret that Levine and Prinsloo have been married since 2014 and that it's hard to miss the couple and family photos they've consistently been posting on Instagram.
However, Stroh denied these accusations in a second video posted today. "In no way was I trying to gain sympathy," she said. "And I fully realize I'm not the victim of this. I'm not the one who's really getting hurt here. It's Behati and her children, and for that, I'm so so sorry."
@sumnerstroh

Replying to @alanasanders89 addressing a few things I wish I had said in the first video
Stroh also explained why she felt exploited. "The most important part that I did definitely gloss over is the fact that I was under the impression that their marriage was over. I believed that they were keeping it quiet to avoid the negative press because, as I had said, I was new to LA, so I just assumed that with celebrities of that caliber, that that's just how it was," she said.
"That's why I feel exploited, because he knew I believed everything that he said," she added. "Also, he was DMing me straight from his verified Instagram account. I didn't have any reason to further question it. But I now realize that that was likely a manipulation tactic of his, you know, just hiding in plain sight."
If the allegations are true, the bigger issue isn't whether or not the affair happened strictly over flirty DMs or how Stroh doesn't seem to be all that sorry as some TikTokers have zeroed in on. Levine possibly cheated on his pregnant wife with a woman who's about half his age. That's gross behavior from a man who's cashing in on the support of his fans, a lot of whom are women, with a world tour. He's likely not the first musician to do this, and it's about time this type of behavior gets called out. Women deserve to be treated better.
Anyway, if Maroon 5 is ever looking for another frontman, we know a guy who may be up for the job and his name is Joshua Hong of Seventeen. Siri, play "Sunday Morning (Karaoke Version)."
Art by Ella Lambio
Follow Preen on Facebook, Instagram, Twitter, TikTok, YouTube, and Viber