I am a teenager, skulking about the lanes of slogan T-shirts that were popular in their time. Blazers, overruns, cheap and funny tees. My mother and I decided Greenhills is the place to be for Christmas shopping because we can get nearly anything for a bargain. 
We have a hilarious rule: For every two or three things we buy for someone else, we reward ourselves with one thing. After I depart a stall with three rage comic meme shirts (memes so relevant back then), I spot a white dress with a garterized waist. I am immediately enamored. 
"Miss," I begin. "May size po? Magkano?" She looks at it before eyeing me up and down, a slight sneer curling her lip. "Free size po," she says before inhaling again. "Pero extra small to semi-medium lang po." 
Her last statement feels like she has barred me from every dress the store was offering, like she put up a barrier between me and these dainty little dresses. Still, she raises a polished brow. "Pero kung gusto niyong i-try…"
It's almost a challenge and I step into the makeshift dressing room, a small curtain separating me from the rest of the busy hustle and bustle of the Christmas rush. I run a hand over the ruffled collar before I start to put it on.
There isn't as much garter as I expect and the dress only gets up to my upper arm before I can no longer pull it down. (And back then, as a teenager, I'm probably a dress size or two smaller than I am today.) I fight back tears when the saleslady calls out from beyond the curtain. "Ano, ma'am? Kunin niyo po?" 
I wriggle out of the dress and hand it back to her, offering a polite smile. "Okay lang po ate, hindi bagay." 
***
Scrolling through online shops is dangerous when you're curvy and you've got a penchant for the daintiest of dresses or the most popular contemporary styles. I'm talking #princesscore: puffed sleeves, full skirts, and sweet little silhouettes. 
Almost every ruched number with the most delicate puffed sleeves calls my name. When I click on them and it says 'free size,' I get excited, only to be let down by the subsequent: 
"(S-M only)."
It's almost always the same thing.
Slender East Asian models show off pearl necklines or floaty skirts, and almost always: 'XS-M only' 'Free size (S-Semi large).' Some iterations of bodies smaller than mine. I'm not ignorant of the fact that a lot of Asian sizing caters to more petite bodies, but you'd think in 2022 that we'd be more inclusive, right? 
Wrong.
***
I never thought of myself as big until a neighbor said I was a chubby kid. Sure, I wasn't petite, but there was no reason to tell a child, barely seven, that she was "too big." At seven, I was told I would never be "sexy" by the same neighbor—as if my seven-year-old self, sticky-fingered, playing with dolls, and covered in playground sand, cared about that word.
I looked into the mirror that night and surveyed my body. I was so young, too young to be criticizing myself so much, too young to be thinking "How can I be sexy?" The way I couldn't see my ribs, or the way my arms folded at my elbows, I couldn't stand it. "Si mataba," they called me. And I believed them because the children's clothes, labeled "free size," were too small even for me. 
Years of hearing my aunts and uncles say the same thing as I grew up only reinforced the matter. "You're getting big!" "No more extra rice, ha?" "I thought you liked sports—why are you still so big?"
At 15, I was a US size 6, what's often classified as a medium, not big at all. But everyone around me, my cousins and my classmates, was naturally smaller or didn't have that early-developed hourglass figure I did. They didn't have the figure I hid under an unflattering uniform and clothes that didn't fit me for fear of being too big, of being excess.
I hated being excess. I hated taking up too much space.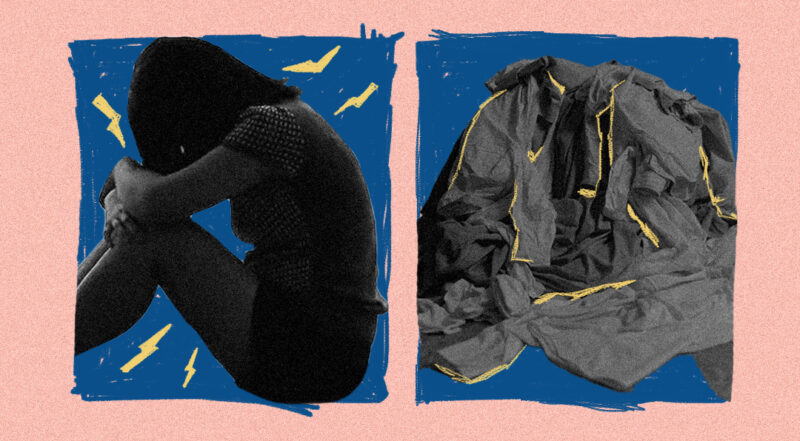 Shopping, which used to be fun and exciting, became dreadful. I would try to wiggle into clothes that just didn't fit me. I would tearfully tug off dresses that wouldn't pass over my chest when sales attendants offered to zip me up and I'd mumble a quick but polite "no." 
Free size clothing was ultimately a gamble—and what I put down was always my pride, my bruising ego, my self-worth. With every wager, I lost. And I lost dismally. 
I relented and rarely attempted them anymore. 
I was told constantly at family reunions or when I was walking down the street that my weight was such a shame. 
"Sayang, maganda naman ang mukha," they'd say. "Angel, if you lose weight, you're gonna be so beautiful." 
***
I take accountability for my body.
Despite being an athlete all my life, I sometimes didn't watch what I ate. And once I graduated from university and shed my softball uniform, I wasn't as active as I used to be. I grew comfortable not having to work out twice a day anymore, my days as a softball player behind me.
Still, even at my peak level of athleticism, I was of a slightly bigger frame. The smallest I'd ever been was a solid medium in most Asian-sized clothes—and that was when I was at the height of eating as little as possible or not at all. 
I was convinced that my body was ugly, even when I went through nights with only cold water in my stomach. I hated my body, I hated its excess, hated how my hips splayed out, how my arms looked in photos. I hated how the cute, affordable dresses in Greenhills would be too snug, not fit around my chest, or earn me sneers from passersby when I'd ask to try them. 
When I came of age and got my period, I started to bleed unnaturally long. Not just weeks, but sometimes an entire month, and then a few months would pass before I'd bleed for weeks at a time again. 
Every expert I saw chalked it up to weight, even when I was already almost in the right range for my height. Still, they insisted on BMI. Still, they insisted that a lifestyle change would do me good and make it all stop. 
It didn't.
It wasn't until a decade later that I was resolute that it couldn't just be that. I demanded, and with a flurry of ultrasounds, I was finally diagnosed: Polycystic Ovarian Syndrome. Weight gain was easy, weight loss was hard, periods were irregular, it gave me anemia, it exacerbated my bipolar disorder. I was heartbroken. This whole time, because no doctor would look past the way I seemed hefty in my step, no one came to the conclusion that there was something more complex at play.
Free size dresses became the least of my concerns at this point—but I never forgot how they were the beginning of this hatred I had for myself, for how I looked, for how I picked myself apart at every mirror, for how I thought I was monstrous in my surplus. 
I despised my body, even if there was now a reason it looked the way it did. These vesicles on my ovaries couldn't have made me extra small no matter what I did—even then, I had internalized it was my fault for so long. It was my fault that I was nothing more than a curvy girl and no one saw me as more than that.
No one saw me beyond the extra fabric they needed, the zippers that wouldn't close, the way shorts gripped my thighs, the way I would burst into tears when I'd even consider a bikini. 
Free size came with too-small cups, the ripping of garter, sleeves that sat awkwardly on my arms. Free size made me think that I wasn't in the range of what made a body here agreeable or normal, that I was some kind of outlier in a place I called home. Free size made me think I wasn't compliant and, therefore, didn't belong, that my body was an anomaly. 
***
These days, I've changed my relationship with my body.
As I began to see food as more than just what I can eat and instead as fuel for when I propelled myself forward on the treadmill or pushed myself off the floor in push-ups, I saw how strong I could become again. Not as strong as when I was captain of the softball team, but still a sliver of what I had gained during the height of the pandemic. 
And even when I was heavier, I finally knew there was nothing to hate at all.
Being gentle to myself hasn't been an easy process, especially when I still find clothes I love but will not stretch to accommodate me. I have forgiven myself for what I cannot always control—even when all I fill my plates with are salads or I cut out rice and carbs, or when I see the marks that crawl over my body as evidence that I have fluctuated in size.
Scrolling through Shopee is no longer something I dread, but instead something I filter. These won't fit—move on. 
I still fall into this trap of self-loathing every now and then when I try on something that can't hold my body the way they do on the models in product photos. But when I find something I do love in "free size" that fits around my body the way I want it to, I celebrate it. And when I don't, I slowly come to terms with it. 
Free size made me hate my body for more than two decades of my life, even when I found out exactly why I was the size I was growing up. But now I no longer starve myself, no longer bar myself from eating what I need to get by during the day. I use it to motivate myself in exercise and make sure it helps me close the rings on my phone's fitness app and become strong. 
While free size continues to only cater to certain bodies, I don't feel the same stomach-churning distaste for myself as I once did. 
And while it took 28 years, I'm glad I arrived here, still learning but with a long history of progress I can look back on. I no longer try to make myself small to fit in with a size range that has tried to exclude me. 
I'm glad I am on my way.
Art by Ella Lambio
Follow Preen on Facebook, Instagram, Twitter, TikTok, YouTube, and Viber