BTS' RM has earned a reputation as a musical poet and philosophical rapper among fans and peers in the industry. Earnest and self-reflective, it is unsurprising that his first full-length solo project has him reflecting on the end of his 20s during this new era for the group. Here's what we know about the album so far.
Bighit Music announced the Dec. 2 release of RM's first official solo album "Indigo" on Nov. 10. "RM has already given fans an honest look into his world through two mixtapes. Through 'Indigo,' RM delivers his candid thoughts and feelings and showcases a wide-ranging music through collaborations with various artists," the company said on Weverse.
RM shared on his own Weverse post that he worked on the album for four years and that it's very different from his previous releases. What can we expect if it's far from 2015's angry rap mixtape "RM" and 2018's alt R&B melancholy "playlist" "mono."?
View this post on Instagram
Now available for pre-order, we got a bit of a sneak peek into the album's two versions: the book edition and the postcard edition. Fond of wordplay, RM tells us through the simple white outer box that he considers it a record of himself, a "documentation of my youth in the moment of independent phase," and "the last archive of my twenties." It also instructs us to use it while doing different activities.
Among the inclusions, the 100-page art book might be the one to look out for. We've seen some nature-based prints made using cyanotype, a photographic printing process that produces blue prints using coated paper and light. RM also teased a photograph of wooden furniture taken by Mok Jung-wook who, aside from working on album covers for K-pop artists like Blackpink and campaigns with brands like Prada, photographs traditional Korean artworks from the Joseon Dynasty era.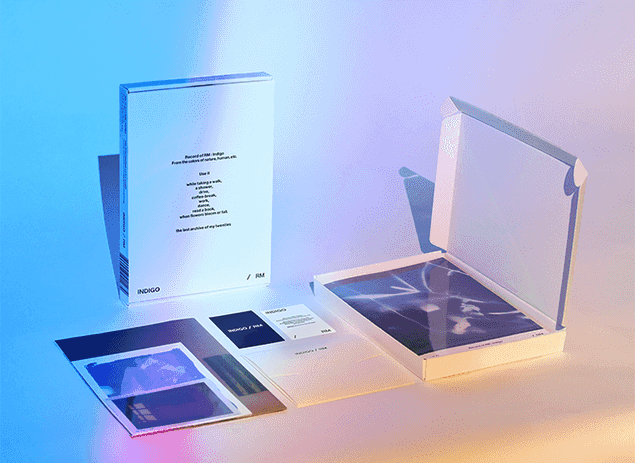 Visual art has become such a big part of RM's personal life in the past couple of years. In a conversation between RM and BTS' upcoming collaborator Pharell Williams for Rolling Stone's Musicians on Musicians published in November, he said, "A fun thing for me with visual art is that when I listen to some great music, I'm blown away, but still, sometimes I feel really jealous. It [can be] really, really painful. So it's funny, right? But for visual art, I just won't draw a single line because I want to remain as an outsider. But I'm a lover. I'm a fan. I'm a maniac. So when I look at all the paintings and maybe sculptures, I just feel really relieved because I can love it as much as I can."
Fans have been wondering whether Williams will be one of the featured artists on the album when he asked RM if he'd be interested. "You said you're 90 percent done with your solo album. But if within that last 10 percent, if you need—you don't need me, but I mean . . ." Williams offered.
View this post on Instagram
Speaking as an art patron in a New York Times interview, RM said that the pieces he was drawn to were about "eternity, and that comes because of this fast and hectic aura from this K-pop industry."
He added that when he's surrounded by the work of deceased greats in South Korean art history, he feels like they're watching him and that, in turn, makes him "want to be a better person, a better adult, because there is this aura that is coming from these artworks on display." When he feels "tired or let down," he has conversations with them. Standing in front of a painting by Yun Hyong-keun, he might ask, "Mr. Yun, it's going to be OK, right?"
Is that the experience that RM wants to share with us in "Indigo"? If so, sign us up.
Art by Ella Lambio
Follow Preen on Facebook, Instagram, Twitter, TikTok, YouTube, and Viber