Far Eastern University (FEU) Manila's premier film organization, FEU Film Society, commenced the 15th year of their annual film festival, the Sinepiyu with the theme 'Sinepiyu XV Liwayway: Pag-usbong ng Sining sa Kamalayan', with the objective of bringing consciousness on personal and societal issues through exhibiting a diverse set of film narratives with different lenses, coming from different parts of the Philippines.  
As a University-based and student-led film competition that advocates for inclusivity, and becoming an avenue that showcases stories that creates cultural awareness through artistry, Sinepiyu has two (2) divisions to cater to all the student filmmakers across the Philippines. 
First, the All Tamaraws (All Tams) Division,  exclusive only for the 4th year Digital Cinema students of FEU.  The second one is the Interschool Division which welcomes submissions from Senior High School (SHS) and college student filmmakers across the Philippines. The Interschool Division also accepts film submissions in the form of Narrative, Documentary, and Experimental film categories until April 14, 2023 (Friday).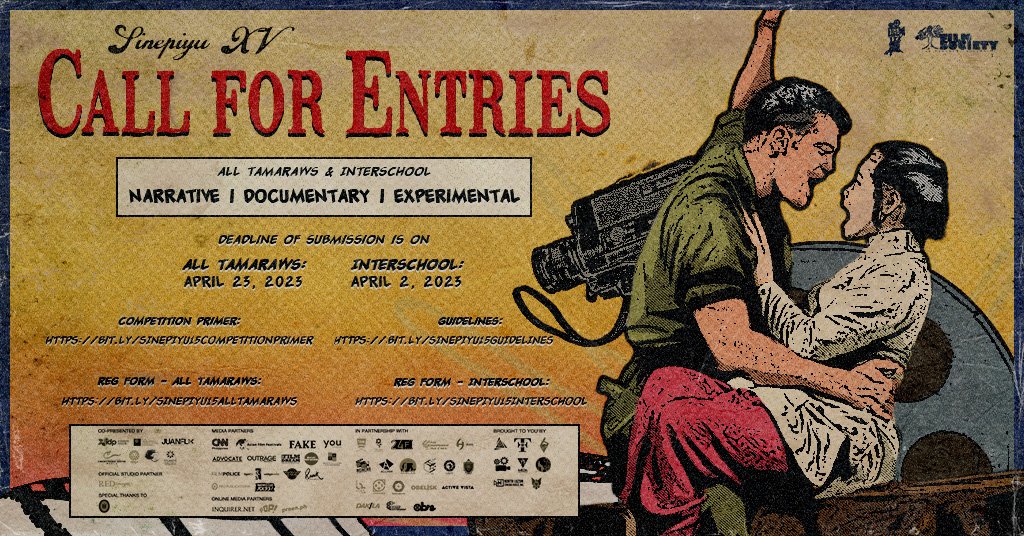 Film entries for the Interschool Division must be produced not earlier than January 2022 and should have a total running time of at least five (5) minutes and a maximum of twenty (20) minutes including opening and closing billboard. The full registration details, guidelines, and mechanics of the Sinepiyu XV Film Festival are posted on Sinepiyu's Facebook page. 
Sinepiyu XV will be a week-long film festival that will take place from May 2-6, 2023. It will be composed of an Opening Ceremony with a talk, physical film screening, online film screening, talkback, and Awards Night. 
Finalists of the film festival will have their films screened online via the Film Development Council of the Philippines' digital platform, Juanflix: the FDCP Channel, and physically at the Cinematheque Centre Manila, from May 3-6.
Student filmmakers, what are you waiting for? Make your stories heard! Join Sinepiyu XV!