It was a hot summer morning at a university gymnasium when I met Hali Long and Inna Palacios. I caught the Philippine Women's National Football Team (or commonly called the Filipinas) defender and keeper on a rare rest day. But rest being hard to come by is a happy conundrum in the months leading up to the Filipinas' history-making entry onto the World Cup stage, a first for the country thanks to their 2022 AFC Women's Asian Cup semifinal run and first gold at the 2022 AFF Women's Championship. 
The FIFA Women's World Cup is the pinnacle of women's soccer and in 2023, it's set to be the biggest women's football tournament yet. When I met Palacios and Long, the Filipinas' final 23-member World Cup roster was yet to be unveiled and they had just returned from the 2023 Southeast Asian (SEA) Games without a podium finish. If they were facing any internal battles at the time, I didn't really get a whiff of it. But maybe that's how national athletes are for you.
What exactly was I, a queer person who had zero knack for sports, expecting to sense off a national athlete—two of the country's best no less up close and off the pitch for the first time? A level of mental fortitude and discipline that I wouldn't be able to even fathom plus a commanding presence that instantly signaled that they're, literally, built differently. But to my surprise, Palacios and Long turned out to be what I did and didn't expect.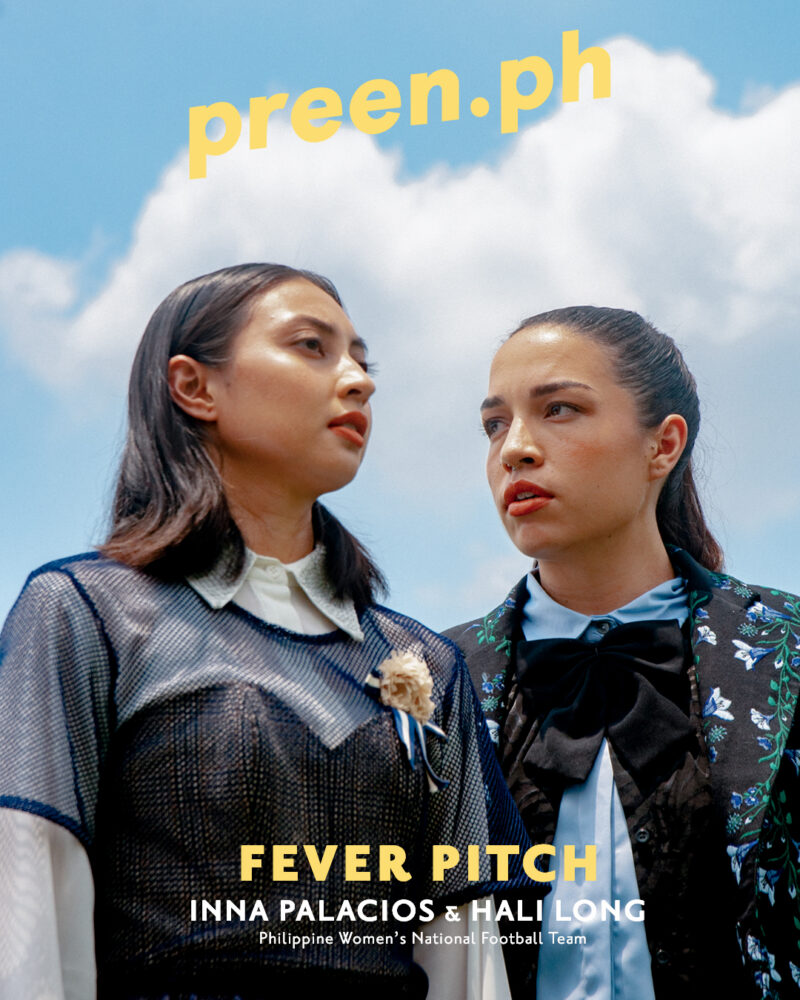 As if a switch was flicked, the pair transformed into two of the Filipinas' most capped players, gracefully and gratefully carrying a whole nation's dreams and pride on their shoulders, when they answered questions on camera. It was a moving sight and it felt impossible not to root for them, even if the Philippines is one of the eight underdogs competing at the Women's World Cup for the first time.
But off-camera, 28-year-old Long and 29-year-old Palacios were just like regular girls. Actually, that's not exactly accurate. They're the cool yet approachable girls who seem so at ease with their bodies that you'd daydream about becoming best friends with them. When I was vigorously fanning and holding an umbrella over Palacios on our walk back from the football field in the oppressive heat, I felt like a schoolgirl using their national athlete status as an excuse to be a bit of a fool for them. Telling me that it's more than fine for me to stop, Palacios said, "Tao lang rin kami." Maybe, but not just.
Falling in love with football
Before football, Palacios did taekwondo. But eventually her heart chose being part of a team and the sense of family that came with it. "It was never just about me. It was about every single teammate I had that I had to keep in mind when I played. I enjoyed that." 
Palacios started playing for Colegio San Agustin Makati's football team in fourth grade. And as a kid, being able to play in any condition was a perk. "I got an excuse to play in the rain when no one [else] was allowed. It was fun," she reminisces.
It wasn't until her then coach brought home a SEA Games bronze medal in futsal that Palacios started dreaming big. "I played hard until I got offers for scholarships and got called up for the youth teams. I heard about how big the UAAP (University Athletic Association of the Philippines) was and I dreamt of winning it. I just wanted to see how much I could achieve. It wasn't till college that I realized the role I had in helping develop the sport in the country."
"And now I get the opportunity to do it for my country—a country whose love and culture has completely absorbed me and has shown me I'm here for more than just football."
At 13, Palacios was already called up to play for the Philippine under-16 national team then she grew to become a consistent member of the senior national team. She broke new ground for the De La Salle Lady Booters by being crowned as the UAAP's Best Goalkeeper four times. Being part of the Philippine Football Federation (PFF) Women's League affiliate Kaya Futbol Club's sweep during its international debut at the 2022 SingaCup's Women Football Championship was also a sweet feat. With 12 years under her belt, Palacios holds the third highest number of national team caps with more than 50 and at the time of our interview was co-captain of the Filipinas. And lest we forget, she did make her childhood dream come true during the Filipinas' 31st SEA Games bronze medal match.
"I always told my teammates in the national team to bring back the experiences they had to their own respectives teams so they can share what they learned. And from there, we all get something back. In my own little way, that's how I gave back to the sport that has given me so much in life," says Palacios. 
"That's it, that's what keeps me going. I want to give back to the sport that gave me so much in life. It's for the young girls and boys to dream for something bigger than I did. It doesn't matter where you come from, I just want them to know that they can do it too."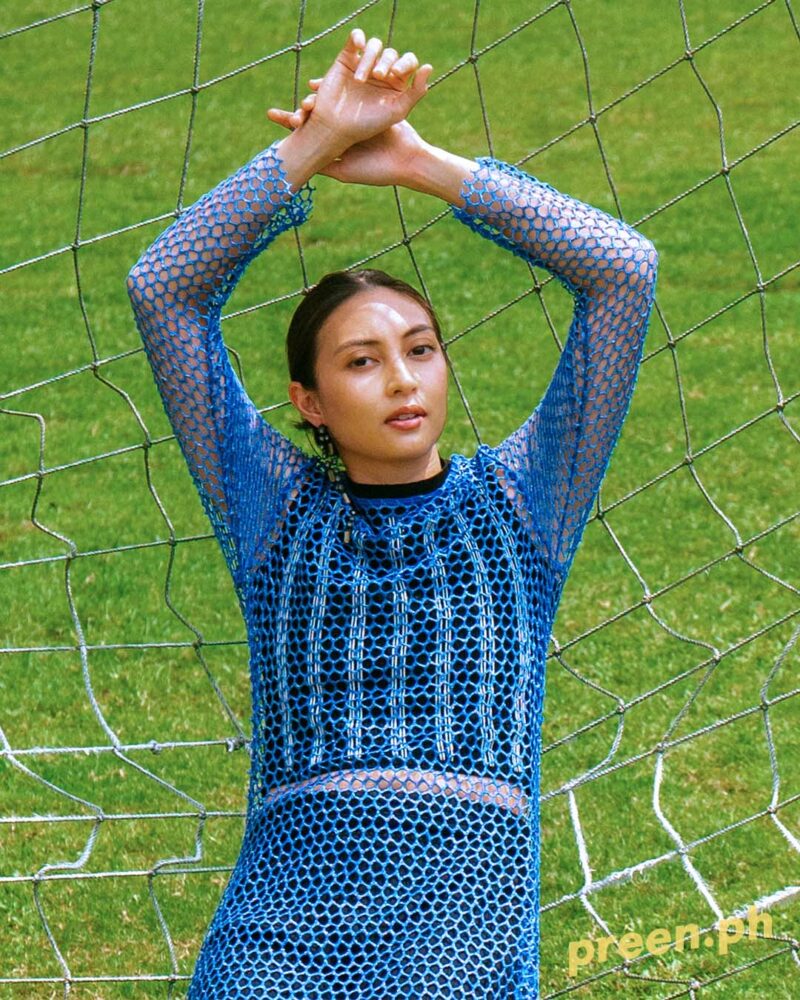 For Long, who's the youngest of three girls, football was a family affair that has now taken her to a place she never even dreamed of getting to. But in another life, she imagines she could be a competitive basketball or volleyball player. Maybe it was partly fate, and hating being indoors all the time, that brought her to this path.
The Filipino-American center back defender got her start at the Lou Fusz-Wipk under-18 team before becoming a superstar starter for the Little Rock Trojans of the University of Arkansas in Little Rock. As the most capped player of the Filipinas, the current Kaya F.C. captain, and now member of the World Cup roster, who is she doing all this for?
"The people I have met along the way are lifelong friends and family to me now, so I do it for them. I do it for my family who accidentally helped me fall in love with the sport," says Long. "And now I get the opportunity to do it for my country—a country whose love and culture has completely absorbed me and has shown me I'm here for more than just football."
The Filipinas' flight for the flag
The SEA Games loss did hurt, Long admits, but the players were hyper focused and already looking forward to playing against World Cup opponents by the time we spoke.
"I'm very excited to seek revenge against New Zealand, especially having to play them at home. We know how it feels to have the home crowd advantage, but it won't deter us from giving it our absolute all each and every game," says Long. "We have absolutely nothing at all to lose heading into the World Cup and that can make us nearly invincible."
What Long considers the traits that set the Filipinas apart from opposing teams is evident in her. "The fighting spirit of any Filipino, especially a Filipino athlete, is hard to match. We are always deemed the underdog so we always have to go against the odds to come out on top."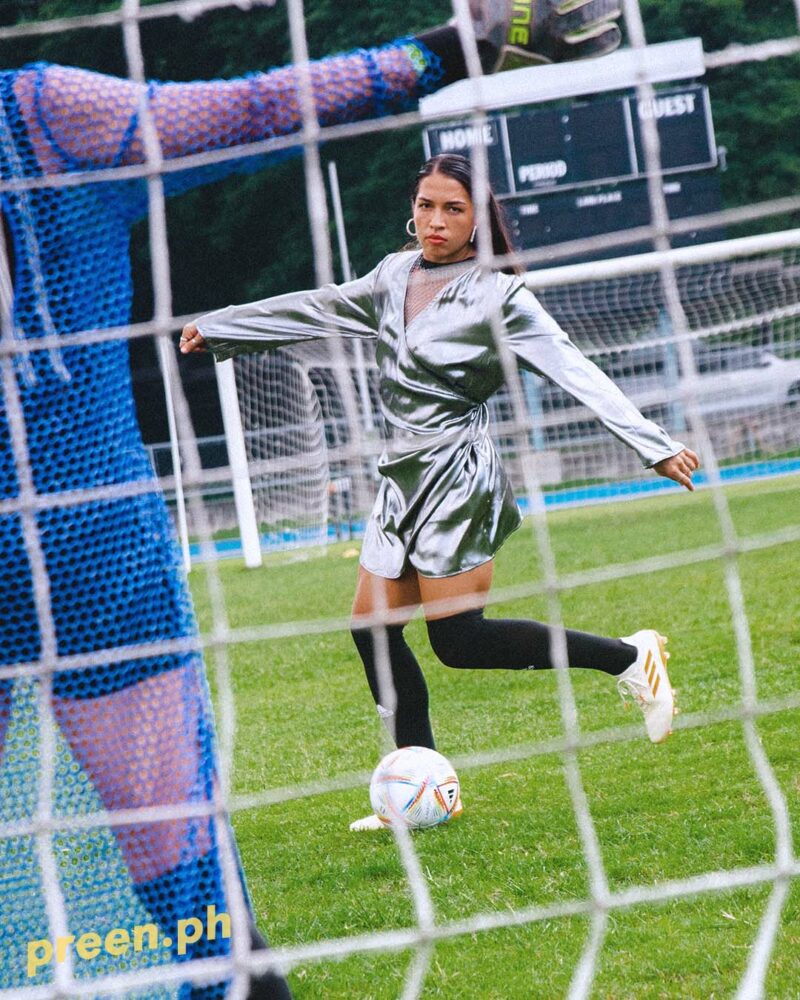 For Palacios, it's the heart that they show on the pitch. "It's something special because we represent something so much bigger than ourselves. We fight with every single thing we have. Especially coming from a third world country, we want to be that hope that people can hold on to believe that they can do something great even with how little they may have. It's about making the most of every opportunity we get," she says. "And for me, every time we get called up, I feel nothing but honor to be serving the country I grew up in by playing that sport I love."
Heavy is the hand that holds the trophy
The pair makes it all sound easy and natural with their relaxed demeanor in their Adidas sets that came with their milestone deal with the brand. But the  journey to becoming a veteran of any sport isn't without heartache. And we're not talking game losses, which they consider more as a growth aspect.
"With the highs come a lot of lows. Low days that most times you spend and experience alone. One of the lows would be losing my grandmothers, one in 2013 and one in 2016, while I was in a tournament," says Palacios. "My family lived with my grandma and we would visit my lola every weekend. It was just really hard grieving and still being in the right mindset to give your all. I'm just thankful that my lola got to see me play but my grandma never did."
Of course, sports injuries can occupy a conversation of their own. "I've had a bad shoulder since I started in 2011, before I even went to college. That always somewhat held my performance back. I never found the right timing for surgery, not until the pandemic. I had shoulder surgery that required at least nine months of recovery. I spent every day pre- and post-operation in front of Zoom doing rehab," recounts Palacios. And thank the football gods because they came back stronger than ever.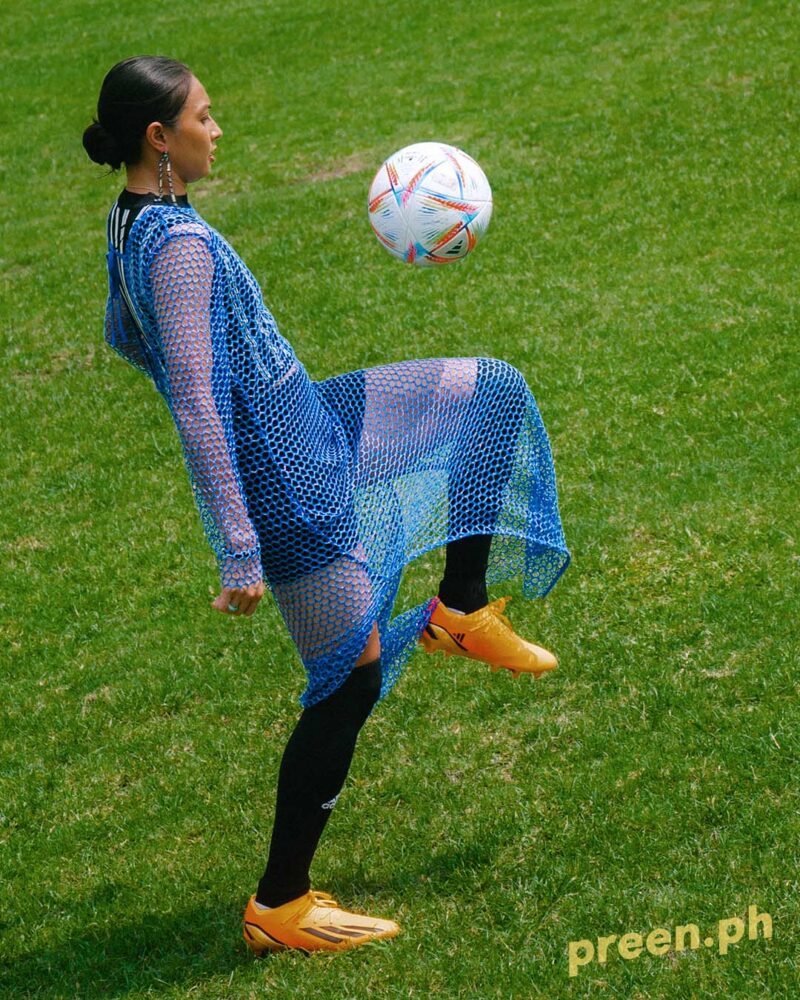 Long can also relate to this experience. "During the pandemic, I chose to proceed with a major knee surgery. Having played year-round for over five years, there was some definite wear and tear. The distal femoral osteotomy and meniscectomy would either allow me to play better or be in too much pain to play again due to the six-inch plate that would be placed on my femur and underneath my IT band," says Long. 
In and out of the zone
With so much that can be at stake in a game, it's not surprising that the girls still get jitters and have pre-game rituals to keep them at bay. 
"When I see the stadium and the bus enters, I time it out so [I can listen to the] song "Hall of Fame" by The Script playing at that exact moment. I just need a good alone time before the game. Then, I look forward to singing the national anthem as loud as I can to dedicate the game. After that, the jitters just fade and I'm ready for war," reveals Palacios.
Long, on the other hand, has "a small ritual during the opponent's national anthem where I try to really ground myself. I give thanks for the opportunity to represent the Philippines and to the hands that have helped along the way. At this point I've taken many deep breaths, wiped tears from my eyes, and suppressed any feelings of doubt or worry. I'm there for a reason and that's to fight for the flag—having this be my last thought before the whistle blows lights a fire in me as I head into battle."
"It's a continuous fight to show that female athletes are just as capable and deserving as our male counterparts. We have to change that mindset. We're all athletes at the end of the day. We're all fighting to make sports a career here in the Philippines."
If that's how they get into the zone, how do they see themselves when they're off it?
"I find it quite difficult to have an identity outside of [football.] That's what I've been trying to find for the last few years. The sport has shaped my character, morality, and beliefs. I'm not so worried about how far my football career goes; I care so much more about football reaching its potential. I'm lowkey shy when it comes to talking about myself, so I always deflect these questions by answering them with my football goals. I'm definitely not the entertainer sort of person. I'd rather lead by example, to become reachable to little boys and girls. Inna always says to dream big," says Long.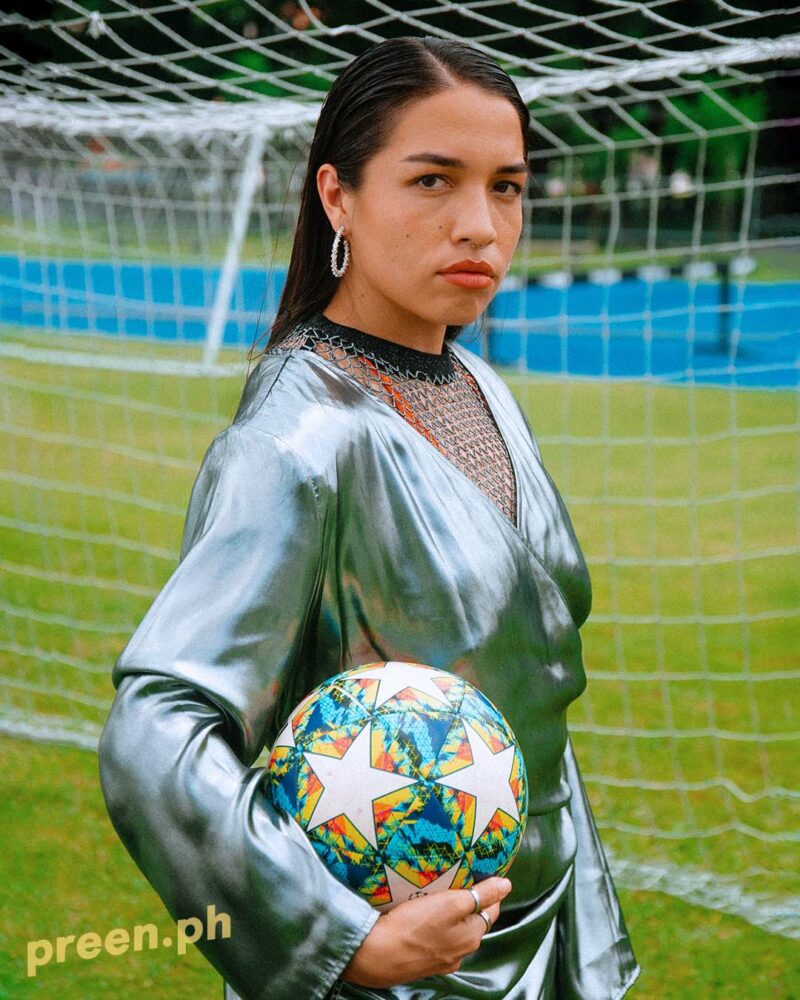 "I love playing all the sports. I'm a very active person. But I'm also someone that just enjoys being still. I enjoy the sun a lot and I'm a water baby. Before, I was very much an introvert. But these past years, I learned to enjoy and be kulit around people that I love being with. Maybe if you ask my friends, they'd say I'm kuripot," Palacios tacks at the end with a laugh.
"Like Inna, I love playing other sports outside of football. We're both very competitive by nature so we find ourselves competing at almost everything we do. Whether it's reps at the gym, watts on the treadmill, or even a game of horse. And I'm actually very fond of playing basketball, volleyball, and tennis!" gushes Long.
In perfect tandem
It's no secret that Palacios and Long are very close. A cursory glance on their Instagram feeds will give you a peek at years of football matches and fun trips together. Who better to ask about qualities the fans might not expect from them than each other?
Palacios happily divulges about Long: "I love how embedded Filipino culture is in her. I think that's why she's spent the majority of her adulthood here in the Philippines. It feels like home here. Sometimes I think she's more Pinoy than me. Fun fact, Hali loves dinuguan and watching Tagalog teleseryes. If she's not eating or watching, she's always finding things to do because she gets bored. And most of the time, it's helping people around her."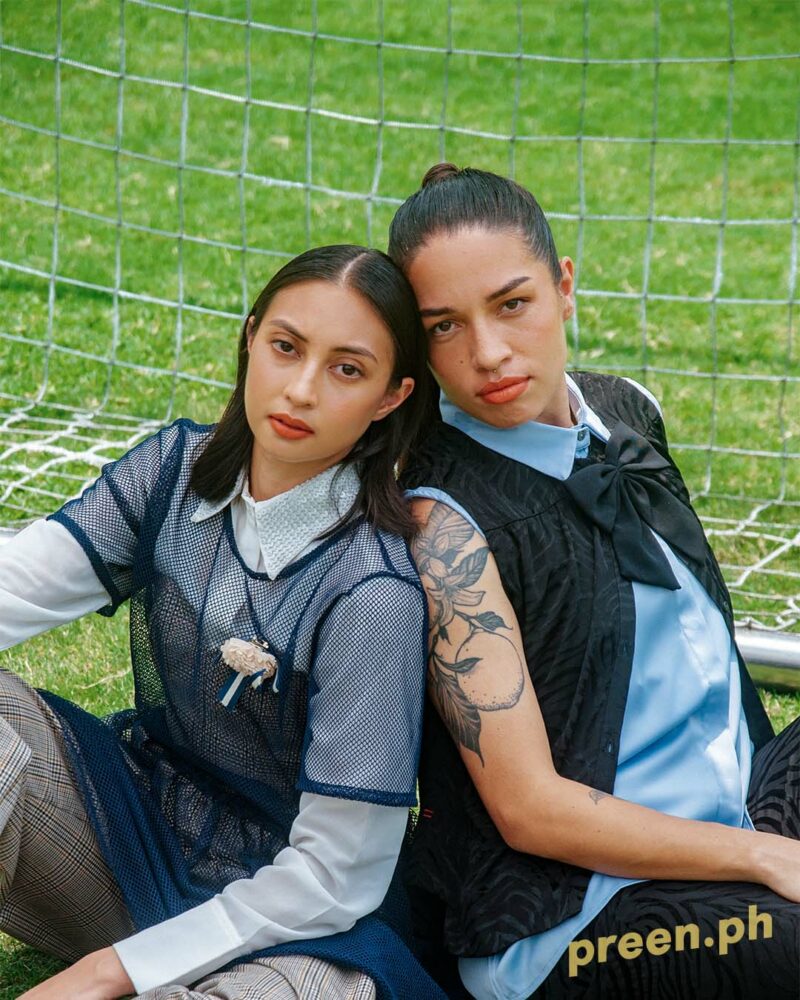 "She may seem quiet or shy from the outside but I love when she gets comfortable enough because she really is makulit," Long dishes about Palacios. "A true kid at heart! And she's always looking to further her knowledge and self-development. The amount of books I've bought her might actually be a greater number than the number of shoes I've bought her. She's such a sneakerhead but we can talk about that some other time."
But more than enjoying each other's company, the tandem inspires each other. "I really look up to her work ethic and the heart she puts into everything she does. Whatever task she has to do, there's always quality in it. She also probably has the biggest heart, too. You'll see her have our teammate's back no matter what. Seeing that and seeing her grow with the sport has been a spectacular ride for me personally," Palacios says.
Long also values "how hard Inna cares for something or someone she loves. If you're in her corner, she'll fight for you 10 times harder. Inna taught me what it means to 'play for the flag.' It's a love that is infinite. Everything I do and play for now mostly came from seeing her play for the national team and the UAAP. We still go to as many La Salle games so we can cheer on her alma mater. Her loyalty and passion is unwavering."
"I would like to think that we've seen one another grow up in a way. We've been with each other long enough to mature in our respective manners, which additionally helped our partnership grow stronger," Long adds.
The push for equity
With the success of women's football, is the gap in women's equity in the sport actually closing? For Palacios, there's progress which spells that athletes like her can now voice their advocacies.
"It's a continuous fight to show that female athletes are just as capable and deserving as our male counterparts. We have to change that mindset. We're all athletes at the end of the day. We're all fighting to make sports a career here in the Philippines," says Palacios. "We can't deny that there are still gaps we have to fill in to have constant growth in Philippine football. It's about creating a well planned and fair system. It takes not just the Federation; we all have our own little roles."
"I've seen many players who are forced to decide whether to continue playing the sport they love or to quit and start careers outside of football. The sport won't grow unless people can see that it can be a career."
"There are plenty of opportunities for young kids to play on private teams. But if the child doesn't belong to a school or club team, there are little to no opportunities for them. I think the sport is more about monetization versus opportunity and growth. Kids have to be very lucky and gifted to be considered. This is the case in other sports as well," Long says. "Field or equipment rental, parking, lessons; it all comes with a cost. To invest in something with an unknown outcome is difficult so I understand why this feels like an impossible thing to change in our football culture."
"Our current pay on the national team comes from the allowance from our team manager, with an occasional bonus. It's not sustainable enough for our sport to become our career. Even if there was a league here for us to play in, there is no pay in that league. It forces us to look for funds or jobs to sustain our livelihood," Long explains. "I've seen many players who are forced to decide whether to continue playing the sport they love or to quit and start careers outside of football. The sport won't grow unless people can see that it can be a career."
The 12th man
The fanbase for the Filipinas has been steadily growing and the pair hopes it continues to do so, even more so when they have bad days. 
"Anytime we play abroad we somehow get pockets of Filipinos in the crowd chanting and cheering us on. I think the funniest fan moment would have to have been in Chile. There are very few Filipinos there but they came to our two games there. One woman was actually wearing a jumpsuit of sequins in the pattern of the Filipino flag. Now I'm not sure if that was the top priority in her packing list when she moved to Chile, but it definitely became useful at that moment," Long recounts.
"They don't have to but they show up for us. The best memory I would have with the fans would be during the AFF Women's Championship. It was probably the biggest crowd [local] women's football has ever had. For it to also be in Rizal, which was where I trained every day for the majority of my football career, was very special to me. A lot of dreams came true in that stadium. From my UAAP championship for La Salle to winning the AFF Championship for the Philippines, the fans have celebrated all of that with me and the team," says Palacios.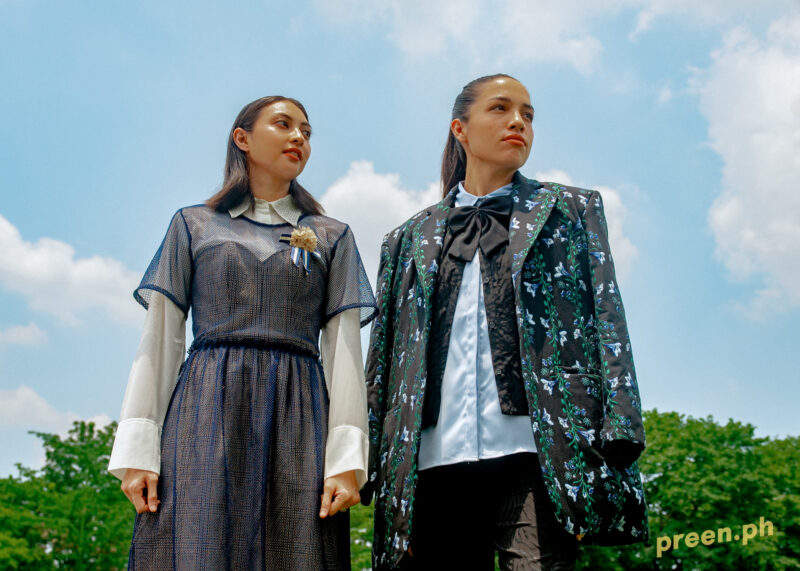 "Rizal Memorial Stadium was my first home pitch when I joined the national team and also when I would train with the Lady Booters. They call me their adopted Lasallian. It was a momentous occasion for Inna and I," Long adds.
Rest assured, the fans' passion is reciprocated. "When people tell me I'm their idol, I say, 'No, you are my idol.' The truth is, they are the ones that inspire me to always do better and show up." Palacios says. "You are our 12th man, every single one of you gives us the strength to fight with all we have, especially on the field. Please continue to support the Filipinas, lalo na sa World Cup. Sabay-sabay nating kantahin ang pambansang awit ng Pilipinas."
 "The support and love for the team and the sport doesn't go unnoticed. We see and feel it online, in person, and at games. Thank you for joining us on this journey and please continue to do so; please help us give what this sport deserves not just now but for more years to come. Maraming maraming salamat," Long tells the team's fans.
On July 21, the Filipinas will be playing against Switzerland in New Zealand for their first-ever World Cup match. It's the dawn of a new era for the girls and Philippine women's football. And days like these where they get to just be Inna and Hali may become more rare. But at least they had this day and I was lucky enough to see it.
Photos by JP Talapian
Story by Amrie Cruz
Styling by Edlene Cabral 
Hair by Criselda Valdoz
Makeup by Pam Robes and Dorothy Mamalio
Creative direction by Ella Lambio and Nimu Muallam-Mirano 
Produced by Amrie Cruz and Zofiya Acosta