The jig is almost up, Swifties! Who's ready to break the internet again? 
As we gear up for the grand reveal of "1989 (Taylor's Version)" on Oct. 27, the queen of clever secrets and wordplay has decided to launch a little game. In honor of her re-recorded fifth studio album gaining five new tracks (called From the Vault or Vault songs), Taylor Swift has collaborated with Google to unveil these additions through context clues-based puzzles akin to modern-day word games such as Wordle and Spelling Bee. 
Here's how the game works: Upon Googling "Taylor Swift," you'll be greeted with a blue vault in the corner of your screen. Click on it to view a set of jumbled letters that varies for every puzzle. Each unique combination comes with a "1989 (Taylor's Version)"-related clue that leads to the answer, which can then be typed into the search bar. These hints include original album songs "Blank Space," "Shake It Off," and the TikTok-famous "Wildest Dreams (Taylor's Version)," which she released in advance two years ago after the old version went viral.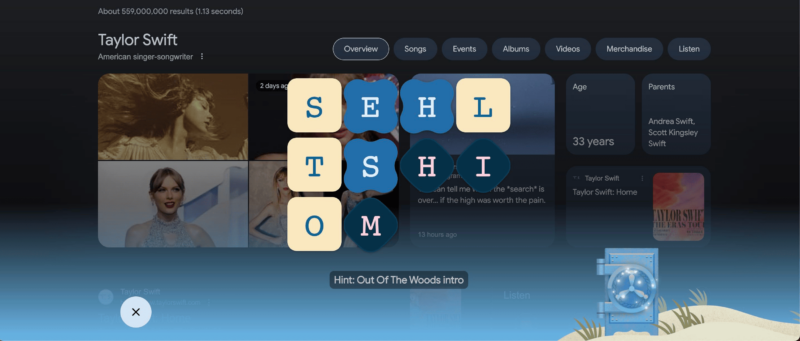 One of the '1989 (Taylor's Version)' Vault puzzles on Google
Swifties must answer 33 million puzzles to access the whole Vault tracklist. Reaching that number is a piece of cake for them, though, as the game's global progress has rapidly reached over 20 million solved puzzles. One of which even teases a possible collaboration with Nicki Minaj on a track called "Sagittarius"—harking back to when Swift called Minaj her "favorite Sagittarius" at the 2023 MTV Video Music Awards.
To aid the virtual quest for song titles, Taylor posted an intriguing sneak peek of the "1989 (Taylor's Version)" Vault roster on Instagram, quoting a lyric from "Blank Space" in the caption. The preview unlocked the letters T, S, U, and L, along with two quotation marks and an exclamation point.
View this post on Instagram
Ever since the "Anti-Hero" singer announced the release date of the "1989 (Taylor's Version)" re-record on Aug. 9 at her Eras Tour show in Los Angeles, Swifties have been keeping their eye out for surprises. They've known full well not to trust Swift when she claims that "not a lot is going on at the moment." 
Though this Google team-up isn't something they saw coming, it has still gotten Swifties buzzing. In fact, the hype for the game escalated so quickly, it crashed Google's puzzle server.
Swifties, the vault is jammed! But don't worry, there are no blank spaces inside. We're in our fix-it era and will be out of the woods soon 🩵 https://t.co/2Ija1pbnnf

— Google (@Google) September 19, 2023
A few glitches in the system won't stop fans and netizens alike from unearthing answers, though. After all, it's not a Taylor Swift gimmick without a cheeky and competitive easter egg hunt. Cracking codes (and struggling to do so) has been second nature to Swifties even before the rollout of re-records and previous Vault trailers—which used to just consist of jumbled up track titles. 
Swift has also endeavored in sudden announcements, surprise concert guests, and symbolic outfit changes on tour to commemorate her craft and creativity—both of which are apparent in this new, challenging pursuit of song names.
If you're a fan of Scrabble, Bookworm, Word Factory, and other classic word games, then you'll have a blast with the "1989 (Taylor's Version)" Vault puzzles. If you can already extract words from a mishmash of letters every day, then what's a little rearranging for a monumental pop album?
Photo from Taylor Swift's Twitter 
Follow Preen on Facebook, Instagram, Twitter, TikTok, YouTube, and Viber