Unless you've been living under a rock, then you've probably heard about T-Swift's new track, "Me!" There's plenty to talk about the extremely pastel music video which accompanies the upbeat song featuring Panic! At the Disco's Brendon Urie, after all.
Besides the lyrics, everything about the video has been investigated by fans. Here are some of the most significant ones.
Shedding off "reputation era"
Taylor's last album may have been her most controversial yet. Following a hiatus, she made her epic comeback with her album, Reputation. One of the main visuals of that was Karyn the snake— which also appeared in the first few seconds of Me's MV. But this time, Karyn is pink and white…and then turns into a swarm of multicolored butterflies. Pretty clear message.
https://twitter.com/blessedswifty/status/1121628568000192512?ref_src=twsrc%5Etfw%7Ctwcamp%5Etweetembed%7Ctwterm%5E1121628568000192512&ref_url=https%3A%2F%2Fwww.popbuzz.com%2Fmusic%2Fartists%2Ftaylor-swift%2Fnews%2Fme-easter-eggs-references-video%2F
Also, a castle is another symbolism frequently used on Reputation. In "Call It What You Want," she sings, "My castle crumbled overnight." And in "Look What You Made Me Do," Taylor wrote, "I don't like your kingdom keys / They once belonged to me." It seems she's got her castle back, because in her newest music video, we see a giant rainbow castle complete with re-created steps and atrium as seen on "LWYMMD" that are now brightly lit and full of color.
Another reference to the rebirth of Taylor's butterflies is the whole metamorphosis concept. Hawk-like fans have pointed out that if you notice towards the end of the clip, you'll see they are actually inside what seems like a chrysalis.
Old music references
I'm sure you remember the "I'm sorry, the old Taylor can't come to the phone right now" scene in "LWYMMD." You might have missed her singing "I'm pretty sure we almost broke up last night. I threw my phone across the room at you" in "Stay Stay Stay" though. Well, the MVs for both feature a distinct phone, which also makes an appearance in this video. In the clip, as Taylor sings "I know that I get psycho on the phone," she walks past a pink phone, touches it, but ultimately ignores it. Yup, that's the same phone.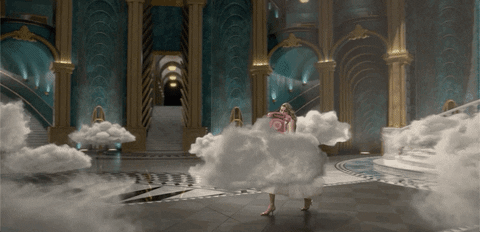 Buzzfeed also pointed out, "There are also references to old music videos throughout the video for "Me," and they all come at the same timestamp as their older counterparts." For instance, "at 3:32 she can be seen dancing in rainbow-colored rain, which mirrors the same timestamp in the video for "Delicate.""
One fan on Tumblr made a connection between the scene where Brendon opens his coat to reveal a wooden heart that contains a kaleidoscope of hearts, part of lyrics of Taylor's "Welcome to New York." And Taylor herself has since confirmed the reference on Tumblr!
Album clues
#TS7 already looks like it will be a hit. At one point in the clip, Taylor was in a pastel suit surrounded by seven ladies, each holding a bag. "Seven bags secured," Popbuzz explains.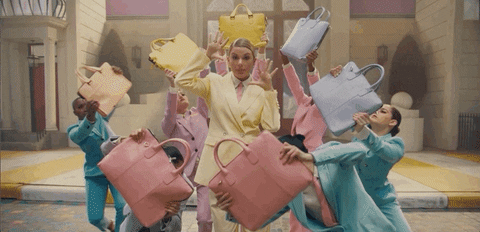 Still, fans have many questions about Taylor's seventh album. And the singer is game on teasing them. Like the  word "Lover" written in large neon letters and planted in the middle of the video. Some people say it could be the album title…or maybe a track title.
While dancing with Brendon, they also noticed Taylor wearing cowboy boots—something she hasn't worn since her country music days, which peaked during 2008's Fearless tour. "This could potentially be hinting at a return to her country roots with her seventh album," Glamour wrote.
Just Jared Jr. also pointed out that at one moment in the video, there's a clock behind Brandon set at 8:30. Some say it could be some sort of clue to the latest album. Like maybe it will drop on Aug. 30.
Engagement rumors
In the video, arguably one of the favorites is the scene where Taylor rejects an engagement ring in favor of a cat, who is actually the latest addition to T's famous cat family. Since some tabloids are convinced that she and Joe Alwyn are engaged, Taylor could be poking fun at them.
Although, fans say it's coming soon. Toward the end of the video, we see that she and Brandon is in a hybrid city with elements from both Washington, D.C. and London, like the Capitol Building and Parliament. Some say it alludes to her "merging" with British boyfriend, Joe Alwyn.
Photo courtesy of Taylor Swift's Instagram account
For the latest in culture, fashion, beauty, and celebrities, subscribe to our weekly newsletter here  
Follow Preen on Facebook, Instagram, Twitter, YouTube, and Viber
Related stories:
You can buy Taylor Swift's Monique Lhuillier dress from the "Me!" video
The new Taylor Swift era is so infectiously pastel
From the VMAs to the "LWYMMD" video: The most unforgettable Taylor Swift moments
Taylor Swift wins top female artist at the Billboard Music Awards