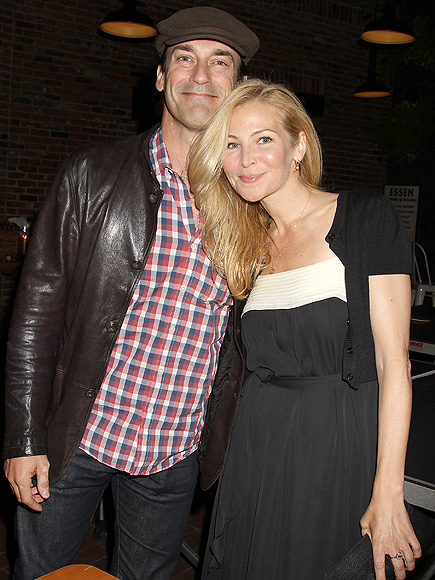 After denying a series of rumors about separating, the unexpected has happened: Jon Hamm and long-time girlfriend Jennifer Westfeldt have ended their 18-year-long relationship.
The couple released an official joint statement through their publicist Annett Wolf that says, "With great sadness, we have decided to separate, after 18 years of love and shared history. We will continue to be supportive of each other in every way possible moving forward."
The Mad Men actor completed rehab for alcohol abuse earlier this year. He credited then-girlfriend Jennifer for supporting him throughout the whole process of his treatment.
Jon, 44, and Jennifer, 45, were last seen "canoodling" together at the after-party of Netflix's Wet Hot American Summer: First Day of Camp."
The couple began dating in 1997 and even starred together in the film Friends with Kids. Despite the movie's premise Jon told The Daily Mail in 2012, "I don't have a driving force to have a baby." And on a separate interview for The New York Times, Jennifer said, "I've thought about this a lot lately. I never thought I'd be this age and not have kids."
18 years down the road, the couple still didn't have any kids and weren't married.
Jon told People last year, how lucky he was to have the actress and screenwriter in his life. He said, "Our lives are entwined." But as of today, the couple have found themselves untangled.
[
People
]
Photo courtesy of People