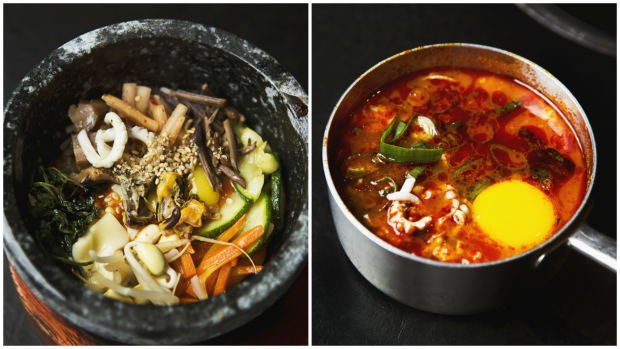 Enter Yoree, a casual urban joint that reminds us of our first, true initiation to all things Korean: through its food. Though it refuses to stay traditional like its other humble competition, this restaurant maintains a playful take on familiar dishes, making them approachable to the adventurous yet picky cosmopolitan diners.
While the space looks übermodern—and is thankfully equipped with an exhaust system that won't leave you smelling like barbecue—Yoree promotes old-timey eating habits of its culture. For the uninitiated: Filipino dining is more similar to the Western method, where soup comes first, then a meat dish.
"In Korea, we eat meat first, then the rice dish comes afterwards," says Jin Hwan Lee, Yoree's executive chef. This could probably explain why meats also appear early in menus like appetizers that would prepare you for their real entrées.
Complementary appetizers are available to help balance out flavors. For instance, Korean fried chicken is eaten with pickled radish to help cut the oiliness.Samgyeopsal (Korean barbecue pork) is eaten with dwenjang jjigae (fermented soybean past
e
soup), because it has anti-cancer properties.
Of course, there is kimchi, accompanying almost everything to help the digestive system circulate better with healthy bacteria.
A meal at Yoree starts with juk (vegetable congee) with three refillable banchan (side dishes) of your choice. Though portions might be inadequate for some, they do what they need to do: Whet the appetite for more filling dishes like the Yangnyeom Galbi, which is a marinated USDA Prime Short Rib served with prawn and octopus, and the Jeonju Dolsot Bibimbap, an updated version of the mixed rice dish.
Yoree's flavors are definitely richer than the usual homey Korean restaurants—and it's exactly what you'd want from an establishment that seeks to stride the balance between being authentic and amiably commercial.
Photos by Gabby Cantero
Yoree. G/F Forum 7th corner 25 St., Bonifacio Global City, Taguig. (02) 866-0432. For more information, visit their website.
Source: Mara Santillan Miano for
Southern Living, "Off the Korean Grill," August 2015.