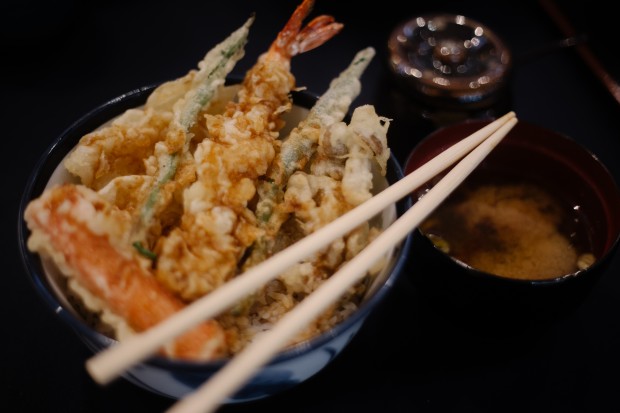 Tempura, next to sushi, is probably one of the most recognizable Japanese dishes around the globe. (It's an emoji, for crying out loud.) As with most things that have become all too familiar, tempura has been overlooked and dismissed as deep-fried shrimp coated in light batter.
Iggy Ramos, general manager of Tenya Tempura Tendon, clarified a couple of things about tempura and why the traditional Japanese dish continues to delight foodies and will remain a point of fascination in global cuisine.
#1 It's not just shrimp
Tempura doesn't refer to  the dish. It refers to the process of coating any meat or vegetable in tempura batter and deep frying it. Hence, anything can actually be tempura. "In our restaurant, we will try to serve as much as 350 types of tempura," says Iggy. Currently, Tenya serves10 types of tempura that range from cheese tempura to fish tempura.
#2 The secret is in the batter
If anything can be tempura, what makes it so special and sought-after? Iggy tells us that other than using fresh ingredients, the way the batter is prepared and coats the meat or vegetable is key. The batter is a mix of egg and flour in cold water. The mixture is then blended lightly in cold water. As you coat each ingredient with the batter, it is important to keep the batter cold so the tempura coating is thin and crispy once fried.
#3  Fried and tested
When frying the meat or vegetable tempura, it's important for the oil to be at a very high temperature before dunking. This cooks the tempura immediately since waiting for the batter to turn into a golden brown would defeat the purpose of it all. "What tempura does is it helps emphasize the natural flavor of the [vegetable, fish, or meat] you are frying," explains Iggy. The batter also serves as a barrier so that whatever you are frying doesn't absorb the oil. What you should get then is crispy coating and tender filling.
#4  The best accompaniment
Tempura can be eaten alone or used to accompany other dishes. Usually, it is served on top of rice but Iggy encourages us to try it with other dishes. "It's also a good topping for udon or soba," he tells us. "Vegetable tempura can be eaten as an appetizer [while] meat tempura can be eaten with donburi or rice. "There's a lot of ways to serve tempura, it really depends on what is available," Iggy continues.
This comes from the idea that the type of tempura prepared is dependent on the fresh ingredients available according to season.  Hence, how it is served or what it is served with also changes a lot since tempura was developed in the homes of Japanese families who were reliant on what was in their local markets.
#5  Where to get the real deal
If you're craving for some real tempura, Iggy suggests one of the districts in Japan called Asakusa. In this area, alleyways upon alleyways of one-off, decades-old restaurants and street hawkers sell tempura. Each of them offer time-tested tempura variations, some of which have spices in their batter, fried in different oils (the traditional tempura oil is really sesame), and are served on plates or in paper bags so you can eat it as your walk around.
Tenya Tempura Tendon. Ground Floor, Market! Market!, McKinley Parkway, Bonifacio Global City, Taguig. (02) 51322873. Open daily from 10 a.m. to 10 p.m. For more information visit their Facebook page.
Photo by Paolo Tabuena