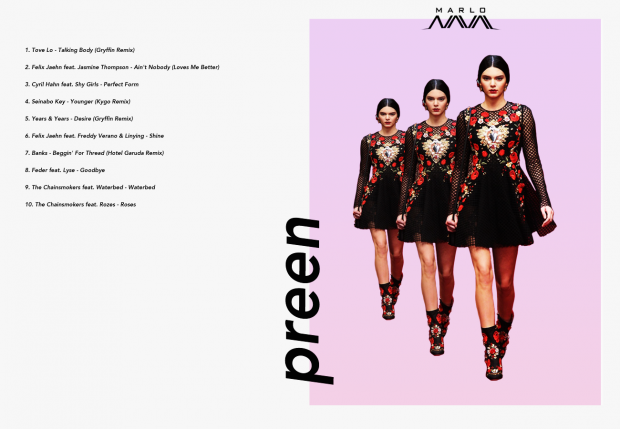 Fashion Week is just starting (We still got London, Milan, and Paris, to watch out for), and we've got the beats to put a soundtrack to that. DJ Marlo Naval gives you a fashionable set of 10 tracks that is just as smooth as your silk Louis Vuitton slip dress and as upbeat as your stride right after putting on those leather knee-high Prada boots.
Dressing up is easier once you press play. The set starts with Tove Lo's "Talking Body (Gryffin Remix)" that gives you the morning energy to rummage your closet for the perfect outfit. The "Perfect Form" by Cyril Hahn feat. Shy Girls track is just like that versatile look that carries you from daytime to nighttime—both will get you through the day stylishly. And undo a few buttons of that shirt and let your hair down as you dance along to "Roses" by The Chainsmokers.
DJ Marlo says that he specifically tailored this playlist for the likes of Kendall Jenner, Amber Rose, and Karlie Kloss—the girls "getting ready for a day of shopping or at a night out with [their] girlfriends, sipping cosmos," says DJ Marlo. And just like the many sartorial options available, the set's got a diverse range of genres including tropical house, euro pop, house, and dubstep EDM.
So plug in those earphones and wear that pair of Balenciaga wedges you've been wanting to break in. It's about time to dance to the rhythm of your own runway.
Follow DJ Marlo on Twitter and Instagram. You can also catch him spin at Tipple & Slaw and The Palace Pool Club from time to time.
Also follow Preen's new Spotify account and stay tuned for more playlists.
Art by Dorothy Guya