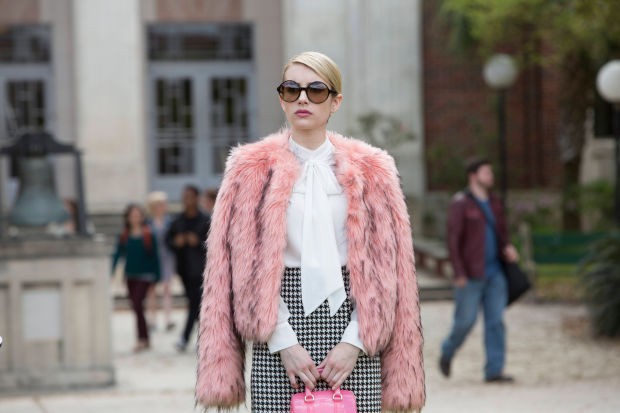 The wardrobe of the recently premiered TV series Scream Queens seems to resonate more with the audience than its plot. Recently awarded Emmy winner costume designer Lou Eyrich looked to brands like Chanel and Jeremy Scott for Mochino and of course, through the runway photos from former website Style.com for inspiration to style main stars Emma Roberts and Arianna Grande.
This new the comedy-thriller seems to have the potential to be what Gossip Girl was to teens back then and Sex and the City to cosmopolitan women in the aughts, at least fashion-wise.
If you missed its debut ep, here's a quick back track: Two decades after a mysterious murder case in Wallace University another one sets off another fright fest. This haunts the sorority house, Kappa Kappa Tau, led by Emma as Chanel Oberlin (fun fact: There are four other members named Chanel in the series). The second Chanel is none other than show mainstay Ariana Grande and, go figure, Chanel number five is played by Abigail Breslin. Billie Lourd and Chanel Oberlin take numbers three and four, respectively.
When you've got five Chanels in the cast as part of a typical American sorority stereotype, you can expect catfights, boys, and, of course, the fashion.
She tells Fashionista, "The Kappa girls are all in pastels and, in theory, very expensive clothes. [They are] perfectly coiffed; nails done, shoes matching the outfits and makeup done pristinely."
And what's a sorority house without frat boys nearby? Even Nick Jonas and his gang are in what Lou calls "fraternity chic."
Fur coats and feather boa dresses aside, the costume designer admits, "That whole polished look is completely unrealistic on a college campus, and high heels at all times."
Nonetheless, at least based on the premiere alone, this new slasher-comedy series' looks have huge potential to be killer.
[
Fashionista
]
Photo courtesy of Fashionista by Steve Dietl