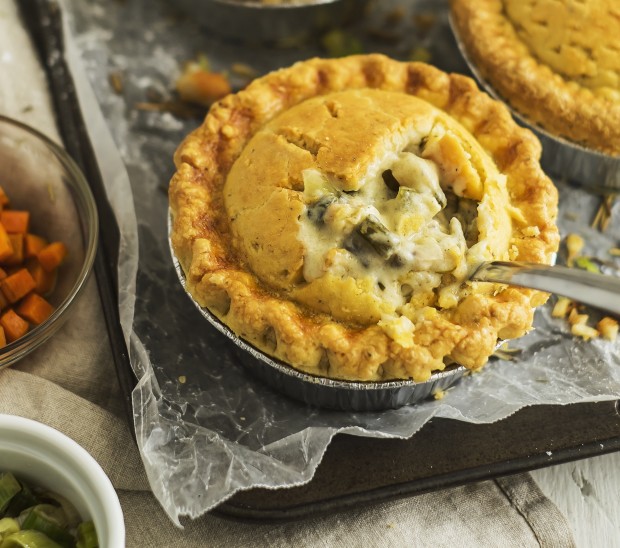 Another Monday night has come, and it's chillier than before. It will only get colder as we slowly approach December. By now, you've had your share of soups, from ramen to sinigang, that warm your bones and usher in comfort after a long day.
If you're starting to get sick of this routine, you can change it up by baking this herb-crusted chicken pot pie.The flaky crust complements the soft and warm goodness of the chicken and vegetables. Gather your friends and family for this very cozy night-in activity, perfect for when the rain pours.
Herb-Crusted Chicken Pot Pie
Ingredients
For the double-crust pâte brisée
1 1/2 cups all-purpose flour
3/4 cup unsalted butter
2 1/2 eggs
1 tbsp
dried herb of your choice
For chicken velouté
1/4 unsalted butter
1/4 cup all-purpose flour
1 cup chicken broth
For filling
1/4 cup unsalted butter
1/4 cup onions, medium diced
1/4 cup carrots, medium diced
1/4 cup celery, medium diced
1/4 cup onion leeks, medium diced
1/4 cup mushrooms, medium diced
4 garlic cloves, minced
1/4 cup frozen peas
1 cup chicken breast, medium diced
1/2 tsp black pepper
2  tbsp sugar; to taste
1/2 cup white wine
1/2 cup milk
1 1/2 cups cream
Chicken velouté
Salt, to taste
Preparation
For the double-crust

pâte

brisée
1. Place the flour on a
surface,
and make a well on top.
2. Slice the butter into 1/4-inch pieces. Place in the center of the well with the eggs. Using a bowl scraper, slowly cut in the butter and eggs into the flour.
3. Once the butter is pea-sized, put the dried herbs into the dough. Knead until the ingredients come together and herbs are laminated equally on your
pâte
brisée.
4. Divide  into 4 equal sizes. Roll into balls and wrap individually in plastic. For best rolling consistency, refrigerate your dough for 30 minutes to 1 hour.
For chicken velouté
1. Over medium heat, melt the butter in a saucepan. Stir in the flour, and cook for 1 to 2 minutes.
2. Whisk in the stock, 1/2 at a time until creamy. Bring to a boil. Reduce to low heat, and continue cooking until thick enough to coat the back of your stirring spoon.
3. Set aside covered until ready for use.
For pot pie filling
1. Preheat the oven to 200 degree Celsius.
2. Melt your butter in a medium-sized saucepan.
3. Cook mirepoix (onion, carrots, celery) with the onion leeks, garlic, mushrooms, and green peas. When onions are already translucent, add the cubed chicken breast, black pepper, rosemary, thyme, sugar, salt, and sauteé for 3 minutes.
4. Deglaze the saucepan with white wine. Bring to a boil. Lower the heat, and simmer to reduce sauce. 5.Combine the sauce in a cup of the previously made chicken velouté with the milk and cream. Cook until ingredients are incorporated. Let the filling cool down.
Assembly
1. Make 8 small balls of dough. You will need two small balls for the bottom and top crust.
2. For the bottom crust, using your pie can as a guide, roll out the dough big enough to cover your cans with 1/2 inch of it hanging over the edge of the pie plate. For the top crust, roll out dough to cover the top part of the pie.
3. Slice in steam vents to your pot pies, and fill each pie plate with the pot pie filling. Cover with your top crust dough. Crimp creatively to seal your filling.
4. Cook for 45 minutes to an hour until the dough is golden brown.
Source: Kyra Dy of Art of Pies for Southern Living, "Old-Time Favorite," September 2015.
Photo by Gabby Cantero