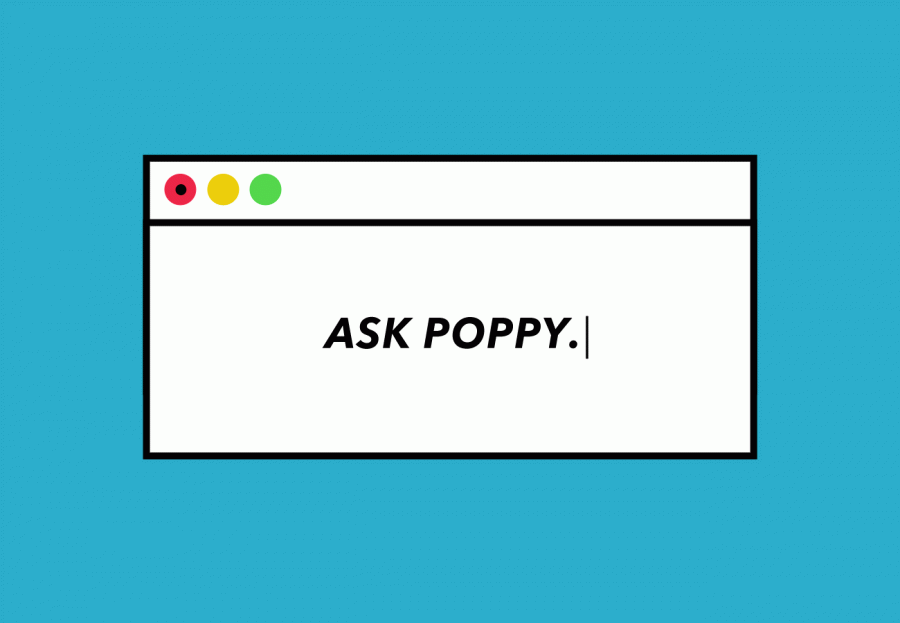 Welcome to Ask Poppy! I'm Poppy, your go-to girl for all of life's woes. And when I say ALL, I MEAN IT. I'm not an expert on anything except maybe for being me, which makes me totally qualified to do this.
Hey Pops!
First, introductions: I'm a 23-year-old discreet gay guy (open to friends but not to the whole world—I'm "straight-acting"). I've only come to terms with my sexuality recently, but I wouldn't deny it if I'm asked about it.
Just a few months into my new job, a new (cute!) guy came in and apparently, we were schoolmates in college but from different courses. We immediately became friends because of that little piece of trivia, a few common interests, and mostly because I'm one of the very few guys in the office. I immediately developed a crush on him. But he doesn't know that I'm gay because of the way our friendship started. He thinks we're "bros," and I can't find the courage to tell him I'm gay!
Now, here's the thing: We became awfully close to each other in just two months since we first met. Within that time, we've shared a movie in the cinema, a lot of nights out, break time lunches in nearby cafés, and even non-work-related weekend chats unrelated to work—just the two of us—but we never really called them dates. Once, he offered to drive me home, and sometimes he would even go out of his way so he can hitch a ride in the bus route I take going home. I might just be imagining this, but perhaps in the tiniest probability the universe has afforded me, this guy is into me as much as I'm interested in him.
Sadly, he would give hints and signs that he's not gay. He acted homophobic when he found out that another gay officemate actually liked him (he reacted with disgusted shivers when he found out), he proclaims his girl crushes whenever we're in a large group of friends, and just last month, he actually dated a girl. And he called it a date! (But jokingly, he told me he didn't like her and even called her 'teh.) Annoyingly, he'd still treat me in the same sweet way.
WHAT DO I DO?  I've never had a boyfriend, and the first time I actually told a boy I liked him early this year, I was rejected. It was painful, and I don't think I can handle another one within the same year. And now, this boy came to my life, and I'm not sure if he's sure of what he wants!
With heartaches,
JC
Guten tag, JC, my second least favorite member of the band *NSYNC!
First of all, let me thank you for that beautifully laid out letter! I love it when people send me long pieces of prose because tl;dr my ass, mothertruckers! I FELT YOU! More importantly, I heard you, and I know your story, giving me a better chance to flesh out your situation.
I'm glad that unlike my third least favorite member of the band *NSYNC Lance Bass, you have decided to come into terms with your sexuality early on in the game. Can you imagine the amount of teenage vajayjays that he had to feign interest in  during the height of their worldwide success? Coming out is never for everyone, but gradually doing it if and when you are comfortable doing it is already one step up to reaching your self-actualization. Maslow's hierarchy of needs, what up?
The gist of this is: You can stay as long as you want in the closet, but it's dark and dingy and there's no Narnia on the other side. You told me that you're out among your friends, and I'm guessing you've decided to reveal your true self because of one thing: You love them. I get why you have to be careful and act straight, because it's a thing that you need to do in order to function. It's how you deal with it. Did Mulan buckle under the pressure while training to defeat the Huns? No, Mulan did not. She knew that her father might be killed if she were to be revealed.
The universe might be telling you that, yes, he's SUPER INTO YOU, but then again the universe also has the capacity to fuck shit up, melt polar ice caps, leaving those cute baby polar bears feeling, well… bare in the vastness of the cold sea. The universe is not your friend and as a human being, you are wired to go against the odds that the universe decides to throw along your way.
Do you love him enough to reveal yourself to him? Like I said, LOVE is a big part of why you reveal yourself to those around you. FALSE LOVE doesn't deserve the real you, bro.
And are you really the one who's hiding in this scenario? I like how you've italicized "he's not gay." Is he really not? The New York Times published a piece called "Homophobic? Maybe You're Gay," and it's an interesting read on why political and religious figures who are homophobic are often the ones who end up in gay sex scandals.
Maybe you're the dick that he needs in order to get out of the 9th circle of his closet. Either way, if he's really acting out his homophobia and calling a girl he's dating teh, then he sounds like a dick to me. Somebody put a dick beside his dick and let's call it a day.
You might argue how Li Shiang did develop feelings for Mulan as they were protecting China against the clutches of Shan Yu, or how 10 or maybe 15  Koreanovelas have the same plot but with different pastries in its titles. These things may happen in Disney movies, but there's a huge possibility that they won't. Are you ready for the heartbreak, JC? It will hurt harder than that time Justin Timberlake decided to pursue a solo career.
Look in the mirror: It's your reflection, it's who you are inside. If you wear a mask, you'll break your heart. If he's not the one, then be patient and tell your heart to be still. Just now, a friend told me how she was stopped by a total stranger as she got out of the New York subway. At first she got scared, but then the guy sincerely told her that she was beautiful. He recalled seeing her from the other station and told her that he was a musician. He left telling her that he longed to meet her again on his "life journey."
Of course, it's nothing. It did make my friend realize how beautiful she is (because she is!), but it's just proof how the universe can set up better things for you.  And that's better than hugging Miranda July or getting over an ex-lover who's moving and breathing in the same city as you.
Love feels more real when it is revealed to you and not the other way around.
Take it easy, JC.
No. 56,098th top fan of *NSYNC,
Poppy
Got a question for Poppy? From love and relationships to weird questions you dare not ask even your psychologist, Poppy is ready to answer them all. Send in your questions to [email protected] and you just might get the answer you are looking for.
Art by Dorothy Guya and Martin Diegor