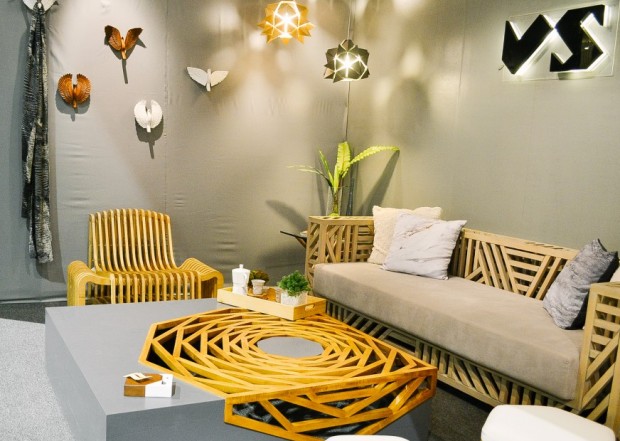 Upon entering this year's Manila FAME, one cannot deny the creative energy that readily fills the air. The pulse of this season is more electric than usual: Every trader stepped up its game, and every one seemed to march in the same artistic beat. Call it a synergy.
The 62nd biannual design and lifestyle event brought together every local manufacturer and producer with one goal in mind: to produce globally competitive export products all made by Filipino craftsmen. That is the common thread that stitches the select furniture and home décor products with the art and fashion pieces found in this two-floor exhibition.
Manila FAME has become more than just a trade show where local small and medium enterprises (SME) transact business and close export deals with more than 5,000 foreign and local buyers. It has grown to become a creative hub where design collaboration is nurtured and a global stage where everybody gets their share of the spotlight.
From over 400 SMEs, here are eight products that impressed with new and innovative pieces.
#1 Venzon Lighting Manufacturing x Jim Torres' Luna pendant light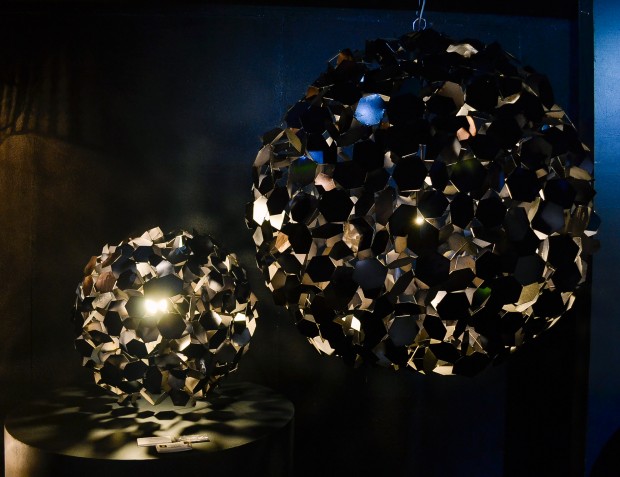 From a collection of lighting fixtures inspired by the cosmos comes a lunar-inspired pendant light, which industrial designer Jim Torres created in collaboration with lighting company Venzon Lighting. The piece, aptly named "Luna," is made through a computer numerical control (CNC), a cutting machine that can manipulate metal by printing various patterns on the metal sheet. "It is a fusion of technology and craftsmanship," Jim says. Once the Octagon-shaped patterns were printed by the CNC, he manually twisted them and formed them into a ball to achieve this dark play on shadows and light.
#2 Basket & Weaves' wooden pieces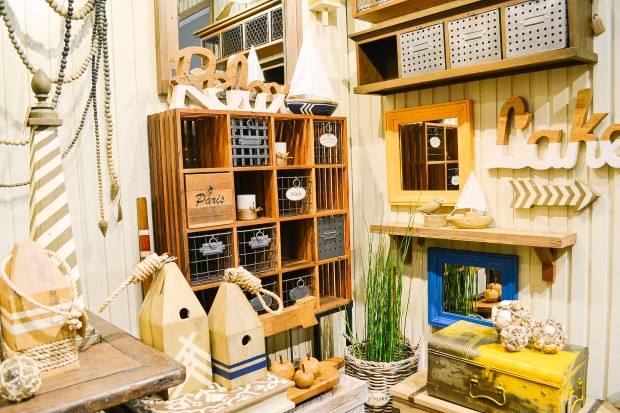 What started out as an export business for weaved baskets (hence the company name) eventually branched out to a home décor line where 80 percent of the pieces use wooden material. The recurent theme for every collection they churn out is nautical—something international customers veer towards. It's the "casual coastal look" as defined by merchandise manager Carolina Fonbuena. The pieces include lighthouse and sailboat table accents, recycled wood treasure chests, and the bestseller: wall scripts that spell out "Relax" and "Lake." The raw material of choice revolves around mango wood (for carving as it is easily manipulated) and acacia (for houseware).
#3 Schema's A Cote furniture and Zatellite pendant lights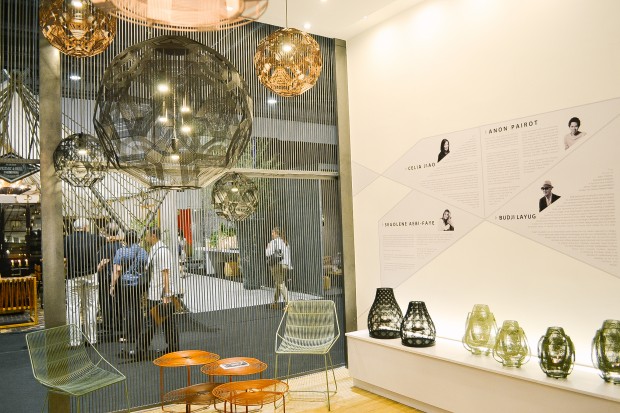 The huge Zatellite pendant light at Schema's booth is the center of attention, as if resembling fabric with how light it looks. But upon closer inspection, it is actually made purely from thin strips of galvanized iron, manipulated and weaved to have a cotton ball feel to it. Schema's chief executive officer Jerry Jiao confirms, "Our lamps look very light, airy, and see-through. [They] give you a feeling of lightness." What greatly complements those fixtures are the sturdier A Cote chairs and coffee table created made from thicker iterations of the iron that make for sturdy furniture. From what started out as a Christmas décor line 28 years ago, this one-material brand now offers "a complete lifestyle collection," says Jerry. This includes tables, home accessories, and other lighting accessories.
#4 Prizmic & Brill's traveling trunks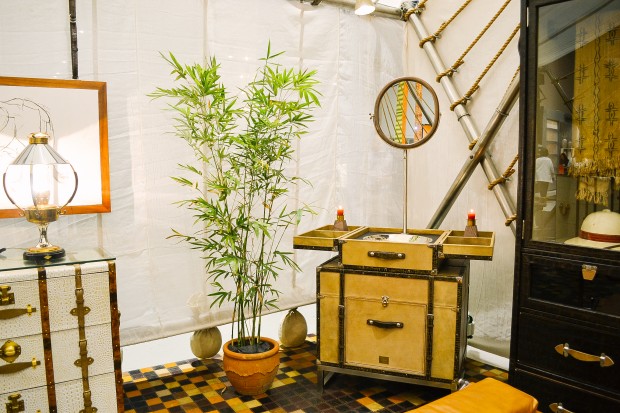 Like a scene straight out of the movie Out of Africa, the Prizmic & Brill booth mimics a desert safari tent filled with travelling trunks and brown leather chairs. But the joke's on us. These aren't your ordinary trunks as they are actual pieces of furniture designed to look like luggage. In the booth are faux trunk centerpieces, a vanity table that was deconstructed from wheeled luggage, and a giant suitcase that's actually a drawer.
Owner Matthew Brill describes these pieces as campaign furniture, "a transportable furniture from the days of colonial Africa and India." It's like furniture on wheels! But before that, the business started out as purely luggage and trunks. But with furniture being easier to market, Matthew says, he then found the need to be more interactive with the business—hence, what is today.
#5 Catalina's Big Bang chandeliers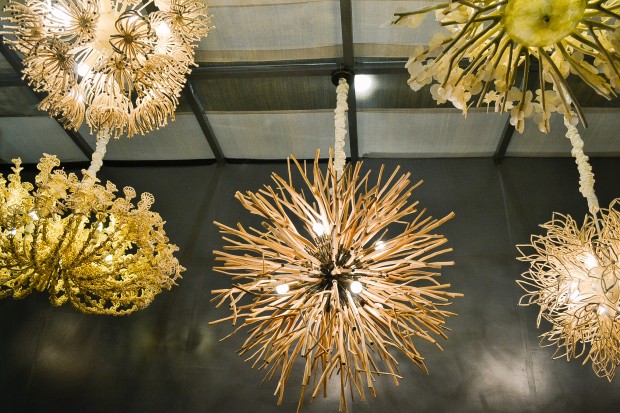 Made from ubiquitous materials such as coconut, capiz, and twigs, home accessories brand Catalina created a line of chandeliers called "Big Bang"—circular-shaped lighting fixtures made to mimic stellar and planetary explosions. The pieces created specifically for the show are made of raw materials and "arched as if to invoke the curves of the natural world."
#6 A. Garcia Crafts' animal trophy heads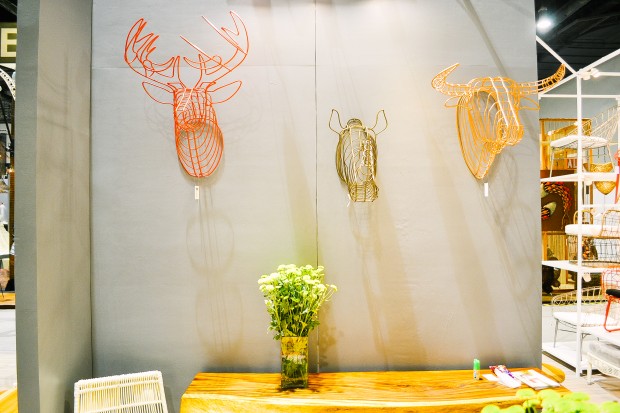 If you're on the hunt for a good Manila FAME find, try A. Garcia Crafts' new proposition for animal trophy heads. But this time, it's not made with actual animals but with mild steel. Inspired by US hunters doing so for sport, the brand uses animals from North America. Deer, rhino, bull, and longhorn are included in the outdoor furniture company's first attempt at making wall pieces. Though there are requests to localize animal heads by including our very carabao, marketing director Andy M. Garcia says it's not on their list yet. But by next year, origami-inspired versions of these animal heads will be produced, veering away from theircurrent linear nature and silhouettes.
#7 Vito Selma's The Twist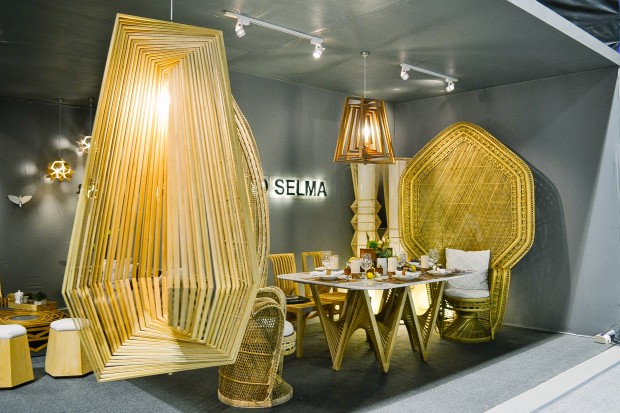 The geometry prevalent in Vito Selma's booth is undeniable. "He loves lines," says Evelyn Selma, mother of Vito. "He believes that everything starts with a point and a line." And this is greatly seen in the pieces lined with wood, all angled to create the illusion of waves and curves. "Wood is heavy and sturdy, [so] he wanted to give an organic feel to it," she adds.
What greatly encompasses this design philosophy is The Twist, a lamp that starts out as flat, but is structured in a way that allows you to twist and play around with it by slightly cascading the wooden frames into whichever orientation that suits you. This interesting manipulation is Vito's way of testing the limits of inanimate materials.
#8 Ito Kish's Arellano vases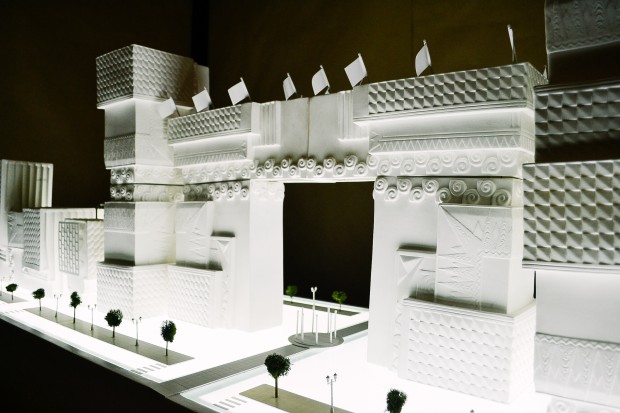 Artists and designers usually work with themes. For the show, Ito Kish decided to take on the architectural preservation route with Juan Arellano's Manila Metropolitan Theater as the starting point. In what initially looks like an imaginative replica made with molded fine bona china are actually varying sizes of white vases stacked on top of one another. The vases come in small, medium, and large versions—some in long, horizontal forms—and are inspired by the Art Deco movement but with sunburst patterns and linear design, all in white.
Manila FAME is being held at the Mall of Asia SMX Convention Center, Seashell Lane, Pasay City. The trade show runs until Sunday, Oct. 18from 9 a.m. to 6 p.m. For more information, visit the Manila FAME website.
Photos by Acushla Obusan